Cheap Eats: It's All in How You Cook It
Some of our favorite foods come from old techniques to make cheaper meats better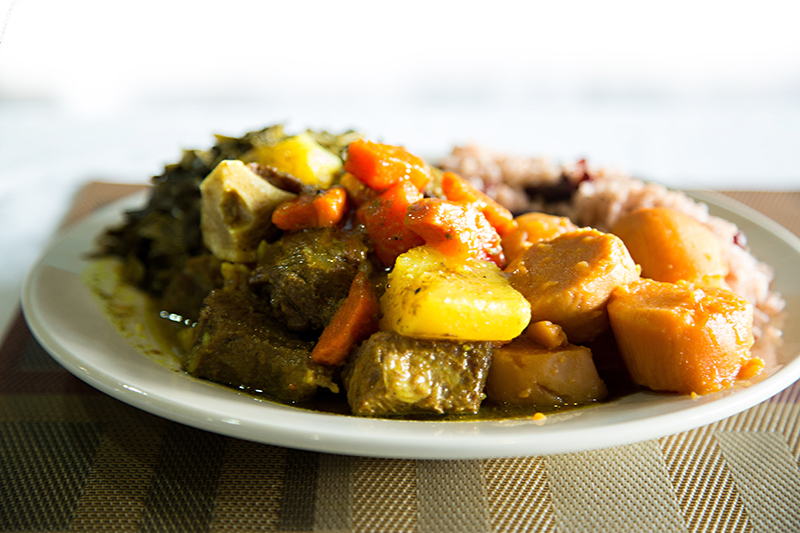 BARBECUE
Our revered Carolina 'cue comes from the Spanish word "barbacoa," a method of drying meat over a fire. The practice was well established in the Caribbean by the 17th century. English settlers in Virginia and eastern North Carolina likely learned the practice from Native Americans who burned oak or hickory wood over a grate, shoveled the coals into a hole, and cooked meat on a rack above the coals. The key to tender, juicy barbecue is "low and slow."
Try it: Whole hog, eastern Carolina-style barbecue, Bill Spoon's Barbecue, 5524 South Blvd., 704-525-8865
---
OXTAIL
Once looked down upon as scraps for the poor, the tail of an ox is now a prized piece of the bovine. Many scholars believe that slaves and servants on Caribbean plantations would save what they could after an animal was slaughtered and fed to the wealthy. The oxtail has gelatinous meat that is best for soups, stews, and braises. Slow cooking extracts the fat and makes for deep, rich flavor.
Try it: Oxtail stewed with lima beans, Island Grill & Grocery, 5861 Albemarle Rd., 704-532-0322
---
GOAT
Goat is known for its strong, gamey flavor. The way to balance that taste is to marinate it and cook it with other bold flavors, such as garlic, ginger, lime, hot pepper, and curry powder. Simmering the goat on low heat for an extended period of time tenderizes the meat and helps it absorb the other flavors, producing a rich stew. Curry goat is a traditional celebratory food in Jamaica.
Try it: Curry goat with gravy, Mama's Caribbean Grill & Bar, 1504 Central Ave., 704-375-8414
---
LIVER
An ideal example of the adage, "waste not, want not," chicken livers are puréed into spreadable pâtés or breaded and fried. The organ is a cheap, nutrient-rich piece of the bird. Here in North Carolina, especially in the mountains, residents are familiar with livermush, traditionally made from pork liver, additional pork products, and cornmeal. It is sliced and fried, similar to sausage.
Try it: Chicken liver dinner, Price's Chicken Coop, 1614 Camden Rd., 704-333-9866; chicken liver mousse, Block & Grinder, 2935 Providence Rd., 704-364-2100; livermush biscuit, Green's Lunch, 309 W. Fourth St., 704-332-1786
---
This article appears in the June 2016 issue of Charlotte Magazine
Did you like what you read here? Subscribe to Charlotte Magazine »
---