Checking out the latest releases in Charlotte craft beer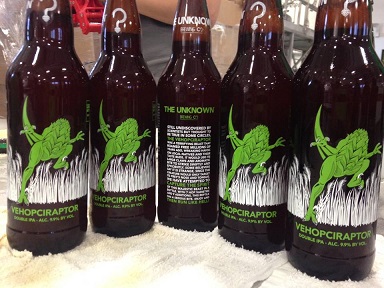 I spent part of Labor Day weekend doing my favorite pastime: visiting several local breweries. And in the last couple weeks, some of Charlotte's breweries have debuted either new beers or seasonal favorites, so I figured a quick rundown was in order. Go out and try these if you haven't yet; you won't be disappointed.
Birdsong Brewing
The brewery is almost out of Sticky Situation, its wet-hopped IPA brewed with fresh Chinook and Cascade hops from an Asheville-based hop farm. Get it while you can (it's also on tap at Salud Beer Shop right now). This is a pretty exciting time for Birdsong, which is set to move to a larger facility in the fall. We're not too far off from two of its best beers (at least in my opinion): St. Tuber Abbey Ale and Mexicali Stout (which will have some special versions this year). More to come on those two in a future blog post.
NoDa Brewing
What's old is new at NoDa Brewing Co., which debuted a new version of their Woody & Wilcox IPA a couple of weeks ago. The recipe was changed from the original to what's now a true West Coast IPA, and some are now calling this a "baby" Hop, Drop 'n Roll. The new W&W features a number of different hops, including new ones in Azacca and Equinox, along with Magnum, Bravo and Palisade. What you'll get is a great floral aroma along with a citrusy taste at a very drinkable 6.2 percent ABV.
Olde Mecklenburg Brewery
One word: Mecktoberfest. It's back, and my fall go-to beer (this was also my Charlotte Magazine BOB pick for the best local seasonal beer). What's so great about Mecktoberfest? For me, it's the balance of a crisp beer that has a smooth finish. The taste of caramel malts combined with the floral hops puts this Märzen in truly a category by itself. Now available at the brewery and local restaurants/bottle shops on tap and in six-packs.
Triple C Brewing
Urban Hop Project will be released tomorrow (Saturday) at Triple C's taproom, and the brewery will also be filling growlers. In brewing this pale ale, Triple C used hops harvested on site, along with malts grown in North Carolina. This 5 percent ABV beer is the true definition of "drinking local." If you can't make it to the brewery, both Pizza Peels (Cotswold and Plaza Midwood) will be exclusively tapping Urban Hop Project on Saturday, and it will roll out to local restaurants, bottle shops and bars beginning next week.
Unknown Brewing
This SouthEnd brewery kicked off its bottle release series with my favorite beer from them so far: Vehopciraptor Double IPA. This Vehop isn't the same as the batch rolled out last year when Unknown opened. The main change I noticed was the later hop additions (there are seven total, all added at numerous points in the process), which gave it a different bite, one that was smoother and unexpected for a double IPA coming in at nearly 10 percent ABV. Look for Vehopciraptor bottles to be available at local bottle shops beginning today (Friday), and you can also get them at the brewery.