Chef Alyssa's Kitchen Has a New Home
Popular South End business will add corporate lunches and pick-up meals at a new location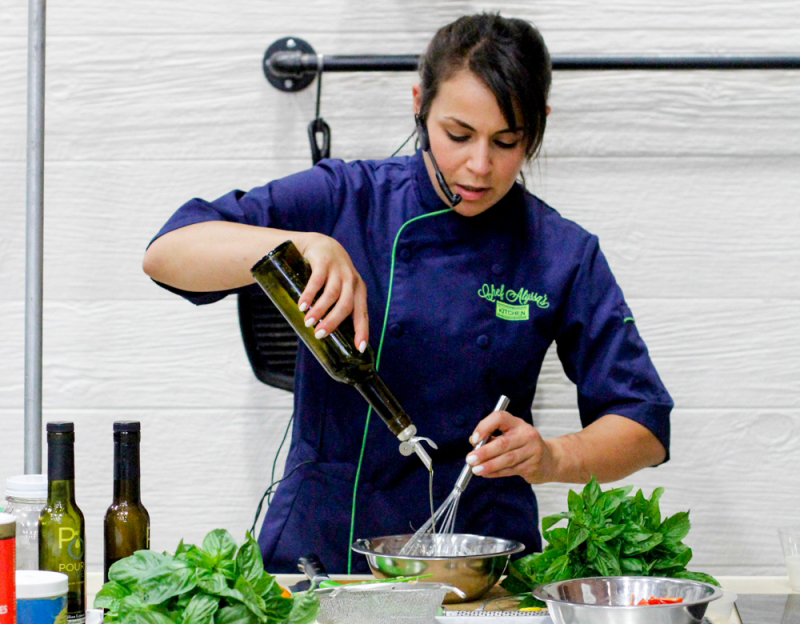 Chef Alyssa's Kitchen will pack up its cutting boards and aprons at Atherton Mill and expand to the Bowers development under construction less than two miles away in South End, at the corner of Old Pineville and Yancey roads.
Owners Alyssa and Andrew Wilen say the move will allow them to add more of their popular cooking classes, expand kids programming, and start a new venture serving healthy take-away meals.
"Our classes have sold out—every one of them—for the past two years," Andrew Wilen says. "Our calendar's fully booked. We're so thankful and appreciative for that, but we knew it was time to grow."
At the new space, which is expected to be ready next spring, the company will continue to host cooking classes in a main kitchen, but will also build a second, smaller kitchen. That space will be home to summertime cooking camps for kids, weekend birthday parties, and specialized demonstrations. Chef Alyssa's Kitchen will also launch a new corporate lunch service out of a commercial kitchen, designed to provide fresh, local meals for businesses—as well as prepared take-out dinners for the general public.
"Everything will be the way I like to cook and the way we structure a lot of our classes," Alyssa Wilen says. "Bringing in a lot of ethnic flavors to modern, Southern, American cuisine." The lunchtime menu will include crafted bowls, healthy salads, and wraps. Alyssa says she'll draw on her love of Spanish, Moroccan, and Mediterranean flavors in the dishes. Once the lunch and dinner programs launch, Alyssa plans to add a take-out breakfast menu, although she's quick to note the new space is not a restaurant.
Chef Alyssa's Kitchen started in 2013, and its cooking classes are popular with couples as a date night, friends celebrating a girls' night out, and corporate groups that want a fun teambuilding exercise. So far this year, Chef Alyssa has led more than 140 classes at Atherton Mill. The company added week-long summer cooking camps for children in 2014; this past summer it held seven weeks of kids programming and still had a waiting list.
At Bowers, Chef Alyssa's Kitchen will join the maker of Victory and Southern Tier beers, which will open a taproom and special event space . Developer White Point Partners bought the industrial site for nearly $8 million earlier this year. The Wilens say Bowers' adaptive reuse design was part of what sold them on the location.
"That was something we had to have—those high ceilings and that open space," Alyssa says.
"We don't want people to feel like coming to a cooking class is like going to school," Andrew chimes in. "There's no homework, we're not gonna call on you, this is going to be fun. And so the whole feel of it really needed to capture that."
ADAM RHEW is this magazine's senior editor.