Chef/Owner William Dissen on Haymaker, Opening This Fall
Asheville chef enters Charlotte market with uptown restaurant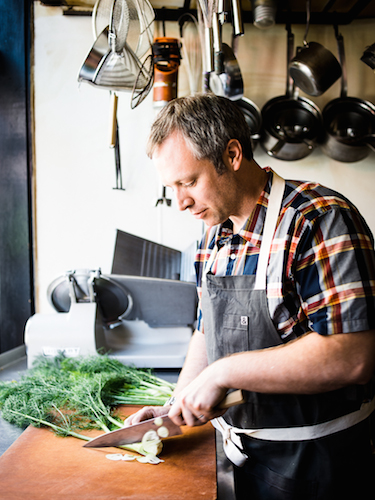 Chef William Dissen has worked in places such as Charleston and New York City, following the typical journey of a chef, leaving Appalachia, where he grew up, to chase restaurant jobs across the country. When he decided to open his own restaurant, he settled on Asheville, a place he says felt like home. He purchased The Market Place there eight years ago and made the restaurant his, changing the menu to be more casual and innovative. He added solar panels to help the restaurant be more self-sustainable. The décor includes reclaimed touches, such as barn wood, and a concrete bar that uses sand from the nearby French Broad River.
"I've definitely drank the Kool-Aid in Asheville," Dissen jokes.
Helping encourage his eco-friendly tendencies is his wife, Jenny, who now works at National Oceanic and Atmospheric Administration. She used to work at Accenture here in Charlotte, and the couple keeps up with several friends in town when they travel here with their two kids. So when Dissen felt he was ready to open a second restaurant, Charlotte was an easy choice. Beau McIntosh, a partner with local firm Dominion Realty Partners, is a childhood friend of the chef, and his business partner on the Poplar Street project. The rapidly growing culinary scene here made the decision even more appealing.
"The food scene there is just really, really taking off right now and there are so many chefs that are just excited about food and the food community is really starting to explode," Dissen says, "So I'm honored to have the opportunity to expand to the Charlotte market."
The name of his restaurant, Haymaker, has a double meaning. It's a nod to farmers, sometimes called haymakers, but also to celebration: a haymaker is also a term for a party, and still others may know the term as a knockout punch. His menu will celebrate farmers through local ingredients; Dissen describes the menu as American, seasonal, sustainable, and ingredient-driven.
"The chefs I came up under, they said you know if you want to be a great chef, you have to use the best ingredients," Dissen says. "And the best ingredients are going to be the freshest ones."
Menu items such as the hay-roasted heirloom carrots show that Dissen is committed to using whole ingredients; the carrots are finished with a carrot top aioli. Other dishes include a foraged mushroom tart with roasted shallots and soft herbs, and a hearth-roasted Sunburst trout with zipper peas and a country ham broth. The chef says he has enjoyed getting to know the farmers in the area.
Dissen has already gotten calls from several local chefs welcoming him into the culinary circle here, including Joe Kindred of Kindred Restaurant, Matthew Krenz of The Asbury, Paul Verica of Heritage Food + Drink (our No. 1 restaurant on our most recent Best Restaurants list) and Chris Coleman from Stoke. The phone calls were meaningful to the newcomer.
"A lot of chef communities are not very collaborative and not very open, and everyone in Charlotte seems very hungry to take Charlotte's food scene to the next level," he says. "I'm really excited to come down and be a big part of it."
Like at The Market Place, Dissen wants the vibe at Haymaker to be upbeat and fun.
"That's where dining is going nowadays," he says. "People want great food and great service, but they don't want the pretense. With Haymaker in Charlotte, that's really what I'm trying to bring to the neighborhood there in uptown, too, to make a space with great food that's locally and sustainably sourced, fresh, but approachable at the same time."
In addition a main dining room, an upstairs mezzanine will hold 50 people, and there will be a 34-seat bar. The restaurant will have plenty of windows looking out onto Romare Bearden Park, where the chef hopes to secure space for a small garden. As for the beverage program, Haymaker plans to serve local beers and ciders, as well as craft cocktails—with some potentially on draft. The wine list will have 50 to 75 wines, chosen to pair well with the food.
Haymaker will open at 225 S. Poplar St. in uptown, and is on schedule to begin service this fall.