Chef Shuffle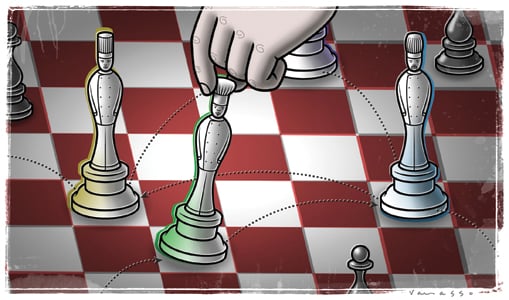 Over the last several months some of Charlotte's favorite chefs have been on the move. Curious why that dish you're digging into in South End reminds you of something you recently tried in SouthPark? Check our chart to see who's doing what now.
Chef: Blake Hartwick
Then: Bonterra
Now: Andrew Blair's
The Story: Hartwick was executive chef at Bonterra for ten years as well as its sister restaurants, Las Ramblas and The Lodge, before moving to Andrew Blair's. In his new position he's overhauled the menu to incorporate local and seasonal dishes with a southern twist.
Chef: Tom Condron
Then: Upstream, m5
Now: The Liberty
The Story: this British-born, long-time Charlotte chef opened his farm-to-fork gastropub, featuring hard-to-find beers, with partner Matthew Pera last fall. Pera also has a long Charlotte dining history: He's been a manager at several notable restaurants including Upstream and GW Fins.
Chef: Thomas Kerns
Then: Harper's
Now: Terrace Café
The Story: Before he was the sous chef at Upstream and the chef de cuisine at Harper's restaurant, Kerns was sous chef at the Charlotte Country Club and the Palm Restaurant. now he's heading up the kitchen at this new Southpark bistro serving breakfast, lunch, and dinner.
Chef: Jason Pound
Then: Aquavina
Now: Soul Gastro Lounge
The Story: He's known to be a creative chef who is passionate about his food. Owner Stefan Latorre gave him freedom in the kitchen at his restaurants Latorre's and Aquavina. while Aquavina hasn't been the same since pound left, Soul is thriving.
Chef: Tim Groody
Then: Sonoma
Now: The Flatiron Kitchen & Tap House
The Story: Groody was a champion of Charlotte's local food movement during his twelve years with Sonoma Restaurant Group. since leaving the group, Groody has announced he's opening the new restaurant in Davidson with partners Chad Hollingsworth and Michael LaVecchia.
Chef: Mark Hibbs
Then: Ratcliffe on the Green
Now: Undecided
The Story: The former chef/owner of Ratcliffe hasn't announced what's next on his agenda, but considering he's cooked at the James Beard House in New York and is a strong advocate for farm-to-fork dining, we're looking forward to his next move.
Chef: Bill Schutz
Then: Ballantyne Country Club
Now: Sonoma Restaurant Group
The Story: Schutz moved to Charlotte to teach at culinary school Johnson & Wales. after the twelve-year dining partnership between Pierre Bader and chef Tim Groody ended last summer, Schutz took Groody's place at the helm of Bader's restaurants, including Sonoma Modern American, Pie Town, Press, and now Aria.