Chef's Recipe: Springtime Cake Pops
Cupcrazed's Heather McDonnell shares a recipe for a blooming treat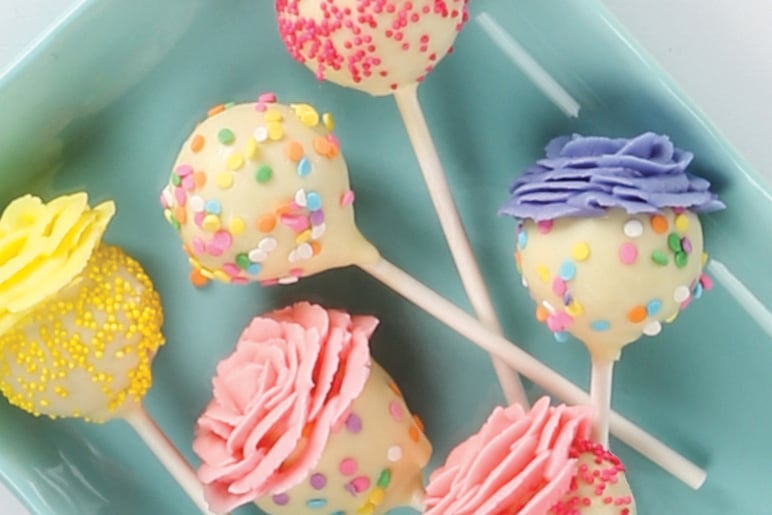 WHEN THE SUN is shining and the grass grows green again, we can finally shake off the shivers and spend time enjoying the outdoors. Bring a bouquet of these cake bites on a stick along with you on a spring walk, and you'll be everyone's favorite neighbor. Heather McDonnell, founder of Cupcrazed Cakery in Fort Mill, bakes cupcakes in flavors from french toast to classic chocolate. Here, she shares a recipe for the bite-sized version.

SIZE: The bigger the scoop, the heavier the ball. If your cake rounds are too big, they're more likely to fall off the stick. Use a coffee scoop or measuring spoon to ensure uniform size; 1 1/4 inches is ideal.
---

THE STICK: Dip your cake pop stick into the coating before pushing it into the cake ball. The hardened coating will help adhere the two.
---

DIP: Don't stir pops in the coating; dip them. Stirring or swirling your cake pop could cause it to fall off of the stick into a candy coating abyss. Once the cake pop is sealed in the candy coating, pull it straight up and out of the coating.
---

COATING: Add decorations, like sprinkles, sugars, or cocoa, to the pops before they set.
---

FROSTING: Be sure to slowly add frosting to your pops. If you add too much, they won't stay rounded. Don't add enough, and they'll crumble as you try and eat them.
---

DISPLAY: Once the cake pops are decorated, push the stick ends into a Styrofoam block to keep them standing up.
Cake Pops by Cupcrazed Cakery's Heather McDonnell
Makes around 50 pops
Cupcrazed's Vanilla Cake Recipe
1 cup butter, room temperature
2 cups sugar
4 eggs
1 teaspoon vanilla
1 ½ cups self-rising flour
1 ½ cups all-purpose flour
1 cup milk
2 tablespoons oil
Frosting
1 cup butter, room temperature
3 to 4 cups confectioners sugar
1 tablespoon milk
1 tablespoon vanilla
Pops
1 pound white or milk chocolate or colored candy melts
Glass bowl for melting or double boiler
Lollipop sticks
Cookie sheet lined with parchment paper
Styrofoam block
In a mixing bowl, beat sugar and butter together using an electric mixer. Add eggs, and beat until combined. Mix in vanilla and salt. Add self-rising flour, half of the milk, and combine. Add all-purpose flour and remaining milk, and mix until lumps are gone. Add oil and mix well. Make sure to scrape sides of the bowl so ingredients are incorporated before pouring into cake pan coated with cooking spray.
Bake at 350 degrees for 20 minutes, rotate the pan, and bake for an additional 15 minutes.
Let the cake cool, then crumble into a mixing bowl using electric mixer on low until cake is in fine crumbs. Slowly add frosting (recipe above) until consistency is that of Play-Doh.
Using a small ice cream scoop, form into balls and chill on parchment paper in freezer while preparing chocolate.
In glass bowl, slowly temper chocolate. If you find the consistency of the chocolate is too thick for dipping, add a teaspoon of shortening and whisk. Dip a lollipop stick into the chocolate, then insert into the center of a frozen cake ball. Return to freezer to set.
Dip each frozen ball into the chocolate, completely cover the ball, and tap excess chocolate on the edge of the bowl. Set cake pop standing up in Styrofoam. Be sure to add any decorations or sprinkles before the chocolate sets.