Chefs' Top Turkey Tips
Charlotte's chefs dish on their best turkey tips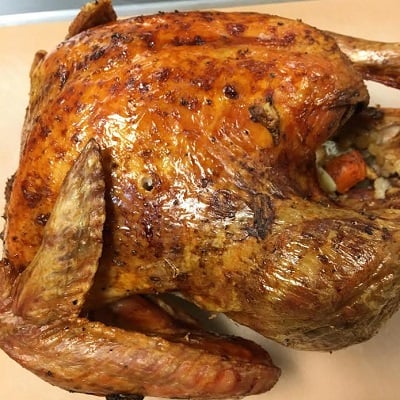 We asked and they answered. With Thanksgiving less than 24 hours away (AHHHHH), we decided to ask a few of Charlotte's best chefs for their tips on turkeys; from roasting to brining to bacon and more.
Chef Marc Jacksina – Earl's Grocery: "Brining it is key. If it's from a big producer, like Butterball, you won't need to brine, or at least go light in the salt, since they're almost always pumped with a brine (another reason to consider purchasing from local farmers like Newtown Farms). I also like doing a 'dry brine' which is using a salt/sugar and spice rub and wrapping it tightly in plastic overnight. I prefer to bake my stuffing or dressing on the side to allow the turkey to cook evenly. Also, let your turkey sit out for an hour before cooking, and make sure to let it rest for 30 minutes before carving."
_____________
Chef Jamie Lynch – 5Church: "First, and what we are doing at 5Church this year, is to separate the the breast and the leg from the turkey; brine the breast over night. The breast is then roasted and sliced; it'll come out juicy every time. The legs are then braised until they just pull away from the bone. It's my feeling that turkey legs are best prepared that way."
_____________
Chef Luca Annunziata – Passion8: "I break it down the turkey into a few different pieces first, then I brine them all – the breast first. After they have brined I dry them very well, then I wrap the turkey with fat back and porchetta and roast it. With the legs, I de-bone them and stuff them with sausage, carrots and celery. Next, I roll the leg, sear and roast them. For the gravy, I take the bones and roast them with onions and celery. I let that cook overnight and in the morning we strain it, let it reduce more and add sherry vinegar. Last, we thicken it with a rue."
_____________
Chef Joe Kindred – Kindred Restaurant: "We buy a pastured turkey from my buddy Sammy Koenigsberg at New Town Farms, brine it, then smoke it whole with charcoal and hickory on my old school, classic Weber. Then we stuff the turkey with my wife's bomb stuffing recipe and save the drippings to make a smoked turkey fat and giblet gravy."
_____________
Sous Chef Matt Tilman and Junior Sous Chef David Gardner – The Gallery Restaurant: "Brine your bird – Use a basic brine flavored with fall herbs and spices such as sage, peppercorns, and bay leaf. The brine should consist of no more than 20 parts water to one part salt and or sugar. Next, season your whole bird – Make sure to season the bird inside and out. The inside of turkey needs seasoning to make sure the meat is seasoned throughout, and not just the skin. Stuff the cavity with halved citrus to make the meat extra flavorful. Putting stuffing inside is nice, but take your turkey to the next level! Butter the bird and not just the skin. Place softened butter between the skin and the breast meat for extra juicy breast meat. Throw in some herbs for extra flavor and a beautiful mosaic once the turkey is finished. Relax – Let the bird rest for a while once it is finished cooking. This will allow for all the juices to stay in the meat once you begin to carve your turkey."
Wishing you and yours a very happy, very feast-worthy Thanksgiving!