Chic Sushi
EpiCentre's newest dining venue is a savory—and sexy—addition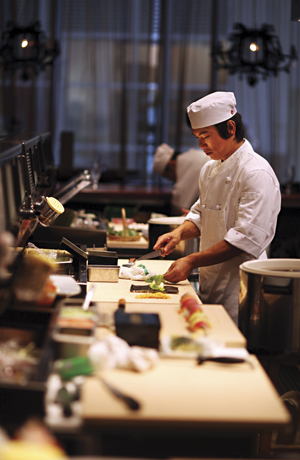 Sushi bars are popping up like shiitake mushrooms in and around uptown these days. Enso Asian Bistro & Sushi Bar is the first to offer sushi at the always-hopping EpiCentre. As its name suggests, this restaurant is about more than just sushi, but it does sushi very well.
First, let's talk atmosphere. For those who aren't into the more, shall we say, boisterous venues at EpiCentre, Enso has a decidedly sophisticated vibe. The décor is modern and chic with classic Asian accents. Hanging steel mesh art installations add drama and vintage Kung-Fu films playing silently on several flat screens bring a dash of kitsch.
With room for 250 guests inside and another fifty on the covered patio, the space is divided nicely for those who want a relaxed dinner and those who like a lounge atmosphere. A full menu is served throughout, as is an impressive wine, sake, and cocktail selection.
The main dining room, where the sushi bar is located, is well lit. Upbeat, ambient house music is just loud enough to enjoy while still allowing for conversation. The bar area is more dim, with plush sofas and a long, sleek seated bar. "We're not a club," says General Manager Colin Jones. "We want to maintain a restaurant atmosphere, and our space allows different guests to have different experiences."
Enso's bistro menu ($4-$40) from Executive Chef Haim Aizenberg includes the expected rice and noodle choices, spring rolls, dim sum, and yakitori. Entrées offer more interesting dishes with pan-Asian nods. The Korean-style kalbi beef short ribs aren't to be missed. Sushi at Enso is flown in fresh several times each week and cut to perfection. In addition to sashimi and nigiri, more than twenty innovative fusion rolls ($10-$16) offer a twist on traditional maki.
Owners Pete Lloyd and Erez Sukarchi are experienced restaurateurs who made their marks primarily on the South Carolina coast. Enso is the team's first foray into the Charlotte dining scene. And the scene here is worth a look.