Chicken and Andouille Sausage Gumbo
A satisfying dish for a brisk fall day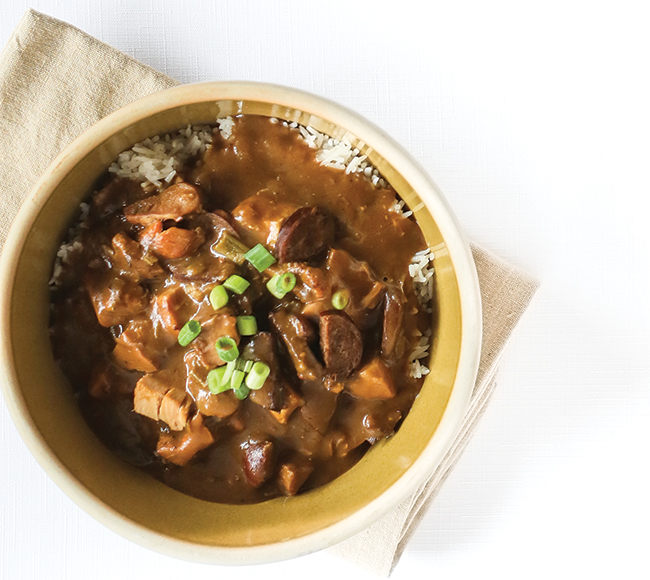 This New Orleans-style gumbo is satisfyingly rich and full of flavor—perfect for a brisk fall afternoon. It's a standard on the menu at e2 Emeril's Eatery, and chef de cuisine Brian Mottola says the secret is in the roux, the mixture of butter and flour that gives the gumbo its color. This is a dish for a patient home cook; don't rush through the steps or you'll risk burning it along the way. "It's just one of those things that takes a little bit of time," Mottola says. But the results are worth the effort—and make for excellent leftovers.
TIPS:
If you're lucky enough to have leftovers, use the stock of your choice to reheat the gumbo. Vegetable, seafood, and chicken stocks work equally well—the goal is to get the gumbo back to its creamy consistency.
Serve over rice and top with green onions. "Gumbo and rice go hand in hand," Mottola says. "And green onions. Always green onions."
Don't burn the roux! "Give yourself ample time," Mottola says, stressing the importance of taking it slow and using low heat. "The whole room starts to smell like you're toasting peanuts," he adds. Your roux should be a chocolate color. If it starts to get too dark, cool it down slightly with warm water or beer.
Choose your sausage with care. "I like to see the grain and the texture of the andouille," says Mottola. "I like to see nice big chunks of ham that run throughout. It really has to do a lot more with the texture of the sausage."
Don't skip the filé powder—otherwise known as ground up sassafras root—but use it sparingly. "It really brings…more of a thickening agent to the dish, and it brings that herbaceousness," Mottola says. He suggests spooning a little bit of the gumbo out of the pot and letting it chill slightly, then whisking in the filé powder and pouring it back in the soup, with these words of warning: "If you don't sprinkle in small amounts, it'll turn into a little dumpling."
Chicken and Andouille Sausage Gumbo
From e2 Emeril's Eatery
Serves 4
1 cup vegetable oil
1 cup flour
1 ½ cups chopped onions
1 cup chopped celery
1 cup chopped bell peppers
1 pound andouille sausage, cut
crosswise into 1/2-inch slices
1 1/2 teaspoons salt
1/4 teaspoon cayenne
3 bay leaves
6 cups water
1 pound boneless chicken meat, cut
into 1-inch chunks
1 teaspoon Emeril's Original Essence
2 tablespoons chopped parsley
1/2 cup chopped green onions
1 tablespoon filé powder
Combine the oil and flour in a large cast-iron or enameled cast-iron Dutch oven over medium heat. Stirring slowly and constantly for 20 to 25 minutes, make a dark brown roux, the color of chocolate. Add the onions, celery, and bell peppers and continue to stir for 4-5 minutes, or until the veggies are wilted. Add the sausage, salt, cayenne, and bay leaves. Continue to stir for 3-4 minutes. Add the water. Stir until the roux mixture and water are well combined. Bring to a boil, and then reduce heat to medium-low. Cook, uncovered, stirring occasionally, for 1 hour.
Season the chicken with Emeril's Original Essence and add to the pot. Simmer for 2 hours, adding additional water if necessary—gumbo should be the consistency of a somewhat thick soup. Skim off any fat that rises to the surface. Remove from heat. Stir in the parsley, green onions, and filé powder. Remove the bay leaves and serve in deep bowls over rice.
Recipe courtesy of Emeril Lagasse, adapted from Louisiana Real and Rustic cookbook, William Morrow Publisher, 1996, copyright MSLO, Inc., all rights reserved