Chicken: Beyond Ordinary
Make Chicken Paillard your new go-to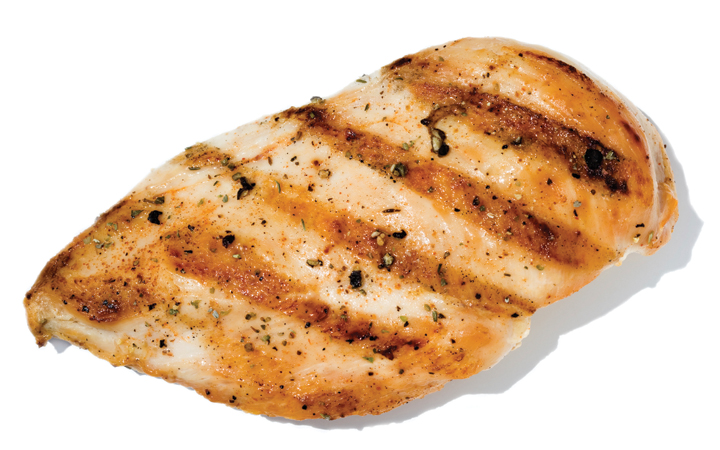 Mastering this almost-effortless chicken preparation will make you a grilling rock star. Mix up the toppings to take the dish from elegant dinner party to a weeknight meal with the kids.
The Staple: Grilled Chicken Paillard
Place 4 thin-cut or pounded chicken cutlets in a large resealable bag with 3/4 cup olive oil,
1/4 cup lemon juice, 4 garlic cloves (sliced), and fresh ground pepper. Let marinate at
room temperature for 30 minutes or in the fridge for an hour.
Heat grill to high. Place chicken on the grill, close lid, and cook, 5-8 minutes total, flipping halfway through. Season with salt, top, and serve.
Makes 4 servings
The Toppers:
Rustic Italian: Sweet-and-Sour Eggplant Caponata
In a large pot with some olive oil, brown 4 cups diced eggplant. Remove from pan. In that same pan, with olive oil over medium heat, sauté 1/2 sliced onion until just caramelized, about 10 minutes. Add 1 diced celery stalk, 1 tablespoon capers, 1/2 cup raisins, 1 tablespoon sugar, 1 tablespoon sherry vinegar, and a 14-ounce can diced tomatoes. Return eggplant to pot. Season with salt and pepper and simmer 20 minutes. Let cool, mix in 1/4 cup sliced basil and 2 tablespoons olive oil. Let sit in fridge overnight. Serve hot or cold.
Napa Valley: Walnut Basil Pesto
Combine 2 minced garlic cloves, 3 tablespoons toasted walnuts, 3 tablespoons grated Parmesan cheese, and 1/3 cup olive oil in a food processor. Pulse to form a paste. Add 1/4 cup lemon juice and 4 cups fresh basil leaves and pulse until well combined. Season with salt and pepper, and mix in an additional drizzle of olive oil.
French Bistro: Frisée, Green Bean, and Dijon Salad
Whisk 1 tablespoon Dijon mustard with 2 tablespoons sherry vinegar. Add 1 tablespoon diced shallots. Drizzle in 1/2 cup olive oil, whisking constantly, until well incorporated. Season. Toss a few tablespoons of dressing with 5 cups frisée lettuce, 1 pint baby tomatoes (cut in half), 1 cup blanched green beans and 2 tablespoons chopped chives. Drizzle chicken with olive oil, and 1/4 cup chopped green olives. Top with salad and serve.