Choosing Your Wedding Shoes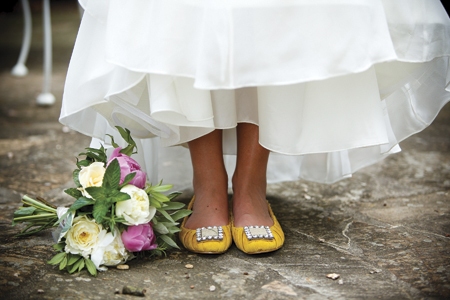 One of the most important decisions you will make for your wedding day is what shoes you will wear. For brides who wear long gowns, guests might not ever see your shoes.
So does it matter what you wear on your feet?
Of course it does! Do you want to be halfway through your vows and able to think of nothing but how your shoes are pinching your toes? Or how your ankles are killing you because you chose a 4 1/2 inch heel? Make a smart decision when choosing your shoes, based on what will be best for you as a bride instead of pretending to be Carrie Bradshaw and loving those sky-high Jimmy Choos. Here are some tips to help you with this decision:
1. Choose a style that you would be comfortable wearing all day (sandals, boots, high heels, wedges, ballet, etc…)
2. The material should match that of your gown. For instance, if your dress is satin, choose satin shoes.
3. Make sure the shade of white matches the shade of your dress, like ivory shoes for an ivory dress, white shoes for a white dress, and so on (unless you are going for a pop of color, of course).
Personally, I love the idea of a comfort shoe, like the yellow flats that Amy wore at her 2010 wedding to Jesse at the Van Landingham Estate (pictured above). Brides can find fashionable, comfy shoes to wear through the ceremony and reception that will still make them feel like a princess. Click here to read Amy & Jesse's Real Wedding story in Charlotte Wedding magazine.