Chop Shop
Block & Grinder's innovative concept takes hold in Cotswold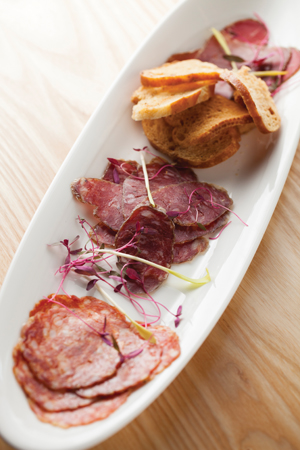 The Block & Grinder concept is deceptively simple: restaurant meets butcher shop. But owner Jed Kampe knows the most important aspect of any successful butcher shop, burger joint, or steakhouse is quality meat. So when Block & Grinder opened in mid-March, the butcher shop/eatery also became the latest to join the city's thriving farm-to-table trend.
Interpretations of the farm-to-table concept, however, vary widely from eatery to eatery. For Kampe, (formerly of New York Butcher Shop), it means direct sourcing and a focus on quality, with less of an emphasis on locality and sustainability. "It's a combination of identifying and finding the best produce out there from sources that are truly small operations," he says. "Nothing's prechopped; nothing's processed. We did a lot of homework on the ranches, the farmers, everything, to really create that farm-to-table element."
A large wine selection is also available for sale on a retail basis (with a $20 "uncorkage" discount). The butcher shop/restaurant combo offers perks including steaks cut-to-order—and if you like what you taste, you can order some extras to toss on the grill at home. "We can cut a 48-ounce steak if you want it," says Kampe.
The location—a former Panda Express in Cotswold—has been transformed. Whitewashed walls meet dark leather booths, and a wood wraparound bar is tucked into the front corner of the long, narrow space. A refrigerated case for retail purchases and the butcher counter separate the kitchen from the dining room. The décor is sparse but fitting: Old-fashioned beef grinders, meat hooks, and cleavers are displayed on high shelves, and on one wall, a mural portrays the farm-to-table concept.
The menu includes a few beautiful salads and starters such as dainty deviled eggs topped with a curl of prosciutto ($4.50) and chicken liver paté topped with sweet bourbon and fig compote ($7). But the emphasis here—and rightly so—is on the meat, from charcuterie, pork belly, and sweetbreads to sausages, steaks, and burgers. Burgers, ranging from $9 to $25, are made with Block & Grinder's signature blend. The latest addition: an indulgent foie-gras-topped burger called The Hudson Valley ($25). In the midst of all those steaks and burgers, one signature dish in particular is a standout: the wild game meatloaf ($20), which pairs thick slices of dense, flavorful meatloaf with mashed potato croquettes (crispy on the outside and creamy on the inside) and a bourbon barbecue sauce.
Although the restaurant is small, its ambiance makes it an option for a casual weeknight meal or an intimate weekend date. This isn't a place for a large birthday celebration, however—there just isn't enough space. But for the home chef who's been looking for a place to purchase, say, a whole pig for a pig pickin'—and those meat-lovers who would rather have his or her meals prepared by a pro—Block & Grinder is the ultimate destination.