Chris Hemans: Uptown Panache
The economic developer shares a few of his favorite things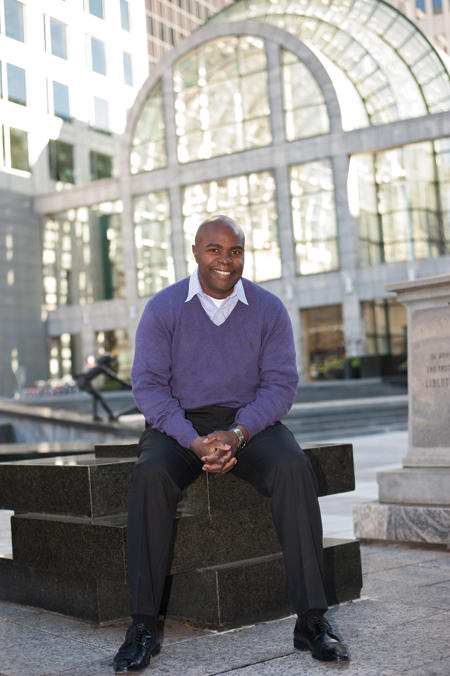 CHRIS HEMANS just finished his first season coaching basketball. His players are in first and second grade. The team, at the Lake Norman YMCA, includes his son. "It really is like herding cats," says the 40-year-old father of three. "I try to make it fun."
In his job as director of retail at Charlotte Center City Partners, the same coaching skills come in handy: focus, enthusiasm, and the ability to sell a game plan. Hemans came to Charlotte a decade ago from Chicago, where he recruited businesses to the city. With a master's degree in broadcast journalism from Syracuse University, he has a knack for sharing a good story. He wants to see uptown become a thriving commercial center where people shop on game day or before a show.
For tips on his stylish, man-about-town wardrobe, Hemans turns to David Watkins, owner of Abbeydale on Fourth Street. He shares a secret with Hemans—they've both manned turntables as disc jockeys. Hemans' biggest gig was for a crowd of 4,000 at a Chicago charity event headlined by blues singer Koko Taylor. "There's a whole hidden DJ community that exists out there," Hemans says. "We don't talk about it because we're all proud professionals now."
He laughs, and it's easy to see why the young basketball players follow him. He makes you want to join his team.
---
RUNNING // Hemans ran his first half-marathon in 2012 in East Hampton, New York. After that, he was hooked. The wall above his desk is covered with numbers he's worn in various races.
---
ACCESSORIES // "Pocket squares give you that ability to put a little bit of color and personality into your clothing, into your personal style—especially for men's clothing, which can be pretty corporate," Hemans says.
---
BASEBALL // At a Charlotte Knights game last July, Hemans did a double take when he saw Reggie Jackson in the visiting team's dugout. He sent his kids over to the Baseball Hall of Famer to ask for his autograph. A sweet coincidence: It was Heman's daughter's birthday.
---
DAD'S PLAYBOOK // When Hemans found this book of quotes at Blis Gift Boutique in Founders Hall, he wanted to buy one for each of his friends. "There really is no guidebook or rulebook for being a father," he says.
---
VINTAGE SOUND // Technics turntables are popular with DJs. Hemans' record collection includes Michael Jackson's 1979 solo album Off the Wall; the Chicago Bears' audacious 1985 Super Bowl Shuffle; and the 1991 album from A Tribe Called Quest, The Low End Theory.