Christians and Stoners to Converge on Democratic National Convention
Charlotte714 takes place Sept. 2; Weed Not Greed Tour stops in Sept. 6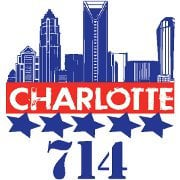 Two distinct organizations have announced plans to hold events in Charlotte while the Democratic National Convention is here. One is promoting unity on God's earth; the other: God's green earth.
Charlotte714
Charlotte-based Benham Companies, led by twin brothers and former Major League Baseball players David Benham and Jason Benham, has launched Charlotte714. The organization is described as "a group of local area Christians who love Jesus and the city of Charlotte," and 714 represents Bible passage 2 Chronicles 7:14.
Charlotte714 is hosting a day of prayer, worship, and unity on Sunday, September 2, Labor Day weekend, at Verizon Wireless Amphitheatre. The event will be free and open to the public, with gates opening at 2 p.m. VWA has a capacity of 19,000, so this could be one of the largest events of DNC week if they fill the outdoor venue.
Organizers assert that this is not a political event; not a protest or a demonstration. "It is a proclamation of Jesus Christ and a gathering of believers to petition God's government—that is higher than every other government—requesting that He hear from heaven, forgive our sins, and heal our land," reads a statement from their website. Charlotte714 has planning meetings scheduled throughout July in Uptown, south Charlotte, west Charlotte, and Huntersville. You're invited to attend if you would like to get involved.
Visit charlotte714.com for more details.
Weed Not Greed Tour
The Cannabis Information Network has selected Charlotte as one of more than 20 cities it's bringing the Weed Not Greed Tour. This "marijuana legalization tour will be promoting awareness of marijuana use and advocating for the repeal of marijuana prohibition," when it stops here on Thursday, September 6. That, of course, is the same day President Barack Obama is scheduled to deliver his acceptance speech at Bank of America Stadium in Uptown.
No word yet on where exactly the tour will set up shop in Charlotte, but you can expect it to canvass the city in its 45-foot tour bus, which is said to look more like a moving billboard with advocacy and legalization messages plastered all over it. With major cities selected like Los Angeles, San Francisco, Las Vegas, New York, and Chicago, Charlotte is the only Southern city on the Weed Not Greed Tour, which kicks off at the Seattle Hempfest on August 17 and concludes in the nation's capital on September 11.
For more details, visit weednotgreed.com.