Christmas in July, More Christmas in July, National Dance Day, National Tequila Day and More, July 23 to July 26
With a slew of Christmas in July events, National Tequila Day as well as National Dance Day upon us, your weekend looks merry and bright.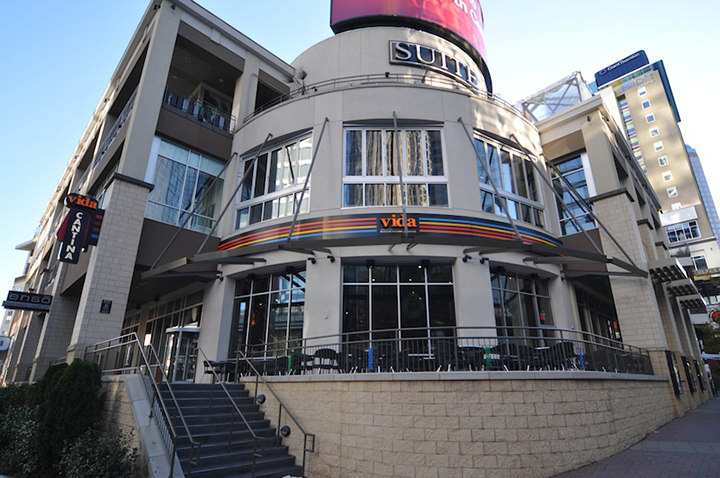 We might as well unwrap our gifts, carol around town and exchange cookies this weekend. There are at least three "Christmas in July" events happening around town, and that doesn't include the National Tequila Day celebrations or the National Dance Day festivities. Either way, it looks like you'll celebrate something this weekend. See y'all out there!
Thursday, July 23
Bats and Buds Knight Outing
Take me out to the ball game! For just $10, you can score a ticket into the BB&T Ballpark, one beer before the game, two beers after the game and half-price appetizers at Draught. Get your Cracker Jack ready beginning at 6 p.m. at Draught, 601 S. Cedar St. Buy tickets here, bro.
Friday, July 24
Christmas in July
Up on the rooftop, reindeer paws…OK, we'll stop. Climb on up to the rooftop for this cocktail party for a cause. It's "Christmas in July," so have a few cocktails to support Classroom Central, which gives teachers in high-poverty Charlotte schools access to free school supplies. The evening is from 7:30 p.m. until 11 p.m. Tickets start at $60 and drop to $40 if you bring a backpack of school supplies. The ticket includes beer, wine, appetizers and live music on the EpiCentre's roof, 210 E. Trade St. Buy your tickets here.
Cocktails 2 Connect
The Urbane Group brings young professionals in Charlotte together in a sophisticated, yet also trendy environment, and it's holding a networking mixer tonight. Doors open at 6:30 p.m., and the evening includes giveaways. Attire is "summer sophisticated." The sophistication begins at the Sheraton Charlotte, 555 S. McDowell St. RSVP here.
White Christmas in July
Apparently July is the new December because there isn't just one Christmas-themed party; there are two. It's a white Christmas at BAR Charlotte, 300 N. College St., tonight complete with foam cannons, snow machines and confetti blasts. Doors open at 9 p.m., and there's free admission before 11 p.m. RSVP here.
Unknown Brewing Business Mixer
Awesome Random Adventures, known for its dinner crawls and pub tours for Charltote's 20-something and young professional crowd, hosts its first business networking event tonight. The mix-and-mingle event is at the Unknown Brewing Co., 1327 S. Mint St., from 7 p.m. until 11 p.m. Tickets cost $10 and include a free beer and chances to win giveaways. Buy your ticket here.
National Tequila Day
These "holidays" are getting a little out of hand, but we won't complain about this one…until tomorrow morning. Celebrate today with your favorite Patron or Jose Cuervo at Vida Catina, 210 E. Trade St. The Mexican joint has tequila specials all day.
Christmas in July in Uptown with Santa
Santa leaves his sleigh bells behind and trades them in for steel drums tonight as Uptown celebrates Christmas in July. This event features free snow cones, food trucks, photo opportunities with characters from Charlotte Ballet's "Nutcracker" and a screening of the movie "Elf." The free Christmas celebration begins at 5 p.m., and "Elf" starts at 8:45 p.m. at Romare Bearden Park, 300 S. Church St. Rumor has it there's a 100-percent chance of snow.
Saturday, July 25
Halfway to Christmas Party
Make that three Christmas-themed parties this weekend. Come dressed in your best Santa outfit for a chance to win a three-day vacation voucher at a Cancun resort. Merry Christmas, indeed! The merriment gets underway at 10 p.m. at the Rusty Rudder, 20210 Henderson Road, in Cornelius. There's no admission fee because, duh, what kind of Scrooge would do that?
Plaza Midwood Celebrates National Dance Day
Didn't know today was National Dance Day? Well, neither did we. But, apparently, it's a thing! Get up and dance today, starting with a flash mob at the intersection of Thomas Street and Central Avenue. Following that, there are a host of other dance-related activities at three different Midwood locations. The events are free, but times and locations vary. Go here for more information.
Puerto Rican Festival
Celebrating everything Puerto Rican, this festival is sure to be muy caliente. There will be authentic Puerto Rican food and music throughout the day. The event is free and runs from noon until 7 p.m. in Marshall Park, 800 E. Third St.
Vintage Charlotte Summer Market
For the fourth year, VTG CLT is popping up with its annual summer market. But this isn't your regular shopping day. Sycamore Brewing is bringing a portable beer garden, The Daily Press is supplying coffee and food will be available from Juan Taco Truck, Bleu Barn Bistro and King of Pops. Admission is free to the market starting at 11 a.m., or you can pay an extra $5 to start shopping an hour early at 10 a.m. The pop-up market is at 2205 N Tryon St. Buy your early-bird ticket here.
WINESTOCK Summer Wine and Music Festival
This all-day music and wine festival is sure to be a hit with all the wine lovers. Brixx Pizza, special catering and barbecue will on site throughout the day to go along with Treehouse's on-site wines. Bring your own blanket for this music fest. Tickets are $5. Treehouse Vineyards is at 301 S. Bay St. in Monroe.
Sunday, July 26
Jazzy Brunch
It's Sunday. We brunch. Why not enjoy a brunch, then, alongside a guitarist? Blue invites you to eat with the extra treat of Chris Standring this afternoon. Blue is at 206 N. College St. For reservations, call 704-927-2583.
Verify dates, times, prices, and other info at the web addresses listed for each event.
Be sure to bookmark www.charlottemagazine.com/Blogs/Dusk-Till-Dawn to stay plugged into Charlotte's nightlife and social scene. Click here to sign up to receive the weekly Dusk Till Dawn e-newsletter.
Want your event featured in Dusk Till Dawn? Follow me on Twitter @Jared_misner and let me know about your event, or send me an email at dusktilldawnblog@gmail.com.