Church Reform
Despite our Bible Belt status, not all of Charlotte's churches are what they seem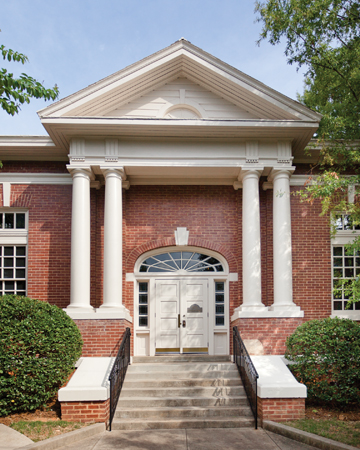 Take a drive down Providence Road and within just five miles—from about Fairview to Queens—you'll pass seven places of worship. Church ubiquity is a testament to this town's deep-rooted relationship with religion, and the Charlotte Chamber lists nearly 460 religious denominations in the area. The holy headquarters for the Roman Catholic Diocese of Charlotte is located, appropriately, on South Church Street. The principal Holy Greek Orthodox church in North Carolina, Holy Trinity Cathedral, stands regally in Dilworth, and Temple Beth El is the largest Jewish congregation in the Carolinas. Still, not all of Charlotte's congregations last. Here's a look at some of our historic churches that have been resurrected as other venues.
Tucked into a corner of historic Dilworth is the former Atherton Methodist Church and present-day Bonterra Dining & Wine Room. Built in 1895, the church became the first permanent place of worship in the then-suburb. At the time, grocery store merchant Rev. John Butt served as pastor. In 1914, members built a new structure from brick—to update the original wooden facility—and renamed it Dilworth Methodist Episcopal Church South. Then, for nearly fifty years, the First Church of Nazareth occupied the space, followed by the Greater Providence Baptist Church until 1987.
Enter J. D. Duncan. He and his dad acquired the real estate in 1997 and opened Bonterra in 1999. Today, Dilworth diners can enjoy fried lobster tail and sip one of more than 200 wines by the glass below the church's original hanging lamps—which date back to 1897. Above the bar hangs an impressive 1692 Biblical painting, Lot and His Daughters by Johann Carl Loth.
2. McGlohon Theater at Spirit Square (345 N. College St.)
Built in 1909, this site was originally home to First Baptist Church, but the congregation eventually outgrew the space and moved to a different building in the early 1970s. Community leaders, determined to preserve the historic structure, rallied to preserve the church and began working to transform it into a community arts center. They finally got their wish in 1976 and, after carefully restoring its architectural detail, reopened it as Spirit Square.
The theater, which has retained many elements of its former home—red velvet seating, stained-glass windows, and an Hagia Sophia–like Byzantine dome—is named after legendary Charlotte jazz pianist Loonis McGlohon. Part of the Blumenthal behemoth, the theater now provides a smaller, intimate venue, seating only about 700 people, for touring solo acts like Idina Menzel and Bruce Hornsby. McGlohon Theater also plays host to many productions performed annually by local arts groups, such as Carolina Voices.
Built in 1914, this impressive structure is now listed on the National Register of Historic Places, but for seventy years, it served as the Tabernacle ARP Church. In the late 1980s, the church faced declining membership, so the congregation voted to move it out to the suburbs. In 1997, a local businessman and philanthropist, Bruce Parker, purchased the building and named it after his great aunt Stella Vandalia Sparrow, who was dedicated to caring for the poor.
In 2002, Self-Help Ventures Fund, which works to develop historic properties across the state, purchased the property. Today, creaking floors, dark wooden pews, Italian stained-glass windows, and a massive pipe organ­­­—s­till in working order—make the center an inspired setting for intimate musical performances, debates and conferences, weddings—and even Uptown Church services. It also serves as the monthly meeting place for Charlotte Folk Society gatherings, which include bluegrass band gigs, "dulcimer jams," and various programs on local folk traditions.
4. McColl Center for Visual Art (721 N. Tryon St.)
Formerly the Associate Reformed Presbyterian Church, this urban arts center is housed in a gothic-revival structure built in 1926. Up to the mid-twentieth century, the church thrived, but due to a downtown decline and postwar suburban growth, the church's membership dissolved in the 1950s. Sold in 1981, the building stood empty for years. In November 1984, a homeless woman piled wooden chairs onto a small fire to keep warm inside the empty space. Eventually the fire grew and destroyed the structure.
As the story goes, Hugh McColl's view, when perched in his Bank of America office, was the charred church, inspiring his vision for an urban artists' community. A walk through today's center exposes an impressive revision of the old, existing structure where black, chipped bricks support newly constructed beams, forming about 5,000 square feet of artist studios and gallery space. Every few months the center houses artists-in-residence from all over the United States and abroad.