CIAA 2012 Events and Parties Monday, February 27 to Wednesday, February 29
Your guide to the hottest parties and events during the 2012 CIAA Tournament in Charlotte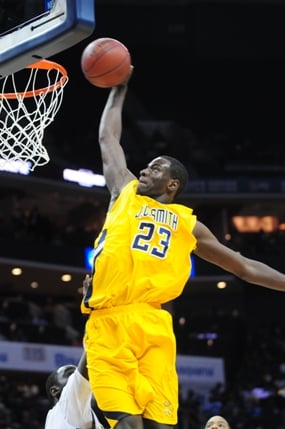 Compiled by Jarvis Holliday
The annual CIAA Tournament is taking place in Charlotte for the seventh consecutive year, from February 27 to March 4, 2012. It's the 67th year of the basketball tournament and the 100th anniversary for the Central Intercollegiate Athletic Association (CIAA). Even though there will be five days of college basketball games going on at Time Warner Cable Arena between men's and women's teams, it's also the many surrounding events and parties that create the most excitement and draw tens of thousands of visitors. Below is a list of those events scheduled for Monday, February 27 through Wednesday, February 29. Please use the website listed for each event to verify information. Advance tickets can be purchased at many of the sites as well.
Click here for the rest of the week's events.
Click here if you would like to submit an event to be included in this list.
#Denotes an official CIAA Tournament event (put on by the Central Intercollegiate Athletic Association).
UPDATED: February 28
Monday, February 27
Tyga: Careless World Tour
Less than a week after releasing his debut album, Tyga will perform "Rack City" and other popular songs in concert. The Young Money star's opening acts are YG, Lil Twist, and Deniro Farrar. Doors open 7 p.m.; show starts 8 p.m. $23. The Fillmore Charlotte, 1000 NC Music Factory Blvd., fillmorecharlottenc.com.
Tuesday, February 28
#CIAA Men's and Women's Tournaments Begin
Teams from twelve CIAA schools will battle it out as they try to make it to Saturday's championship game. Women's games: 11 a.m., 1, 3, and 5 p.m. Men's games: 7 and 9 p.m. Visit website for ticket info. Time Warner Cable Arena, 333 E. Trade St., ciaatournament.org.
HBCU Mixer
Mix and mingle with fellow HBCU alumni. Presented by National Alumnae Association of Spellman College. 5:30 p.m. Free; RSVP to charlottechapternaasc@gmail.com. Osso Restaurant and Lounge, at NC Music Factory, 1000 NC Music Factory Blvd., ossocharlotte.com.
Media Mixer and Scholarship Reception
The Charlotte Area Association of Black Journalists invites all media, communications, marketing, and public relations professionals out to their annual tournament week social. Enjoy complimentary hors d'oeuvres, a cash bar, and music. The winner of CAABJ's college scholarship will also be announced. 6:30 p.m. $10 suggested donation; RSVP to rsvp@caabj.com. Aloft Charlotte Uptown Hotel, at the EpiCentre, 210 E. Trade St., caabj.com.
Wednesday, February 29
#CIAA Men's and Women's Tournament Games
Basketball action continues. Women's games: 11 a.m., 1, 3, and 5 p.m. Men's games: 7 and 9 p.m. Visit website for ticket info. Time Warner Cable Arena, 333 E. Trade St., ciaatournament.org.
#NEA's Education Day
The CIAA puts on this event for high school students to help them with their college search, introduce them to CIAA colleges and universities, and there will be advisors on hand providing information on financial aid, interviewing skills, and keys to success. There's also a corresponding program of events for middle school students. 8 a.m.-1:30 p.m. Free. Charlotte Convention Center, 501 S. College St., ciaatournament.org/page/ciaa-education-day.
Ambiance
It's a party for "grown folks" and you're invited to mingle and enjoy good music, food, and drinks. Music by Monster DJ Flemingo. Presented by Eddietainment and Six Figure Entertainment. 9 p.m.-2 a.m. $10 and up. Vapiano, 201 S. Tryon St., eddietainment.eventbrite.com.
CIAA Full Court Press Luncheon
Join business and community leaders in this celebration of 100 years of the CIAA. Featuring celebrity guest speaker and moderator the Honorable Glenda Hatchett. Presented by the Charlotte Chamber, Wells Fargo, and AT&T. 11:30 a.m.-1 p.m. $30. Chima Brazilian Steakhouse, 139 S. Tryon St., charlottechamber.com.
Miles & Coltrane: Blue (February 29-March 3)
On Q Productions continues Season 3: The Sound of Music with its Off-Broadway show, Miles & Coltrane: Blue, by Concrete Generation. This work, featuring award-winning poets, musicians, dancers, and actors, tells the story of two of the most influential and controversial figures in jazz history: Miles Davis and John Coltrane. Wednesday and Thursday, 7:30 p.m.; Friday and Saturday, 3 and 8 p.m.. $22. Duke Energy Theater, 345 N. College St., carolinatix.org.
Pop Life: The Tournament Edition 2012
It's the most popular weekly Wednesday night event in Charlotte, and for tournament week it's expanding across two nightclubs. Enjoy music from six DJs: DJ Quicksilva, DJ DR, DJ Skillz, DJ Complete, DJ Shaun Nyce, DJ CK. Presented by SolKitchen. 9 p.m.-2 a.m. Free; for VIP tables, tami@republicofcharlotte.com. Re:Public and Phoenix, District 300, 314 N. College St., thesolkitchen.com.
Vybe & View: Who's Who Networking Social
After great support with this event last year, they're doing it again, this time at one of Charlotte's newest and chicest venues. Enjoy special cocktails, wine, appetizers, and dinner packages, along with a mix of R&B music by the DJ. Presented by Talk of the Town, National Black MBA Association Charlotte Chapter, and Mayor Pro Tem Patrick D. Cannon. Proceeds will benefit NBMBAA Charlotte Chapter's Scholarship Fund. 7-11 p.m. RSVP required; minimum $15 donation requested. Osso Restaurant and Lounge, at NC Music Factory, 1000 NC Music Factory Blvd., talkofthetownent.com.
Mode Noir | Black Mode Fashion Week (February 29-March 2)
Created specifically to cater to the fashion community during tournament week, this three-day event showcases fashion, arts, and culture. Enjoy fashion shows featuring several designer labels each evening, with hosts FOX Charlotte's Jacinda Garabito (Wednesday), America's Next Top Model finalist Bianca Golden and WBTV's Brigida Mack (Thursday), and Sam Badger (Friday). 7 p.m. $20-$55. 1800 Brewton Dr., modenoir.net.
The Tip Off Party
Get your party started early. Enjoy music by DJ B4 and DJ 360. 5 p.m.-2 a.m. $5. Kalu Asian Kitchen, Bar and Lounge, 505 E. Sixth St., theblackcardparties.com.
Visit www.charlottemagazine.com/ciaa for our comprehensive coverage of the events and parties surrounding the 2012 CIAA Tournament.