CIAA-Themed Parties, TyberPalooza, Bosses and Bottles With Rick Ross, Charlotte Coffee Crawl and More, Feb. 26-March 1
With the CIAA in town, there are a slew of events going on in Charlotte this weekend. And if the basketball tournament isn't your style, here are a few others that'll make your weekend all that much better.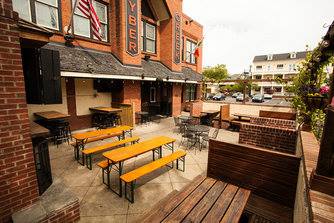 Charlotte has a big weekend in store for it. The Central Intercollegiate Athletic Association (CIAA) men's and women's basketball tournament is in town. With the tournament comes a whole lot of parties and social events. We've already made a list of CIAA-related events going on in the Queen City this weekend you can check out here: http://www.charlottemagazine.com/ciaa/
We've included a few of those events here, but we've also included some others if the CIAA tournament isn't your cup of tea. It's going to be another great one, Charlotte. See y'all out there.
Thursday, Feb. 26
Exclusive Cigar Lounge Event
A&J Salon and US Tax Express host this event that features cigars and NoDa Brewery craft beers. Early bird admission is $10, General admission is $15 and a Smoker's VIP package gets you a cigar and two craft beers or glasses of wine for $30. The event is from noon until 6 p.m. at the Charlotte Cigar Club, 105 E. Morehead St. Buy tickets here.
Extended Happy Hour
Come in, warm up and take a longer-than-usual happy hour. Icehouse has live jazz music tonight as well as DJ Stacey Blackman to keep the happy hour going. The event also features heavy hors d'oeuvres, a complimentary cigar or cocktail and hookahs. General admission is $50. The party starts at 6 p.m. at Icehouse, 2100 South Blvd. Buy tickets here.
Friday, Feb. 27
Y2K Meet and Mingle Party
Remember that panic you were supposed to feel when 1999 turned into 2000? Luckily, the world didn't end, and we have a reason to turn back time and jam out to the music of the 2000s. DJ Bob will be spinning the music tonight, and there'll be Corona specials. The party starts at 10 p.m. at On the Roxx at 19712 One Norman Blvd. in Cornelius. Free admission.
TyberPalooza
This Irish pub on South Boulevard is throwing its annual two-day bash this weekend. The two-day party features nights full of bands, DJs, a flip cup tournament and a corn hole tournament. On Friday, the pub will host the free flip cup tournament for a chance to win $200. Teams must have both male and female members to play. Registration begins at 7 p.m. and the tournament begins at 8 p.m. To reserve a team send an email to Kaitlyn.Lavallee@gmail.com. Tyber Creek Pub is at 1933 South Blvd.
Cupcakes and Vodka
The name says it all. The best of both worlds, cupcakes and vodka, collide in this event. The sweets and treats start flowing at 2 p.m. at Apostrophe Lounge, 1440 South Tryon St. Early bird tickets are $15, general admission tickets are $20 and a Sweets Experience VIP ticket that gets you extra liquor-laced cupcakes are $30. Buy them here.
Low Country Masquerade Bash
A $45 ticket to this annual party gets you a pass to an all-you-can-eat Low Country cuisine buffet, a live performance by Shableek, a Charlotte-area jazz musician and a DJ party afterwards. The Low Country party starts at 7:30 p.m. at Oasis Shriner, 604 Doug Mayes Place. Buy tickets here.
Fabolous Exclusive Ciroc Boys Party
Grammy-nominated Fabolous headlines this event that also features DJ SNS, DJ Self and DJ Kyra Chaos. The night starts at 9 p.m. at Whiskey River, 210 E. Trade St., Tickets are $60. Buy them here.
Saturday, Feb. 28
Elevate Lounge Benefit for Project HALO
This benefit, which is detailed as an "exclusive, sophisticated gentlemen's event," benefits Project HALO, an animal rescue organization. The benefit features a silent auction and raffle, live entertainment and hors d'oeuvres from At 7th Restaurant. The event is from 2 p.m. until 8 p.m. at the Metrolina Auto Group, 6010 Kenley Lane. General admission is free with RSVP and promotional code "ELEVATE." RSVP here.
TyberPalooza
The two-day bash continues tonight with the pub's free Cornhole tournament. Team registration is $20 in advance or $30 at the door and includes a minimum of three games. Registration begins at noon and the tournament starts at 1 p.m. Stick around after the tournament because from 6 p.m. until 9 p.m., Tyber Creek will have a $10 beer tasting where you can sample 10 beers and keep your glass, at 8:30 p.m., Heroes At Last plays and at 11 p.m. DJ J-Good starts spinning. Tyber Creek Pub is at 1933 South Blvd. Register your teams here.
The Wine Down Double Winery Tour
Relax and recharge on this tasting tour of two Charlotte wineries. The tour is from two different times: 11 a.m. until 2 p.m. or 2:30 p.m. until 5:30 p.m. The tours depart from both the Charlotte Westin Hotel and midtown Target, 601 S. College St. and 900 Metropolitan Ave., respectively. A tour ticket that includes admission fees to the wineries, all wine tastings and transportation costs $59 and can be bought here.
Bosses and Bottles with Rick Ross
Join the rapper Rick Ross tonight for a night of bottles and bosses. Who else to headline this party but the boss himself, Mr. Ross? The party starts at 9 p.m. at Saddle Up, 820 Hamilton St. Tickets are $45. Buy them here.
Brew Ha Ha Tour
This funnily named brewery tour starts at 11:30 a.m. at the Huntersville Hickory Tavern and takes you to Lake Norman Brewery, D9 Brewery and Primal Brewery. A ticket enters you into a contest to win a free flight from each brewery, two free pint glasses, free beer tastings at the brewery, free bottled water aboard the bus and free appetizers. Tickets are about $44 in advance or $48.50 at the door. Buy tickets here.
Sunday, March 1
The Charlotte Coffee Crawl
Wind your weekend down by winding yourself back up. The social group Good Eats and Meets organized this event that, like a bar crawl, takes you across Charlotte, trying the local roasters the Queen City has to offer. Luckily, you don't have to sample a cup of coffee at each of the crawl locations. The crawl is from 9 a.m. until 5 p.m. both Sunday and Saturday. Registration is at Boquete Mountain Coffee Roasters, 2113 N. Davidson St. Tickets are $10 or $18 for two. Buy them here.
Verify dates, times, prices, and other info at the web addresses listed for each event.
Be sure to bookmark www.charlottemagazine.com/Blogs/Dusk-Till-Dawn to stay plugged into Charlotte's nightlife and social scene. Click here to sign up to receive the weekly Dusk Till Dawn e-newsletter.
Want your event featured in Dusk Till Dawn? Follow me on Twitter @Jared_misner and let me know about your event, or send me an email at dusktilldawnblog@gmail.com.