CIAA Week 2016: Top Parties and Events List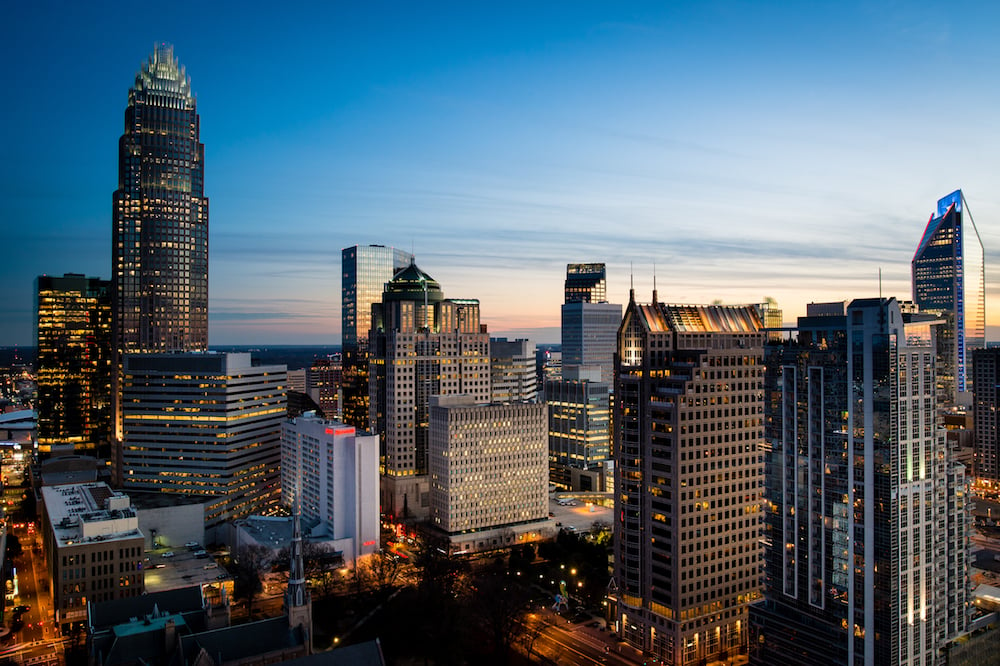 The annual Central Intercollegiate Athletic Association Tournament is taking place in Charlotte for the 11 consecutive year, with events scheduled from Tuesday, February 23 through Sunday, February 28. The 2016 CIAA Tournament includes five days of men's and women's college basketball games at Time Warner Cable Arena and the three-day Fan Fest at Charlotte Convention Center.
But as you know, there will also be hundreds of parties and social events going on this week around the tournament. I combed through the boatload of events from party promoters and event planners to give you this list of the top 30, from happy hours and late-night parties, to brunches and day parties, to concerts and everything in between.
And, of course, many of these events are being hosted by celebrities (see the list of famous names here).

Credit: Douglas Edwards, charlottesgotalot.com
*Denotes an official CIAA Tournament event.
Tuesday, February 23
Breakfast Conversations
If you're an entrepreneur, or small or minority business owner, this is an opportunity to have conversations with Charlotte leaders. Mayor Jennifer Roberts is the guest speaker, hosted by Antriece Mitchell. 8-10:30 a.m. $50 and up. Extravaganza Events, 1610 N. Tryon St., heirsoflegends.com.
CAABJ Tournament Media Mixer
Come out and mix and mingle with local journalists and media professionals. Presented by the Charlotte Area Association of Black Journalists. 6:30-8:30 p.m. $5. Aloft Charlotte Uptown, at EpiCentre, 210 E. Trade St., bit.ly/caabj2016tourneymixer.
The Happiest Hours 3: Professional Mixer
Embark on happy hour with stylish people, while enjoying cocktails, a skyline view, and music by DJ Hot Rod. Hosted by Dre Brown, Mike Kitchen, Edward Towner, and Herb and Felicia Gray. 6-10 p.m. Free before 7 p.m. with RSVP; $10 in advance. Suite, at EpiCentre, 210 E. Trade St., tourneymixer2016.eventbrite.com.
Wednesday, February 24
Frolic: The Social Climb
Cap off hump day with food and drink specials, and music by DJ Flemingo and DJ Hot Rod. Presented by Talk of the City and Digital Divas. 6 p.m.-2 a.m. Free admission for ladies all night; men free until 9 p.m., cover charge after. Sports One Bar and Lounge, 521 N. College St., eventbrite.com/e/talk-of-the-city-digital-divas-present-frolic-tickets-21092766031.
Mesmerize: The Happy Hour and The Party
The event will transition from an after-work social experience to a late-night party, with food and drink menus. Music by DJ DR and DJ Skillz. Presented by Eddietainment and the Rock Hill Kappas. 6 p.m.-2 a.m. Free admission before 8 p.m. with RSVP printout; $10-$25 in advance. Bubble, at EpiCentre, 210 E. Trade St., mesmerize2016.eventbrite.com.
Naked Sushi: VIP Experience
Come partake in a night of creativity and elegance, featuring the ancient Japanese art of Nyotaimori – also known as eating sushi off a naked woman's body. Admission includes unlimited sushi and open bar. Music DJ C-Rob, and hosted by Chef Don Simmons, mixologist Jose Garcia, and Dre Brown of FAZE. Presented by From A 2 Z Entertainment, Inc. 8 p.m.-2 a.m. $50 and up. The Mandrake, at 333 W. Trade St., nakedsushivip2016.eventbrite.com.
Thursday, February 25
*CIAA Toyota Fan Fest Live (Thursday-Saturday)
It's three days of events and activities for fans, including prize and ticket giveaways, fashion shows, video games and interactive zones, cooking exhibitions, celebrity appearances, and concerts by national recording artists. Thursday is Ladies Night and will feature a performance by Fabolous. Friday is Greek Fest, where Rico Love will perform. And Saturday, the Fitness Explosion, will cap off with a performance by Tank. Thursday and Friday, 5-10 p.m.; Saturday, 1-8 p.m. Free admission. Charlotte Convention Center, 501 S. College St., ciaatournament.org/fan-fest.
Slow Motion Smoke Session (Thursday-Saturday)
Add an upscale cigar experience to your itinerary of partying. This mobile cigar lounge returns to Charlotte in its "luxury land yacht," offering guests the opportunity to enjoy a great selection of cigars and scotches. Thursday, 3 p.m.-until; Friday, noon-until; Saturday, 11 a.m.-3 p.m. Lashes and MustAshes Cigar Lounge, 521 N. College St. (Sports One parking lot), facebook.com/lashesandmustashes.
Tournament Tip-Off Party
It's a party for alumni, fans, and friends of CIAA schools, with music by DJ Hot Rod. Hosted by Derrick Dillard and Nepherterra Estrada Best. 5-10 p.m. $15 in advance. Tin Roof, at EpiCentre, 210 E. Trade St., tournamenttipoff.eventbrite.com.
*CIAA Legends of Hip Hop Concert
Some of your favorite legendary hip hop artists will perform in concert, including Kwame, Chubb Rock, Special Ed, Monie Love, Dana Dane, and EPMD. Doors open, 8 p.m.; show time, 9 p.m. $20-$55. Charlotte Convention Center, 501 S. College St., ciaatournament.org/events/ciaa-legends-of-hip-hop-concert.
Stogies & Stilettos
It's the return of this upscale, exclusive event, featuring a cigar room, ballroom, lounge, and open bar and hors d'oeuvres (for the first two hours). Live music by Innertwyned Band and DJ Tut. Ages 40 and older preferred. 8 p.m.-1 a.m. $80. Charlotte City Club, 116 W. 4th St., eventbrite.com/e/digital-divas-4th-annual-stogies-stilettos-tickets-21093545362.
The Lyrical Kings of Hip Hop Hosted by Nas
Revel in the great music you'll hear on this night. Hosted by Nas, with special guests Special Ed and DJ Envy, and music by DJ Akshun. Presented by Blac Diamond Entertainment. 9 p.m.-2 a.m. $52 and up. CenterStage @ NoDA, 2315 N Davidson St., eventbrite.com/e/the-lyrical-kings-of-hip-hop-hosted-by-nas-2016-night-party-tickets-20591434535.
Friday, February 26
Day
4Play The Day Party
Get your partying started around lunchtime, with music by DJ Bro-Rabb and D.C. go-go band Familiar Faces. Presented by BestFriendz, Dynasty 5, and KB. Noon-7:30 p.m. Free admission for ladies before 1 p.m. with RSVP; $40 in advance. Whisky River, at EpiCentre, 210 E. Trade St., 4playdayparty.com.
Swish Day Party
Check out this new nightclub during the day, and party to music from DJ Paradime and DJ Izzy. Presented by Moxie Society, Forward Vision Group, ACT Productions, and Maz Entertainment. 1-7 p.m. $20 and up. Tequila House, 118 W. 5th St., swish2016.eventbrite.com.
Night
50 Shades of Blue, Volume IV
It's one of the most sought-after parties for young professionals, four years running. Music by DJ C-Rob, and featuring cocktail and late-night menus. Hosted by Dre Brown, James Rickmond, Ron Tate, and Herb and Felicia Gray. 9 p.m.-2 a.m. $30 in advance. Blue Restaurant and Bar, 206 N. College St., bluefriday2016.eventbrite.com.
Floyd Mayweather Celebrity Birthday Bash
Join the boxing champ in celebrating his birthday. Hosted by reality TV stars Toya Wright, Emily B., Rah Ali, and Brooke Bailey. Music by DJ Superstar Jay, DJ Bobby Drake, Big Gee and Get2Know Neek. 9 p.m.-2:30 a.m. $43 and up. Oasis Tent, 501 N. College St., eventbrite.com/e/floyd-mayweather-celebrity-birthdday-bash-at-oasis-uptown-tickets-21425100051.
The Legends Ball with Slick Rick + Doug E. Fresh + Big Daddy Kane
Celebrate the night with three hip hop legends, along with music from DJ Skillz and DJ Freedom. 9 p.m.-2 a.m. $30 and up in advance. Studio Movie Grill, at EpiCentre, 210 E. Trade St., thelegendsball.net.
Friday Night Tourney Takeover: Hosted by Rick Ross and DJ Envy
The biggest boss and one of the country's top DJs will host this party. Presented by Heights Entertainment. 9:30 p.m.-2 a.m. $42 and up in advance. The Harvey B. Gantt Center for African-American Arts + Culture, 551 S. Tryon St., heightsent.com.
Saturday, February 27
Day
Recovery Day Party and Brunch
Recover from the night before and kick off today's partying all at the same time. Menu features a brunch buffet, cocktails, and bottomless mimosas. Music by DJ Paradime. Presented by King Entertainment. 11 a.m.-4 p.m. $20 and up in advance. The Ritz-Carlton, Charlotte, 201 E. Trade St., kingentevents.com.
Saturday Day Party Headquarters
This group of promoters and party planners gets together each year to offer all-day fun. Food menu and drink specials will be served, along with music by DJ Shakim and DJ Flemingo. Presented by Dynasty 5, Talk of the City, LK Productions and R&R Productions. Noon-7 p.m. $21 and up. Fitzgerald's Irish Pub, 201 E. 5th St., officialsaturdaypartyheadquarters.eventbrite.com.
The Breakfast Club Day Party with 50 Cent and Cardi B
The hottest radio morning show hosts in the country, The Breakfast Club (Charlamagne Tha God, DJ Envy, Angela Yee), present this day party with 50 Cent and Cardi B. Music by three DJs on three floors. Noon-7 p.m. $85 and up. The V Charlotte, 500 W. 5th St., thebreakfastclubdayparty2k16.eventbrite.com.
*2nd Annual Coors Light CIAA Day Party with 2 Chainz
The CIAA Tournament throws this party before the championship basketball action begins. Special appearance by 2 Chainz. 1-7 p.m. Free admission with RSVP; entry not guaranteed. Rooftop 210, at EpiCentre, 210 E. Trade St., coorslightciaaparty.com.
Day-Fit with Brittany Renner
Fitness model and Instagram celebrity Brittany Renner hosts this day party, while inviting you to help celebrate her birthday. Enjoy music by DJ Paradime, cocktails, and hookah. Presented by Rickey D. 3-8 p.m. $26 and up. Stache House Bar and Lounge, 1520 South Blvd., dayfitbundleofbrittany2016.eventbrite.com.
*CIAA Women's and Men's Championships
After a week of games, the final two women's teams and the final two men's basketball teams will compete for their respective tournament championships. Women's game, 4 p.m.; men's, 7 p.m. $30 and up. Time Warner Cable Arena, 333 E. Trade St., ciaatournament.org/tickets.
Night
Cufflinks + Cocktails: Tournament Edition with Lance Gross
This monthly social series goes night-side for tournament week, with host Lance Gross. Music by DJ Hot Rod and DJ Kaos. Presented by Kappa Alpha Psi Charlotte chapter, Eddietainment, and Posh Mixer. 10 p.m.-2 a.m. $25 and up in advance. Vapiano, 201 S. Tryon St., cufflinks2016.eventbrite.com.
The Oak Room Finale with Omari Hardwick and Joseph Sikora
The actors known as Ghost and Tommy on the hit Starz TV show, Power, will host this party in South End. 9 p.m.-3 a.m. $45 and up. Oak Room, 200 E. Bland St., theoakroomfinale.eventbrite.com.
Young Thug Celebrity Finale
He's one of the hottest rappers in the game, and Young Thug is making his tournament weekend debut. Music by DJ SNS. 10 p.m.-2 a.m. $32 and up. Whisky River, at EpiCentre, 210 E. Trade St., tournamenttakeover.com.
The Main Event with T.I., Rich Homie Quan, and Kenny Burns
Some of the biggest names in hip hop will come together for this late-night party. Music by DJ Drama, DJ Infamous, and DJ Trap. 10 p.m.-5 a.m. $85 and up. Cameo, 3049 Scott Futrell Dr., iamsporteodie.com.
Sunday, February 28
Farewell Brunch and Day Party
Order brunch and drinks, and decompress from your weekend of partying. Music by DJ Flemingo. 11 a.m.-5 p.m. SportsOne Bar and Lounge, 521 S. College St., sportsoneclt.com.
The Sunday Brunch Send-Off Finale: The Celebrity Experience
If you want to dine in a posh setting while rubbing shoulders with celebrities, this brunch event is for you. There'll be a performance by Doug E. Fresh, and appearances by Anthony Hamilton, Traci Braxton, and more. Hosted by Cortney Hicks of V101.9 FM and music by DJ Incognito of Power 98 FM. Noon-5 p.m. $38 and up. Ruth's Chris Steak House Uptown, 222 S. Tryon St., v1019.com/events/the-sunday-brunch-send-off-finale.
Prix Fixe: Brunch and Day Party
Partake in all of the elements for a memorable farewell brunch. Music by DJ Shogun, and food and drinks overseen by Chef Don Simmons and master mixologist Jose Garcia, and co-hosted by Dre Brown. Presented by FAZE, Inc. Noon-6 p.m. $10 in advance. The Mandrake, 333 W. Trade St., brunchontrade2016.eventbrite.com.
Brunch On Bland
Indulge in a brunch buffet (noon-3 p.m.) and drink specials, along with billiards, and music from DJ Shaun Nyce and DJ LP. Presented by Prive Charlotte, Sol Kitchen, and Moxie Society. Noon-6 p.m. $21. Slate and Oak Room, 200 East Bland St., brunchonbland.eventbrite.com.
That's My DJ Day Party
A group of DJs from all over the country get together each year for this send-off party, featuring DJ SNS, DJ Pnut, DJ Kyra Chaos, DJ Bro-Rabb, and DJ Lonnie B. Noon-8 p.m. Free admission before 4 p.m. with RSVP. Whisky River, at EpiCentre, 201 E. Trade St., thatsmydj.eventbrite.com.
Use the website listed for each event to verify information. Please drink and party responsibly.
Follow Jarvis Holliday on Twitter @HollidayInk.