CIAA Week: From Queen to Diplomat
Mignon Turner Cardentey represented WSSU a decade ago in the first-ever Miss CIAA competition. Today she represents the U.S. Foreign Service in the Philippines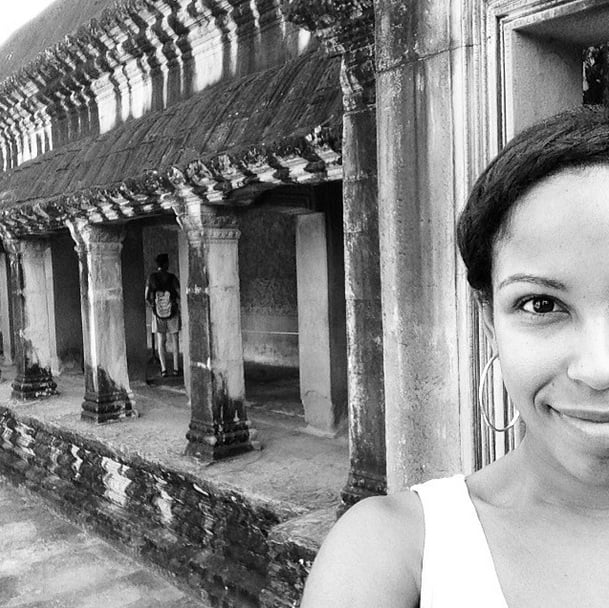 Web Exclusive | Published February 24, 2014
M
ignon Turner Cardentey is a long way from home. The Burlington, North Carolina native has traveled the world for seven years working as a United States diplomat, and now she lives in Manila, Philippines. The experience has changed her life, she says, and she credits her CIAA school, Winston-Salem State University, for putting her in a position to have those opportunities.
I caught up with Cardentey by phone in mid-February. We talked about her path from being the first-ever Miss CIAA in 2004 to representing her country as a member of the U.S. Foreign Service.
When you were looking at colleges, what made you decide on a CIAA school?
I came from a legacy of family members who attended historically black colleges. My mother went to Virginia State, my father went to Johnson C. Smith, my cousins went to North Carolina A&T and Central, and so I knew going in, in applying for schools, that I was going to go to an HBCU. I didn't know it would be a CIAA school; I just knew it would be an HBCU.
And you chose Winston-Salem State.
Chancellor [Harold] Martin had just started at Winston-Salem State and he was making phone calls to students who were deciding on universities. I remember being home and my mother answered the phone and she said, 'Mignon, the chancellor at Winston-Salem State is on the phone for you.' And I talked to Chancellor Martin and it was just an eye-opener that somebody at this level at the university would make a personal call to a high school student. … And he wasn't just doing a sales pitch. He was talking about the fact that he was starting at Winston, and he had this vision for the university and he wanted intelligent, bright, and energetic students to come in with him and help facilitate this vision he had for the school. … That personal phone call just meant so much, and impressed my family so much.
What was your college experience like?
It felt like a family. It was home away from home, honestly. The reason I am in the career I am in today is because of Winston-Salem State. The professors took time—and I can't say larger schools don't do that; I can only speak from my personal experience—the professors took time after class to talk to you. The international affairs director at the university was the one who first talked to me about being a U.S. diplomat. I had heard nothing about diplomacy as far as working for the State Department before I talked to him. The Spanish professor was the one who encouraged me to double major in Spanish, which is what really gave me a lot of great opportunities coming out of grad school, because I could speak Spanish well. And I had lived abroad because of the some of the programs I attended going to Winston-Salem State.
You ended up competing in the first-ever Miss CIAA competition in 2004. How did that come about?
I was crowned Miss Winston-Salem State my junior year, so I went into my senior year [with that title]. As a student, as a freshman and sophomore, I realized that our queens were exceptional. They were women of excellent character, academics, professionalism. … So I knew that was something I wanted to apply for. But because Miss CIAA was new, it wasn't something that was a part of my thought process. But that being said, I was a cheerleader for Winston-Salem State all four years. You can't be a part of Winston-Salem athletics without feeling the spirit of CIAA. That's what I knew. I knew that spirit as a cheerleader, and being there for the CIAA cheering competitions. I was also a Delta at Winston-Salem State. … I think that just being a part of that, you feel the CIAA in a way that's different than just going to the parties.
So when they announced they were going to have a Miss CIAA competition, I'd met all of the CIAA queens already because we had a larger HBCU competition in Atlanta. I knew the voting was all online; there was no pageant involved, just having people sort of garner behind your candidacy and vote online. So Winston really pulled together and encouraged lots of people to vote. … I don't think I was expecting to win but I was very happy to take it home for Winston.
Since graduating, have you come back for the CIAA Tournament?
My first assignment [as a diplomat] was closer to the United States, so I would go back for homecoming and CIAA. Since then, I've been working in Africa and Asia, so it's been harder to get back home for CIAA. But I usually try to get back for either homecoming or CIAA as much as I can. And every time I'm home, I talk to students about what I'm doing and just give them advice, because I know there were teachers at Winston-Salem State that advised me, and is how I found out about this career, which completely changed my life.
I adore the idea of CIAA—the energy behind it, the spirit behind it. I don't think there's anything else like it. It feels like home, you feel like you know everyone, but at the same time it's like a personal rivalry that's going on that brings people together; even though it's a competition it brings people together. I think it's fantastic. And the fact that they highlight university queens, in addition to the cheerleading competition, and the basketball games, the step shows, and everything else… I think the last year I came for CIAA was in 2010.
Did you have the chance to reunite with some of your classmates and line sisters?
Always, always. That's all we do. … We get together all the time.
Tell me about your career as a U.S. diplomat.
I went to graduate school in Delaware and then I applied for the Foreign Service exam. My first assignment as a U.S. diplomat was in Mexico. I was in Mexico for two years. Then I moved to central Africa; I was in Cameroon, which is French speaking so I had to learn French for six months. I was in Cameroon for two years. Now I am currently stationed in the Philippines for two years. I'm almost complete with my second year in the Philippines.
For those of us who hear about diplomats in the news but don't know much about what you all do, how would you describe it?
Diplomats represent American citizens abroad; that's the easiest way to say it. When we're in a foreign country, the U.S. Embassy is there, first and foremost, to serve as a support system for American citizens in that country, in case they are arrested, or get married, or have a baby, or get hurt, God forbid. Number two, we're here to support American interests, foreign policy, and U.S. government objectives, so we work with the governments in the foreign country to work on different issues. And a third main reason is to promote understanding of U.S. culture. Quite frankly, sometimes it's hard to be interested in the United States if all you know are negative things that you see on television. But if you have a U.S. Embassy there, and they're sending your family members to the U.S. to study on Fulbright scholarships, or they're bringing in American dance troupes or jazz musicians to perform, it gives you a different perspective of the United States. So a lot of what I do is that public affairs work.
Jarvis Holliday (@HollidayInk) is a freelance writer in Charlotte and contributes regularly to this magazine.
Visit www.charlottemagazine.com/ciaa for our comprehensive coverage of the culture, events, and celebrities surrounding the 2014 CIAA Tournament.