Cinco de Mayo, Mother's Day Brunches, North Carolina Brewers and Music Festival and More, May 5 to May 8
Margaritas on Cinco de Mayo, mimosas on Mother's Day plus a bourbon and a brew festival make for a great weekend.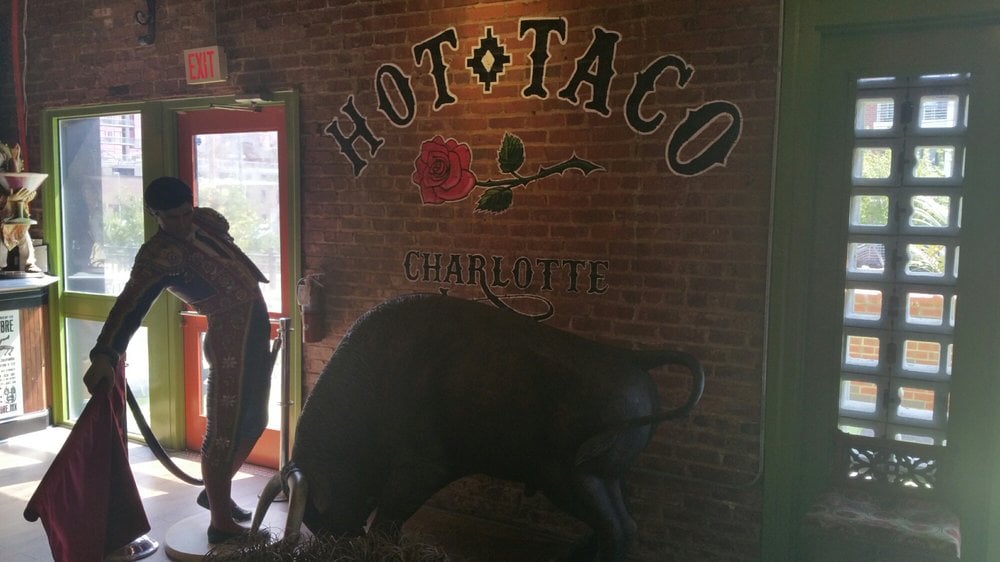 We go from margaritas on Cinco de Mayo this Thursday to mimosas at brunch with Mom on Mother's Day this Sunday. This weekend has plenty of other reasons to celebrate, of course, like a bourbon and a brew festival. See y'all out there!
Thursday, May 5
The Largest Cinco de Mayo Party in Charlotte
Hot Taco and South End Station are throwing a party to celebrate Cinco de Mayo with all kinds of bells and whistles. The party features margarita cupcakes and churro stations, a taco truck, an al pastor carving station, a mariachi band and $5 El Jimador and $7 Herradura margaritas. Just please promise us you won't wear a sombrero. The event at 200 E. Bland St. is free. By the way, did you see our guide of other spots to celebrate Cinco?
Tee Party
No, you won't find any kettles or sugar cubes here. This is a tee party – not tea party. The Wells Fargo Championship has returned for another year, and Phillips Place is teeing up for a good time. The event from 6 p.m. until 11 p.m. is free and features live music and a golf simulator. Phillips Place is at 6800 Phillips Place Court.
Sunset at Metropolitan
Beginning today, Metropolitan brings its counter to Alive After Five with its Sunset series. Each Thursday in May features a new style of live music from 5:30 p.m. until 8:30 p.m. Each evening is free, and tonight's band is Simplified. Metropolitan is at the corner of Charlottetowne Avenue and South Kings Drive.
Friday, May 6
North Carolina Brewers and Music Festival
This annual two-day festival features 12 live musical acts and a mouth-dropping 43 breweries. The festival opens at 3 p.m., and the first musical act goes on at 6 p.m. On Saturday, the beer tasting begins at 12:45 p.m. The festival is at Rural Hill, 4431 Neck Road. Ticket prices vary. Buy them here.
Mother's Day Sip and Shop
Forgot Mom this year? Never fear! The 7th Street Public Market hosts this Mother's Day pop-up Sip and Shop market today from 3 p.m. until 8 p.m. The market also features 50 free sparkling wine to 50 lucky shoppers at both 5 p.m. and 6 p.m. Aside from the gifts you buy for Ma, the event is free. The market is at 224 E. Seventh St.
South End Gallery Crawl
On the first Friday of ever month, the galleries of South End join hands and welcome visitors in with refreshments, music and, of course, art. This month, the gallery crawl partners with Charlotte B-Cycle for a bike tour through the neighborhood. The free crawl starts at 6 p.m. at QueenCity Bicycles, 128 E. Park Ave.
Saturday, May 7
Beer, Bourbon and Barbecue Festival
The name says it all here: you're getting the summer trifecta. A general admission ticket buys you entrance to the festival with unlimited beer and bourbon sampling in a souvenir glass and access to the live entertainment. Tickets cost $39 in advance or $45 at the door. This 10th anniversary party lasts from 2 p.m. until 6 p.m. for general admission at Symphony Park, 4400 Sharon Road. Buy tickets here.
Derby Days
This annual party brings together more than 400 of Charlotte's young professionals to enjoy a day of live music, lawn games, free beer and wine, food trucks, raffles and, oh yeah, the Kentucky Derby on TV. It's a Kentucky Derby party, so bring your big hats and seersucker suits and be ready to down a few mint juleps. The party begins at 3 p.m. at the Mint Museum Randolph, 2730 Randolph Road. Tickets cost $40 for members and $55 for nonmembers. Buy tickets here.
Quail Party
This annual black tie party during the weekend of the Wells Fargo National Championship benefits the Levine Children's Hospital, the First Tee of Charlotte and the Harper Beall Williams Memorial Scholarship Fund. Tickets to this fancy event cost $133 and include an open bar and heavy appetizers. Bring your dancing shoes to Founders Hall, 100 N. Tryon St., from 9:30 p.m. until 1:30 a.m. Buy tickets here.
Talk Derby to Me
The third-annual Kentucky Derby-themed party features yard games, Flip Cup and contests for categories that range from best hat to best bow tie. This free event is at Rooftop 210, 210 E. Trade St., beginning at 2 p.m.
Sunday, May 8
It's Mother's Day today. Honor that special woman in your life by taking her to brunch. Here are a few places rolling out the red carpets for Mom.
Brunch is served for $49 for adults and $15 for kids from 10 a.m. until 3 p.m. The Capital Grille is at 201 N. Tryon St.
Seize the day at this Elizabeth spot with a three-course brunch for $30 for adults and $15 for kids who are 12 or younger. Carpe Diem is at 1535 Elizabeth Ave.
Take to the skies today for Mom with this brunch buffet for about $45 for adults and about $28 for kids. Fahrenheit is at 222 S. Caldwell St.
The Ballantyne Hotel and Lodge
Pinky up! It's tea time from 1 p.m. until 5 p.m. today for Mom. High tea costs $36 for adults and $18 for kids. The Ballantyne Hotel and Lodge is at 10000 Ballantyne Commons Parkway.
Verify dates, times, prices, and other info at the web addresses listed for each event.
Be sure to bookmark www.charlottemagazine.com/Blogs/Dusk-Till-Dawn to stay plugged into Charlotte's nightlife and social scene. Click here to sign up to receive the weekly Dusk Till Dawn e-newsletter.
Want your event featured in Dusk Till Dawn? Follow me on Twitter @Jared_misner and let me know about your event, or send me an email at dusktilldawnblog@gmail.com.
Send Jared an email at DuskTillDawnblog@gmail.com, or send him a tweet @Jared_Misner.

Also by Jared Misner:

→This Weekend's Social Events
→Bowling For Books, First Friday Fort Mill, Electric Luau Party, Soulmatic Carolina Music Fest and More, Aug. 6 to Aug. 9
→The Moon Walk, Candy Fest, Silly String Party, Booze Cruise and More, July 30 to Aug. 2
→Christmas in July, More Christmas in July, National Dance Day, National Tequila Day and More, July 23 to July 26