Circle de Luz Graduates First Class
A scholarship program for Latina girls sends its first class to college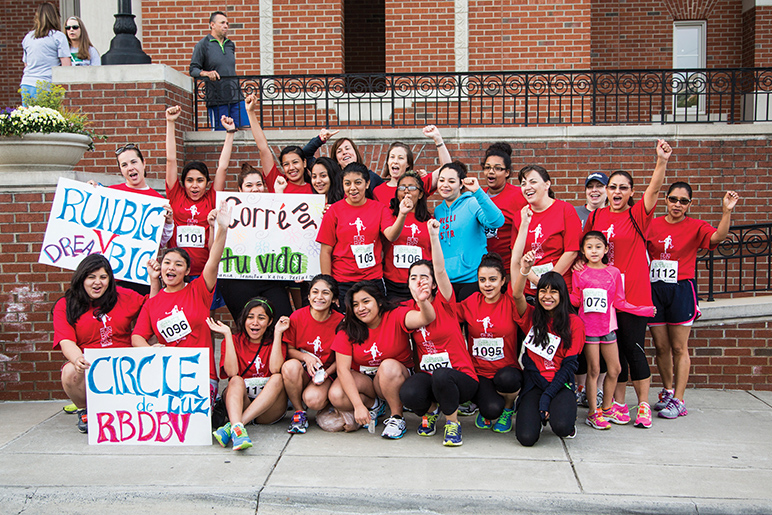 Four high school girls chat quietly as they sit down for lunch at P.F. Chang's at Northlake Mall. Mayra has painted electric-blue streaks in her hair. Gabrielle wears strings of gleaming orange beads and announces she has decided to become a vegetarian. Ariadna just found out her friend is having a baby. "I'll be the godmother," the 17-year-old says softly. "She's, like, almost married."
Ariadna has worked hard to avoid a similar path. She, Dania, Mayra, and Gabrielle are members of Circle de Luz (Spanish for "Circle of Light"), a local, nonprofit scholarship and mentoring program for Latina girls. The group's goal is to combat the high school dropout rate and make college more accessible. That also means helping the girls avoid early and unwanted pregnancies—a choice many of their peers never made.
Seven years ago, Charlotte teacher Rosie Molinary decided to address the problem. She knew the statistics: 51 percent of Latinas have at least one pregnancy before they turn 20, and 41 percent of Latinas don't graduate high school in four years with a standard diploma. "I started speaking with a bunch of women who just weren't OK with that," Molinary says. "So we asked ourselves, what can we do?"
In the fall of 2008, Molinary and Circle de Luz volunteers selected their first class of students from James Martin Middle School: Gabrielle, Mayra, Dania, and Ariadna. Over the next six years, they treated the girls to a wide range of experiences they'd otherwise miss: horseback riding, concerts, plays, team-building exercises, restaurant meals. The students also spent time with older, accomplished mijas, or girlfriends.
"We wanted these girls to meet women from all walks of life," Molinary explains. "Our message is that anything can happen to you if you work hard for it."
In 2009, Circle de Luz chose a second class of students from Ranson Middle School and, the next year, a third class from Albemarle Road Middle. Each year, a new class of girls joins the program. They receive support and mentoring from a growing group of mijas—women volunteers from around the country who contribute their time and money not only for the outings but for the college scholarships awarded to each girl upon graduation. Every girl receives at least $5,000 in scholarship money; each mija is required to contribute $100 per year toward the scholarship fund for six years. Some local mijas are also designated captains for each class of students, and they help lead many of the programs for that class.
Cornelius resident Anna Freuler was the first captain. Now she's one of six members of Circle de Luz's board of directors, watching the first class of girls prepare to graduate. "To watch them grow up has been so special," she says, looking around the lunch table. "They were so shy at first and unsure, and then to see them open up … " Her voice catches, and Ariadna jumps in.
"They're like our second mothers," she says, gesturing toward Freuler. "They've molded us. When you have a good example to guide you through the most important time of your life, it's an amazing thing. … I just feel so very blessed to have these ladies in my life."
"Well, that's how we feel about you!" Molinary says.
Without assistance from Circle de Luz, none of the girls would have been able to afford college. Now they have all applied to multiple schools and are waiting to hear about financial aid packages before making their final decisions. If the money doesn't materialize initially, some, like Ariadna, plan to attend Central Piedmont Community College before transferring to other universities.
They are also determined to become mijas themselves, mentoring a future class of Circle de Luz girls.
"We thought we'd be stuck like the women in our families," Dania says. "Having kids, getting married so early, that's what's expected of us. But now we know a different way."