City, County Declare State of Emergency Over George Floyd Protests
It's the second since March, on a record day for new COVID-19 cases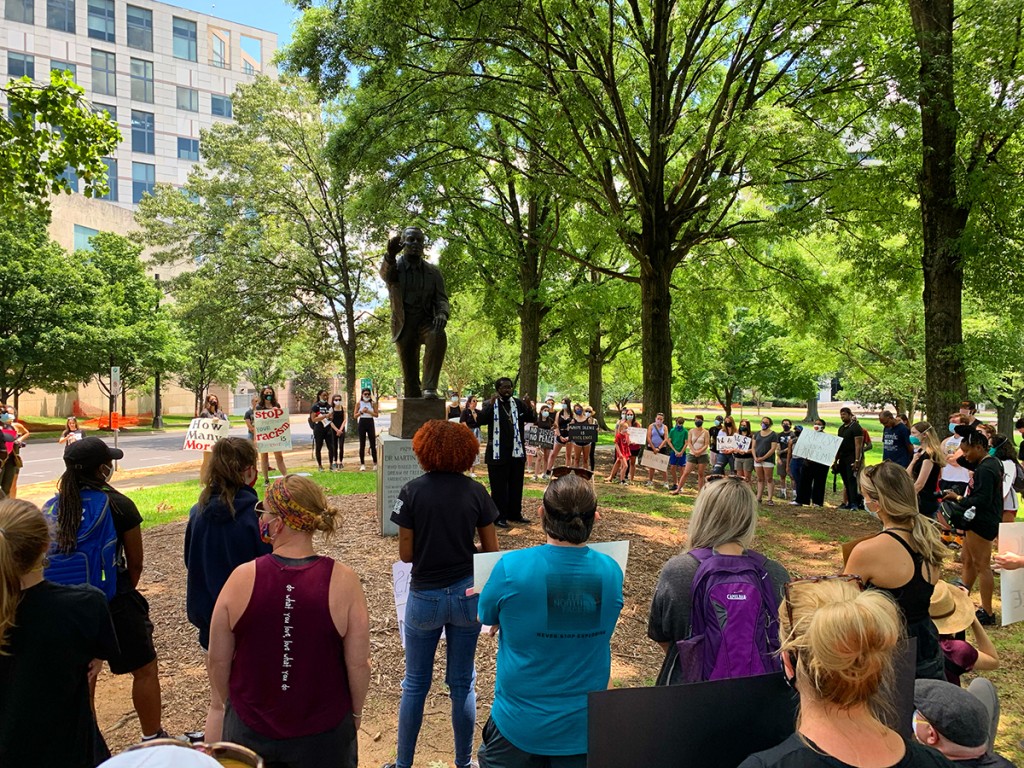 Charlotte and Mecklenburg County issued a State of Emergency declaration Saturday afternoon that allows local officials to establish a curfew and mobilize the N.C. National Guard if necessary. The declaration, signed by Mayor Vi Lyles and county Board of Commissioners Chairman George Dunlap, is a response to demonstrations Friday night on Beatties Ford Road that left three police officers injured, caused damage to police cars and local businesses, and the arrest of 15, including City Council member Braxton Winston.
The declaration means that Charlotte and Mecklenburg County are, for now, under an extraordinary two local states of emergency; Lyles and Dunlap signed one March 15 because of the spread of COVID-19 and to give local governments easier access to state and federal resources. Confirmed coronavirus cases statewide rose by 1,185 on Saturday, the biggest one-day increase yet, in the second week of Phase 2 of the state's reopening plan.
The unrest in Charlotte mirrored sometimes-violent protests of police violence in cities nationwide Friday night in reaction to the police killing of George Floyd in Minneapolis. Lyles, speaking at a news conference Saturday afternoon at the Government Center, said the city and county would establish a curfew Saturday night if one was needed—and would give advance warning—but hoped it wouldn't be necessary. Most City Council members, including Winston, joined her in the council chamber.
"We have declared a state of emergency that we hope we don't have to use but which allows us to call on the state for resources we may need," Lyles said. "We want people to protest safely, and we want people to be heard … and we want to do it in a way that protects our residents and our community." She said local protests don't yet merit a full-scale deployment of the National Guard, as Charlotte requested during the 2016 Keith Lamont Scott demonstrations: "What we're dealing with now is a national sentiment."
She and Charlotte-Mecklenburg Police Department Deputy Chief Jeff Estes said they agree with the sentiment behind the protest, to express outrage over a Minneapolis officer's strangling of Floyd on Monday by forcibly holding Floyd's neck to the ground with his knee. The officer, Derek Chauvin, has been fired and charged with third-degree murder and manslaughter.
"We may not have all the answers," Lyles said, "and it's going to take everyone in our community to decide what those answers can be."
Just before the conference, the activist group Charlotte Uprising tweeted, in response to reports that the city and county were considering a curfew: "We deserve to condemn and decry system (sic) police violence. A curfew inhibits this and only serves to criminalize those who choose to protest."