Clambakes at e2
Crawfish boils have been replaced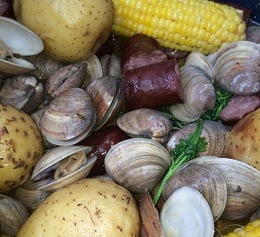 When people think of Chef Emeril Lagasse, they think New Orleans, based on all his spicy Creole-inspired cuisine. But the chef actually has roots in New England, being born in Fall River, Mass., so his culinary heritage is both Bayou and Boston. Which brings us to our point…
To honor the lesser known of his epicurean influences, e2 Emeril's eatery will host a Fall River Clambake every Friday from June 13 to July 25 on the patio. The clammy goodness will be served from 4:30-7 p.m.
Emeril and e2's chef de cuisine Brian Mottola know how to serve these bad boys. They're done up simply and with authentic New England accompaniments. The Middle Neck clams are flanked by fresh and spicy chorizo sausage, sweet corn on the cob, and Yukon gold potatoes. The cost is $20 per person for an all-you-care-to-eat feast.
The clambakes will likely enjoy the same fame as the recently ended Friday crawfish boils at e2, which were talked about even outside of Charlotte. USA Today featured the Charlotte events in a recent travel section and wrote, "The al fresco feast includes crawfish fresh out of the pot dressed up with corn, mushrooms and Andouille sausage. Show up early to score a spot on the jam-packed patio, and make sure you're hungry."
The crawfish events frequently sold out this spring — a likelihood with the new clambakes. Arriving early for the Fall River Clambake is encouraged.