Classically Defined
A neglected yard in Eastover becomes a family's haven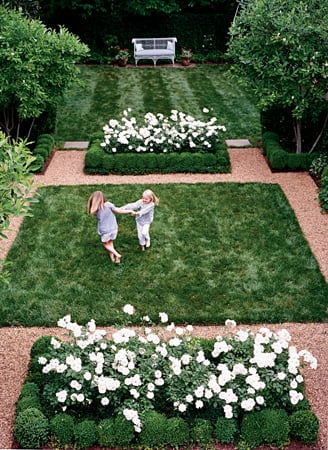 After traveling around the country as a landscape designer for a top New York City architectural firm, Laurie Hynes Durden has firmly replanted her feet in Charlotte. Eight years ago, she returned to her hometown with her husband, Ned, and bought a boxy-shaped house in Eastover built in the 1920s. The neglected backyard looked like farmland snipped from a country setting, a narrow patch of field grass edged by dogwoods and azaleas. It's been transformed into a masterpiece of English design, wee-scaled for the Durdens and their two daughters, Jane, nine, and Annie, seven. For a woman who didn't know how to mow a lawn until she was in graduate school, Laurie Durden has traveled far.
"It's a cottage garden that's an extension of our living spaces inside," she explains, looking out the window from her kitchen table. A succession of garden rooms begins at the back-porch steps, starting with a stone-paved terrace, the centerpiece of garden parties. Beyond it are geometric lawns and rectangular beds of white roses edged in boxwoods. A small cottage sits at the property's edge; she hopes to turn it into a studio one day.
The original shrubs and trees were torn out and the lot leveled. Now the garden offers a monochromatic visual tour across green grass, up rows of dark hedges, and into tall leafy trees. "When I design a garden, I like to concentrate on the textures of green so that each plant stands out," she says. A carefully placed bench adds a focal point.
The garden is a testament to how much can be done with so little. The Durdens share a driveway with a neighbor, and a garage overlooks the lot. Privacy was achieved with sweet bay magnolia trees and European hornbeams, whose intertwining branches grow to form an aerial screen. And rather than pull up the chain-link fence, Durden camouflaged it with vines of Confederate jasmine, creating a faux hedge sprinkled with starry flowers. The result is romantic yet practical.
"I do love to be inside and look out and see them using the garden
as it was intended."
Durden graduated from the University of Virginia's prestigious School of Architecture. Undergraduate studies in art history gave her an appreciation of a wide range of styles—she says her strength is figuring out what works best in a given location. She evaluates sunlight, existing plants, topography, and architecture to arrange a happy marriage of plant to place. Of her own garden, she says it suits the site, enhancing an old Southern home by adding outdoor rooms to the ones inside. It's an approach that has gained her an impressive roster of clients in Charlotte's older neighborhoods—Myers Park, Eastover, Foxcroft, and Dilworth.
Despite her garden's simple layout, her young daughters still find lots of nooks and crannies to play in. There's a trampoline in the back corner, grassy areas for picnics and London Bridge, and a variety of shrubs for hiding Easter eggs in spring. The front yard is a straightforward lawn, just right for kicking a soccer ball.
"I do love to be inside and look out and see them using the garden as it was intended," she says.
Although she's not leaving for the Hamptons on Monday mornings or spending her weekends finding trees for an estate in Dallas, as she did a decade ago in New York, she's achieved success in the most essential garden of her portfolio. And she's satisfied her two toughest clients, Jane and Annie Durden.
Click on any image to begin the slideshow. All photographs by Richard Israel.