Clean Juice Comes to South End
The spot recently opened its doors in South End, becoming the 62nd franchise to open across 10 states.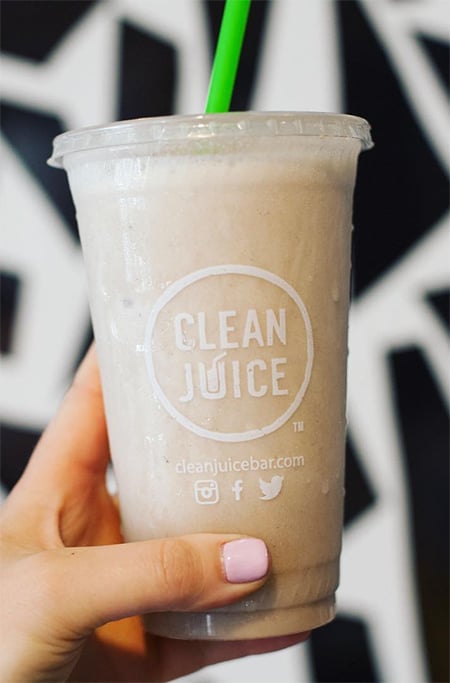 IT HAS BEEN nearly two years since Alex Maughan and her mom, Cindi Vaughn, started the hunt for a new business venture. They were in search of franchising opportunities but wanted to find one that meant something to them and one they didn't need to build from the ground up. They wanted to help a business grow.
Alex and Cindi used to go to their respective Clean Juices all the time – Alex to Stonecrest, Cindi and her husband, co-owner Jamey Vaughn, to Birkdale. From its acai bowls to juices and avocado toast, Clean Juice is the only USDA-certified organic juice bar. "One morning last May, I happened to see a sign in Clean Juice Birkdale that they were awarding franchises," Alex says. "I immediately called my mom and told her that we needed to be a part of this."
Vaughn says she didn't have to think twice about it. "We were already hooked on Clean Juice before we knew they were even franchising," Vaughn says. "There's a lot of risk going into something that hasn't been around for that long, but we wanted to be a part of something new and grow with it."
The pair was the first to sign on as franchisees with Clean Juice, and they quickly set their sights onknew from the start they wanted to open their shop in South End. They signed the lease on Camden Road last fall.
"South End is a great location for all things Clean Juice," Maughan says. "Everyone (in South End) in the area loves being outside, being active, and eating healthy, so we're glad that we can be a part of that," Alex says.."
The location officially opened in June, next to Fidelli Kitchen and Price's Chicken Coop. And the reaction was even stronger and more immediate than the family predicted.
"I don't think any of us ever thought the opening would go the way it did," Cindi Vaughn says. "The community really showed up. We already have familiar faces and know customers on a first-name basis. We have a bunch of friendly new neighbors and couldn't be more excited."
From its acai bowls to juices and avocado toast, Clean Juice is the only USDA-certified organic juice bar. Menu items range in price up to $10 and include customizable options.
1616 Camden Rd.; 980-299-8485