Clearing the Air
June Blotnick is waging an anti-smog crusade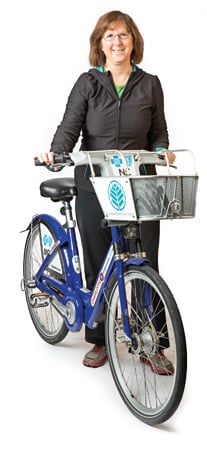 June Blotnick is sitting in one of the best window booths at 300 East, a cozy Dilworth café, but she isn't enjoying the view. She's picking at a tomato-and-bean concoction ("No chicken," she tells the waitress after ordering a chicken burrito) and looking out at a long line of cars edging their way along East Boulevard.
"This," she says, tapping the window, "is an invisible problem." Clearly she's not talking about the dense lunchtime traffic. "I'm talking about pollution," she says. "You don't see it, but all the cars driving down this street are invisible-pollution machines."
Blotnick is executive director of Clean Air Carolina, an organization that aims to improve air quality across the Charlotte region. "I've met people in Charlotte who've had to move because the air is too unhealthy. I know a Bank of America executive who's having to commute to work from the mountains."
Ground-level ozone, or smog, has been plaguing Charlotte for decades, according to the American Lung Association. In 2010 and 2011, the group ranked us the tenth smoggiest city in the country— a distinction attributed to hot weather, power plant emissions, the number of cars on the road, and topography that traps pollutants in the air. The rating, which relies on data collected by the Environmental Protection Agency, improved slightly in 2012. But Mecklenburg County still received an "F" for ozone levels, meaning that the air we breathe may be putting our health at risk.
Having lived here for nearly 30 years, Blotnick knows the city well. "I remember it back when it still had a small-town feel," she says. "Then the sprawl started, and all the suburbs—the decision to become like Atlanta. Here we are, 20 years later, trying to pull it all back and focus on sustainable development."
Clean Air Carolina, about a decade old and funded by donations and grants, was a volunteer-only organization before hiring Blotnick in 2005. Under her watch, the nonprofit has focused on reigning in sprawl—which sounds like the dirtiest of words when Blotnick says it. Clean Air Carolina has filed two lawsuits attempting to block construction of the Monroe Bypass, a 20-mile toll road planned to help drivers escape heavily congested U.S. 74 in Union County, and the Garden Parkway, a 22-mile toll road planned from I-85 west of Gastonia to I-485 near Charlotte Douglas International Airport. "We don't need more highways spreading more pollution," Blotnick says, waving her fork with disapproval. She'd rather Charlotte invest in public transportation.
She's also trying to ease pollution in the neighborhoods most threatened by it. "Take the Northeast Corridor," she says. "It is bordered by two major highways, 85 and 77. It is dowsed with pollution. But we're going to try to blanket that neighborhood with information to see if we can move the needle down a notch."
Clean Air Carolina encourages families to keep children indoors on the afternoons of Ozone Action Days, when air-pollution levels are highest. Precautions such as turning off your engine—rather than idling your car—in the carpool line at school can also make a difference, Blotnick says. "What has shocked and disheartened me the most is the impact air pollution has on the health of our children whose lungs are undeveloped and more vulnerable."
To that end, Blotnick is piloting an initiative called Medical Advocates for Healthier Air, which enlists doctors and respiratory therapists to share research about air pollution's effects on the body and the brain. Given Charlotte's air-quality rankings, she's convinced we have major health worries here. "It's not on most people's radar," she says. "We need to change that."