Clockwise Around Charlotte
Our writer was the first person to drive all 67 miles around Interstate 485, and he says it was glorious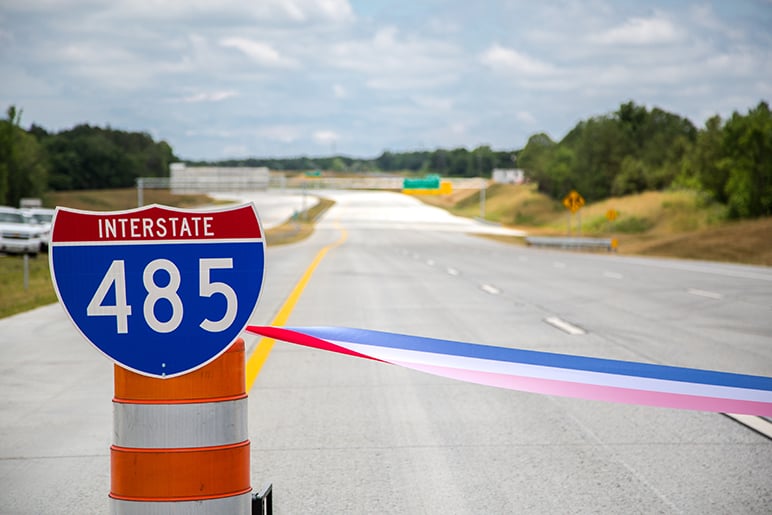 I DON'T WANT to brag, but I was the first person to get in trouble with the police on the new section of Interstate 485. I rolled up for the grand opening on June 5, parked my car on the side of the yet-to-be-opened interstate, and walked toward the ribbon-cutting ceremony. The only problem was that I had arrived on the outer loop, among the dignitaries' cars, and I was supposed to check in on the inner loop.
A police officer (nicely) ordered me to get back in my car, drive the wrong direction on I-485 over I-85 (another first!), and find my way to the other side. I complied because I wanted to become the first person in the history of the world to drive all 67 miles of I-485.
I live in Highland Creek, and people on this side of town were obsessed with the completion of the final 5.7 miles of 485 and how it would make our lives easier. It's all my neighbors talked about. When I told my friend Dave about my goal, he confessed he had spent that morning Googling stories about the decades-long history of Charlotte's beltway. When I invited him to join me, he eagerly accepted.
If you wonder why I-485 took 27 years to plan and build, I submit this: The people who made decisions about its construction are also the people who created a ribbon-cutting ceremony that included schoolchildren singing the national anthem, comments by six public officials, and Governor Pat McCrory driving a pace car through the ribbon.
When all of that finally ended, Dave and I tried to make history by going clockwise around Charlotte at 70 miles per hour. As we passed Harrisburg and Mint Hill, I thought about this road, where it would take us, and what it would be like when we got there.
Wherever it takes us, we'll get there faster. A friend of mine from Harrisburg showed up at the new 485 entrance, not far from the ribbon cutting, on opening day at 1 p.m., foolishly thinking that because officials said it would open at 1 that it would open at 1. She waited out the delay, then clocked herself going to the Mooresville area, and added up the time she saved. She saved about 10 minutes.
As the ribbon-cutting speakers tell it, the completion of I-485 will bring business and expansion and growth, which we have more than enough of already. They made I-485 sound like a great symbol of where Charlotte has been, where it is now, and, most important, where it's going.
Here's the truth about I-485: The road itself never goes anywhere except back where it started. Construction finally ended on a road that never ends. A beltway is a perfect metaphor for Charlotte, because no matter how many "now we're a big city" moments we have—the Hornets, the Panthers, the Democratic National Convention, etc.—we always pursue the next one from the same "this is what we need to be a big city" starting point. Maybe we should start acting like we've been there before, because we have.
Dave and I passed Ballantyne. Soon airplanes seemed to chase us overhead, which meant the airport was in front of us. Finally we made it all the way around the loop and the new part of 485 appeared in my windshield and … uh-oh.
Brake lights. Traffic barrels. Cop cars.
The final section wasn't open yet; it took workers so long to clear the people and chairs and dais and crane with the enormous American flag from the ribbon-cutting ceremony that we drove all the way around before they were done.
So we waited.
At last, they cleared it. And at last, we finished the loop, all 67 glorious miles. As we passed over I-85 a third time, the road unwound in front of me, as wide open as Charlotte's future. I briefly wondered how fast I could get my car going on that virginal stretch of asphalt. But I resisted the urge to find out. I'd had enough interactions with the cops on 485 for one day.
Matt Crossman is a writer in Charlotte. He can be reached at mattcrossman.com or on Twitter: @MattCrossman_.