Clodfelter: 'Seriously Pursuing' Possible Mayoral Run
In one-on-one, Charlotte's mayor discusses paying for transit, Chiquita exit, how city's changed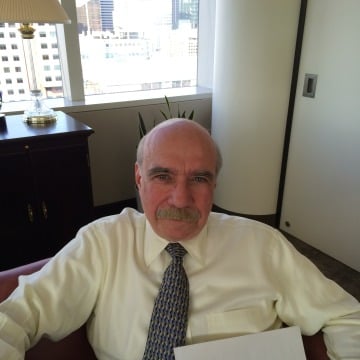 Charlotte Mayor Dan Clodfelter gave his State of the City address last week, in which he discussed the city's successes in weathering the recession and the Patrick Cannon scandal but also touched on the challenges ahead—most notably the strong possibility that Charlotte will have to find new ways to pay for its planned transit projects. He invited me and other journalists to meet one-on-one with him Tuesday in his office at the Government Center. The following is a transcript of our conversation.
GL: The big takeaway from the State of the City was the potential for change in the transit funding model. Can you be a little more specific about exactly what the city is looking at as far as finding alternative sources of revenue?
DC: To be clear, it's not like we have solutions right now. What I was trying to do was pose the question to make sure we got focused on the fact that we need to get on with trying to find it. The biggest task we face, I think, is finding some way to substitute for the 25 percent match that the state was giving us on our transit system expansion. That's a huge chunk. The state has been a great partner on the [LYNX light rail] Blue Line and the [Blue Line] Extension, but I don't foresee that continuing. That's a huge hole.
At the same time, the sales tax that is supporting the Blue Line and the Extension and the Gold Line, that's going to be about the limit of what it's going to be able to finance. The challenge is to sit down and figure out where we're going to be able to come up with the ability to build out the rest of the system. I don't think it's going to work to just go back to Raleigh and say, "Hey, could you please give us the 25 percent again?" I just don't see that happening. My thought is that we're probably going to have to develop regionally based solutions, as has been done in other, larger urban areas—Austin, St. Louis, Denver, even across the border in South Carolina. They've looked at regional local funding mechanisms that don't just draw from one city or one county … I think that's the direction we'll have to explore. I don't know what the appetite is for that, but it's what we're going to be talking about.
GL: Well, that was my next question. Has the city reached out to any of the other municipalities or surrounding counties?
DC: Not yet. But again, my challenge in the speech was, that's the direction we've got to start talking about.
GL: What do you think is driving the state's reluctance to contribute to the city's transit system?
DC: There's a combination of things, but in the most fundamental sense, the state is strapped for resources, too. The statewide transportation program is severely short of funding, so I think understandably they're looking for every place they can to try to cut back on their own responsibilities so they can focus on things that are on their plate. You look at gasoline tax revenues, they're flattening or declining, but we're driving just as much as we always have. So road demand is up, new construction is needed, maintenance and repair are just as important as they've ever been—more so with more driving—but the revenue sources that support that are flattening or going down. That's a difficult prospect for them. I don't think you have to look beyond that.
GL: So you don't necessarily think it's a political or ideological …?
DC: There may be something to that. But I think they'd be forced to look at that issue even without that. It's a struggle. It was a struggle even when I was there to maintain support for that component, which frankly was only benefitting Charlotte. It wasn't benefitting anybody else in the state. Nobody else was using it. We were getting 90 percent of all the state money for transit. At the same time, we were all looking around at each other saying, "Gee, we don't have enough money for this [other] part of our transportation program." I think it was going to happen anyway.
GL: What are the next steps for the city to go down that pathway?
DC: We have a working group in the Metropolitan Transit Commission that's been studying various options and ideas. One of the things I think we could maybe do is bring more people to the table, because right now that is a group that consists only of members of the MTC, which are all within Mecklenburg County. I think we're going to have to engage our colleagues in surrounding counties, and cities as well, in the dialogue. I think that's the next step.
GL: With an eye to 2030?
DC: With an eye to 2030 and the regional transportation plan as a whole, and that includes roads as well as transit.
GL: Are you or are you not going to run for mayor?
DC: That's not a question we've settled yet. I'm seriously pursuing the possibility but not yet decided.
GL: Fair enough. What was your reaction to Chiquita's decision to leave town?
DC: I'm sorry for the loss of the jobs and employees there. They were a good member of the community while they were here, and I'm sorry to see them leave. I don't take a defeatist attitude about that. Companies move. What I want to make sure of is that we put some energy and attention to making sure those employees who want to stay in Charlotte can stay in Charlotte. The city is not out any incentives on that. The deal we made on the front end was, you stay for a defined period of time, and you leave any sooner than that, you give us all our money back. And they're going to do that. So taxpayers are not going to be out a dime. In the meantime, we've had them as a good corporate citizen for three years … We negotiated the deal the right way.
GL: Is there anything that can or should change about the incentive packages that the city or any other entity offers?
DC: I wish we didn't have to do them at all. But again, as one of my colleagues used to say, "Well, you can't engage in unilateral disarmament unless you want to lose the nuclear exchange." I do think we have to focus more of our incentives on the conditions for employment, being sure we get the employment we expect to get out of it, that's the most important reason for these [deals], being sure that employment is available to folks in the community here, that it's not just all relocations. Relocations are OK—I understand companies moving here are going to relocate some people—but we need to make sure incentives operate to make jobs available to people who are here. That's the most important thing.
GL: How can you do that? Just make that a condition of the deal?
DC: Well, to the extent we can legally, yes. You have to be a little creative in how you do that. I'm not sure constitutionally that we can say, "No outside hires," but you can incentivize local hires, draw your incentives so that it's more attractive to hire locally than from outside.
GL: How have you liked being mayor?
DC: I've enjoyed it more than I feared I might. I didn't know what to expect, so you have fears going into something when it's totally unexpected, and something you hadn't planned to do—"Oh, my gosh, what have I gotten myself into?" I've really enjoyed it. I've enjoyed re-engaging with the city, with people in the city. It brings a smile to my face whenever I'm out in the community and find some really neat thing that people are doing. It's really uplifting.
GL: What kind of satisfaction do you get from being mayor that you didn't get from being in the legislature?
DC: [laughs loudly] Oh, I can talk for hours on that topic. This is a community that's really excited about its future. It seems that in the legislature, we were doing an awful lot of damage control, an awful lot of playing defense, an awful lot of worrying about our ability to go forward day to day. It was a really different environment.
GL: What's the single biggest thing that has changed in this city since you were on council [from 1987-93]?
DC: I'd say there are two, but they're linked to each other, in my view. One is the diversification of the economy, and the other is the diversification of the populace of the city. It's just dramatically more diversified as an economic base. We're generating a lot of local growth from within the community, and 25 years ago, much more of our growth was directed by how much we were able to import from outside … and we've become self-starters, much more so than we were. And of course I think the diversification of the population is part of that, too.