Clogging 101
Five things you never knew about the mountain dance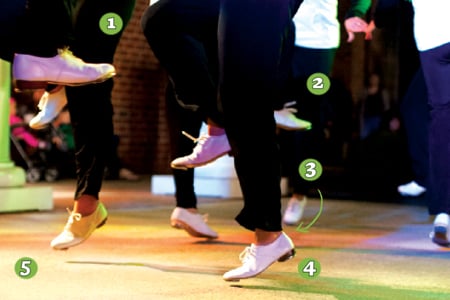 Maybe it was inevitable. If the X Factor can revive Mario Lopez's acting career, reality television can boost the profile of a folksy North Carolina mountain dance.
In September, TLC debuted Down South Dance, a reality show highlighting teenage competitive cloggers in Georgia and South Carolina. The hour-long pilot episode featured coaches hurling insults, dramatically spliced scene changes, and plenty of death stares at the camera.
Meanwhile, cloggers were kicking up their heels at a DNC party, in the Macy's Thanksgiving Day Parade, and at the Blake Hotel uptown, which hosted a two-day national competition in October called The Challenge. Here's what you need to know about this new (yet incredibly old) fad.
1. Clogging is a truly homegrown folk dance, originating in the North Carolina and Tennessee Appalachian mountains, says Vicky Conrad, director of Clog Carolina in Mooresville. Irish settlers blended their moves with influences from the Cherokee Indians, gypsies, and African Americans, as well as other European immigrants in the area.*
(*This sort of explains why it looks like a cross between Sammy Davis Jr. and Riverdance.)
2. In 2005 the General Assembly passed a bill declaring clogging the official folk dance of North Carolina.
3. Don't confuse clogs with the fashion disaster known as Crocs. The footwear required for this dance closely resembles tap shoes.
4. All That!, an all-male, heavily tattooed clogging group from Myrtle Beach, was a semifinalist on America's Got Talent last summer. At one point, the guys lit their shoes on fire and danced in the flames. Sharon Osbourne, a judge on the show, suggested they take off their shirts and oil up for future performances.
5. While reality TV gave them much-needed exposure, not everyone in the clogging world was thrilled with Down South Dance. As Conrad politely put it: "Some of us are not real happy about that program … well, we have different opinions on it."