Closet Vintage with Elizabeth Steinfels
Elizabeth Steinfels, owner of Hong Kong Vintage, offers a peek into her vintage-filled closet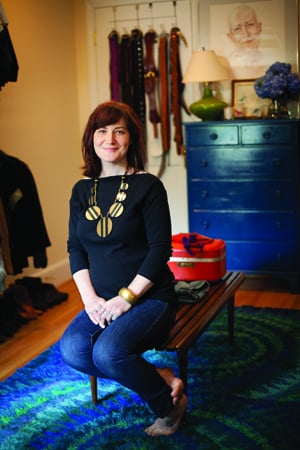 A high school fascination with the mod revival scene and the inheritance of her mother's hand-me-downs from the 1960s and 1970s sparked Elizabeth Steinfels's love for vintage. The path led her to a fine arts degree from the School of the Art Institute of Chicago and a freelance career as a wardrobe stylist in the local film industry. In her free time, she scoured the shelves of a local vintage haunt. After that shop closed, she opened her own boutique, Hong Kong Vintage, in 2003.
CM: What's your take on Charlotte's vintage scene?
ES: I think it's really grown in the past couple of years. We have a great little strip on Central, where Hong Kong is located, with a wide variety of vintage, consignment, and resale shops. There are also several other great spots sprinkled throughout the city, as well as resale trunk shows, vintage fairs, and the [Metrolina] Antiques and Collectibles Show.
CM: What's the best part of shopping vintage?
ES: No two shops are alike, and you never know what you will find.
CM: Favorite vintage item you've acquired?
ES: I am too sentimental about my vintage; it is impossible for me to choose one favorite piece. I have everyday favorites, like a flea-market-find locket I've worn almost every day for years … I also have some very special pieces, like an early 1960s Nina Ricci pumpkin-orange silk dress that I inherited from my grandmother and a 1930s woven-leather clutch that is so perfect, but almost too delicate to use at this point.
What she has to say about the items in her closet:
"Nearly all of my jewelry and accessories are vintage. I think they are a great starting point for anyone wanting to wear and collect vintage."
"I have a collection of small bird paintings all over my house. This one was used on a film set before it was given to me as a gift."
"The vintage dresser is painted an unexpected royal blue."
"The 1960s orange travel case is used more for storage than actual travel."
"The bench is the perfect seat for buckling up a pair of wedges or zipping up some classic leather boots."
"The Rya rug is an eBay find. It has moved from room to room over the years but has finally found a permanent home in my closet."
WEB EXTRA: Steinfels's Tips for Shopping Vintage:
1. Most vintage stores and dealers will allow you to try items on. Take advantage of this. You really don't know how something will fit just by seeing it on a hanger or holding it in your hand.
2. Don't pay any attention to the size inside a garment. Sizing has changed considerably through the years and continues to do so.
3. Take cash, a tape measure, and your own bag to flea markets, yard sales, and antique shows. A tape measure is helpful in case there is no dressing room and also a necessity for measuring furniture.
4. Take your time. Vintage boutiques are stocked with one-of-a-kind items, which means that there is a lot of merchandise to dig through.
5. Shopping online is tricky. It's just as tough for sellers as it is for buyers to convey all the information needed. But there are some great finds out there. Read descriptions and measurements well and ask questions if needed.