Closing Thoughts on the PGA Championship
A week of trying to balance golf in one hand, and the news of the world in the other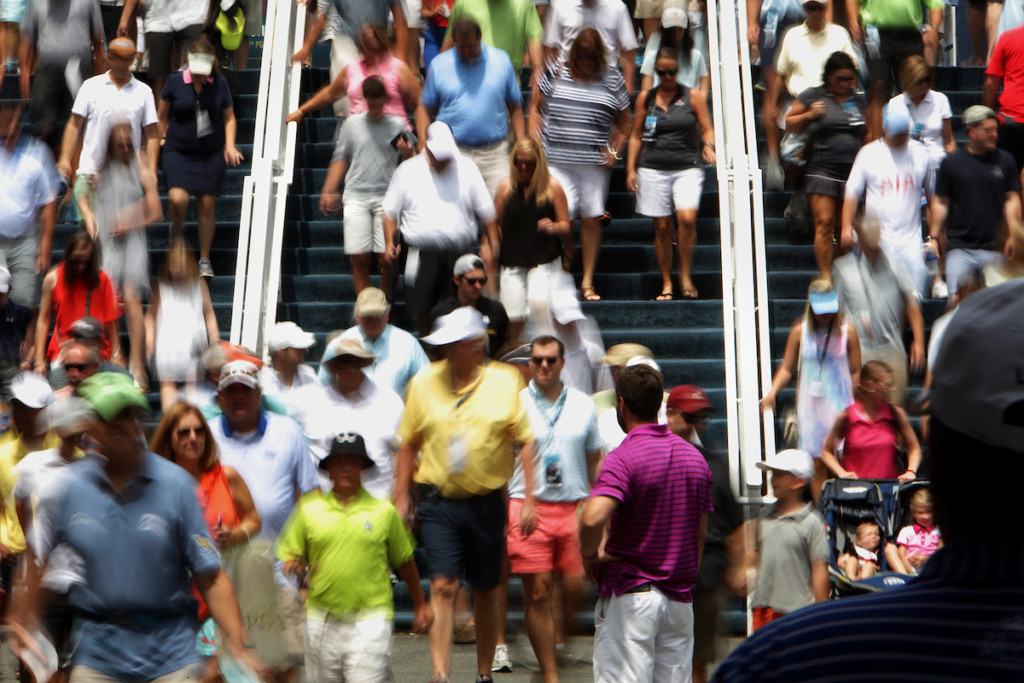 EVERY CAR on the northbound train was full Wednesday night when a man in unwashed jeans and a faded black T-shirt tried to board with his bike. He was a regular user of Charlotte's public light-rail system, you could tell, but this was no regular weekday evening.
People in two types of uniforms filled the train to the doors. About half were in Panthers gear, on the way to the first preseason game; the other half were in golf shirts and khaki shorts, on the way home from the final practice round of the PGA Championship at Quail Hollow Club. You can get a good sense of a town by how active its transportation network is on a given day, and this was about as busy as you'll ever see Charlotte's—shuttles scurrying all over the city, drivers counting up fares, and this train stuffed with passengers.
Two women in Luke Kuechly jerseys stood next to a man holding heavy plastic grocery bags, and that man stood next to two men who had golfers' signatures on their hats.
At each stop, the driver reminded oncoming passengers: "This train is full. If you're not able to board, another one will be coming shortly."
"That one will be full, too," one woman said as she squeezed in.
There appeared to be no room left whatsoever when we reached the Woodlawn station, but the scruffy man with his bike wouldn't be denied. He pushed the first wheel aboard, bumping people back, then the second wheel, then squeezed in. "There's another train coming shortly," another passenger hollered, parroting the words of the driver.
"Well," the man with the bike replied, "go ahead and get on it then."
Big events feed life into this growing city, and they confirm our status as an important destination on a map. They also contain glimpses into our individual ranking in the world. For the PGA Championship, a price of nearly $100 for an entry-level grounds pass was only the beginning of the barriers. Once inside, you were defined by where you could go and where you couldn't. Did you have access to the Wanamaker Club, or the Chase Sapphire Card club, or the Quail Hollow members area, or the media center, or the corporate tents? At each entrance, a volunteer stood waiting to grant passage or turn you away.
Other nuances of access factored in, too: Maybe a boss happened to have an extra ticket available, or a friend knew a friend who could get you into a VIP area. These connections to opportunity play out in more critical ways throughout our city every day—it's the basis of work being done by the Opportunity Task Force—the big difference here at the golf tournament being that the things people had access to were superficial, and nobody's children went to bed hungry.
I went out for six of the seven days of PGA Championship activities and, because I had a media badge, I could roam in areas others couldn't: the practice range, putting green, the players' parking lots, and media areas. But I spent most of the time wandering with the crowds.
Inside these gates, the conversations were about Rickie or Rory or Big John, or how reasonable the weather was, or the beauty of the course, or the sweetness of the ice cream bars. Any complaint was minor. One day, I spoke with an older gentleman from Greensboro who's come here every May for 10 years to attend the Wells Fargo Championship. When I asked him how the PGA Championship compared, he griped, "There's no Bojangles'."
On Thursday, one concessions area ran out of hamburgers during lunch, prompting what amounted to a near-riot for this crowd, and by that I mean they grabbed hot dogs instead. On Thursday evening, after Rory McIlroy finished his round, he hopped up some stairs and onto bridge that crossed over the fans' walkway, on his way to sign his scorecard and get home. I watched a young boy of maybe 6 in a "Just Can't Lose" T-shirt sprint along the fences for an autograph, screaming "Rory! Rory!" in a high-pitched voice, but the player didn't turn around.
That same evening, with the last group coming through, I overheard a volunteer on hole 13 ask her supervisor how late the beer tents remained open. "You'll have time," her supervisor said. "You know there's $2 beers for volunteers in the volunteer area, right?"
"Yeah, but that's all the way on the other side of the course," the woman laughed. "I'll need a walking beer."
On Sunday afternoon, I stopped by the practice putting green to see how the leaders spent their final minutes before teeing off on the biggest round of their lives. At about 2:30, a young man in a pink shirt and blue pants walked across a bridge from the range. Justin Thomas wasn't in the lead at this point, but he was close. He strolled up, stroked a single practice putt, and walked off toward the first tee. On his way there, a boy in a Clemson hat behind the fence yelled, "How'd you like Cowfish last night?" (Images of Thomas and his close friend Jordan Spieth dining at the south Charlotte restaurant circulated on social media that day.)
"It was good," the 24-year-old Thomas said, stopping to turn his head and smile at the boy.
A few hours later, Thomas was on the 10th green when he hit the most memorable shot of Charlotte's first major championship, an eight-foot putt that came to a stop on the left lip of the hole. It rested on the edge for about a dozen delicate seconds, and we all watched like we'd just handed a fake ID to a bouncer outside a bar, waiting and waiting, before gravity granted admission and the ball fell in, helping to send Thomas to victory and a $1.8 million payday.
Bojangles', autographs, walking beers, and teetering putts: These were the concerns inside the gates of Quail Hollow.
Every day, though, we had to leave, and the news from the outside exposed us to the hard truth that while the PGA Championship was a big deal here, it was little more than an "Oh, by the way" headline everywhere else.
On Tuesday, the president threatened "fire and fury" when discussing nuclear war with North Korea. On Thursday in Charlotte, a Citizens Review Board came back deadlocked in its determination of whether a Charlotte-Mecklenburg Police officer acted in line with department policy when he shot and killed Keith Scott last September, a shooting that led to a week of protests and violence in our streets. And on Saturday, people emerged from a day in the golf bubble to the awful news and images of the white nationalist rallies in Charlottesville that led to the deaths of three people and injuries to 35 more.
My fiancé, my brother, and I got up early Sunday morning to play a quick nine-hole round at the Charlie Sifford Course at Revolution Park. Throughout this special public place, plaques tell the story of Sifford, a Charlotte native who had to sneak onto all-white courses to play as a kid, and later became the first black man on the PGA Tour. Jodie Valade wrote an excellent story on the course in our August issue. Sifford received the Presidential Medal of Freedom in 2014, about two months before he died.
After we finished our round, I went down to Quail Hollow, arriving around lunchtime. I spent most of the day walking the course and listening for hints of recognition from this predominantly well-off, predominantly white crowd that the world is not right. I didn't hear any.
It's fine to take breaks for pleasure, and diversions keep us sane, but more than any other time in recent memory, it's important to remain aware that fences keep things in as much as they keep things out. And it's important to be cautious of that next level of access, because for all the privileges it may grant you, the most threatening is the ability to rest in a state of ignorance.
Michael Graff is the editor of Charlotte magazine. You can reach him at michael.graff@charlottemagazine.com.