Club Shiznit Keeps Panthers Out of Trouble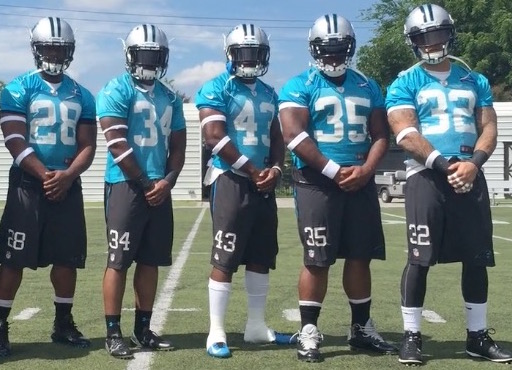 And now updating a story you may have read about over on BBR Tuesday …
Club Shiznit was as advertised on the Carolina Panthers' off night at the Super Bowl.
"Oh man, it was jumping," says DJ Mike Tolbert.
According to a source who was there, about a dozen players filled the makeshift suite in between the San Jose Marriott rooms of Tolbert and fellow running back Fozzy Whittaker. So it's not like the party was all that exclusive.
"The running backs are on a VIP list and then everybody else had to pay an admission fee," Whittaker jokes.
Among those spotted – quarterback Cam Newton, sans entourage.
"When he's around his brothers, we're solo," Tolbert says.
A number of receivers also got in, including Devin Funchess, Kelvin Benjamin, Ted Ginn Jr., Philly Brown and Kevin Norwood.
So, Kevin, word has it Club Shiznit was hopping?
"No, it was not," Norwood says with a laugh. "We were sitting there playing dominoes. They may have had some music going, but that was about it."
OK, for those looking for the hottest Super Bowl parties, Club Shiznit isn't really the place to be. But it did help serve its purpose.
"We stayed out of trouble," says Whittaker, "Cause we were in Club Shiznit."