CMPD, Activists Mark 'a Significant Step Forward'
Department worked community feedback into updated use-of-force policy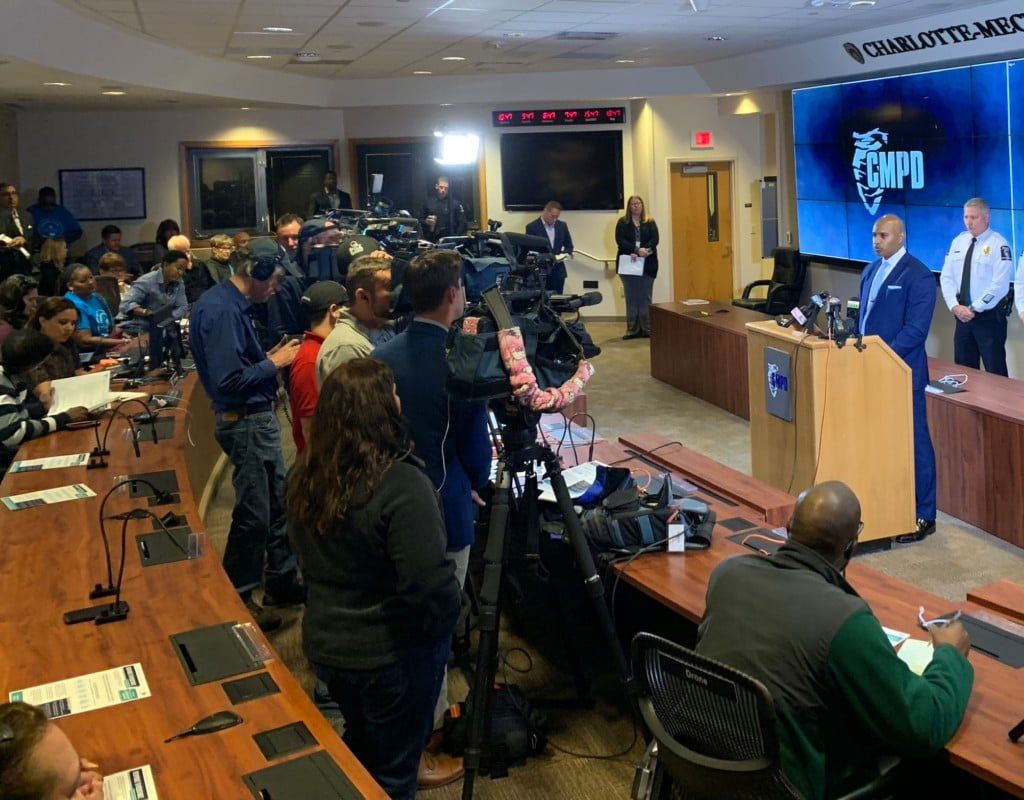 Early in a news conference Wednesday to announce an update to the Charlotte-Mecklenburg Police Department's use-of-force policy, Chief Kerr Putney emphasized the contributions of community groups and individuals within them. "I think this would be the first time we've really allowed for this level, this depth of perspective and insight from people who generally—" Putney paused, turning his attention to a man at the back of the room.
"Good morning, sir," the chief said.
"Hey, Chief," said Robert Dawkins, grinning.
Putney finished his thought with a chuckle. "… are constantly debating me."
"Yes, sir!" Dawkins responded.
For the past four-plus years, Dawkins, the police accountability organization he leads, SAFE Coalition NC, and other organizations have publicly pushed CMPD to tighten its rules and practices on officers' use of force—to exercise its authority more sensibly and carefully, especially in interactions with young black men.
On Wednesday, after an effort of several months, CMPD unveiled the results, a 14-page document (available on the CMPD website; go to Section 600-019, page 472) that clarifies and expands those standards beyond the legal benchmark established by the U.S. Supreme Court three decades ago. For the first time, it defines and sets parameters for "de-escalation," methods CMPD officers can use to disarm or reduce a threat and, Putney said Wednesday, "the goal in every incident."
It underlines that officers are allowed to use force "only when it is reasonably necessary," and that use of force might violate department policy even if it's legal. It specifies that officers should give medical assistance "commensurate with their level of training" to an injured subject—an issue that arose after a CMPD officer shot and killed Danquirs Franklin in the parking lot of a west Charlotte Burger King in March. The updated policy even softens the term "use of force," replacing it with "response to resistance."
"This policy is a living, breathing document. This is not a one-shot deal," Putney said. "I wish I could tell you we got it perfect this time. I'm sure we did not. But I can tell you this: It's better than where we started … The debates (with citizens) are what got us here, too. This is a pivotal day."
But the details seemed to matter less to Dawkins and other community activists than Putney's and CMPD's willingness not only to listen to citizens' voices but let them drive some of the discussion that led to the changes. The one-page summary sheet that the department passed out Wednesday prominently displays the names of SAFE Coalition, the NAACP, the city's Citizens Review Board, and "community members," among others, under the heading, "The updated policy was drafted with perspectives from."
The Review Board, a committee that reviews police misconduct complaints, especially wanted the changes to reflect a fundamental shift in philosophy, from what Putney referred to as a "warrior mentality" to a "culture of guardianship" informed by a warrior spirit—for cops to act more as protectors than enforcers while still aggressively neutralizing threats when necessary. "It seems like the chief has found a way to integrate the language that we want into a policy that will work for his department," said Tonya Jameson, the board's acting chair. (Jameson, a former newspaper reporter, is an occasional contributor to this magazine.) "The question, really, is what's going to happen when they're in the field."
For a time, Putney said Wednesday, he wondered whether the effort to update the use-of-force policy would go anywhere. Dawkins told me he had his doubts, too. The project ramped up in spring, and until summer, Dawkins thought it might lead to a series of vague directives that accomplished nothing. His attitude began to change after July, when the department reached out to him for honest feedback on some of the proposed changes without, he said, trying to influence the outcome.
"It's a significant step forward on two points: One, to actually get something back in language, and the fact that it wasn't just (Putney). He took it to the Citizens Review Board, the (city) Civil Service Board, and then I heard back from the Citizens Review Board lawyer, saying, 'This is what we think, what do you think about it?' That's never happened before," Dawkins said. "It still can turn out to be just on paper. But it's been way more involved with the community … At least here, it didn't seem like the agenda was set in advance."
Putney was sworn in as chief of police in June 2015, and he's already announced his intention to retire at the end of 2019—although he plans to return to oversee the department during the Republican National Convention next year. A little more than a year into his tenure, the Keith Lamont Scott shooting and demonstrations tested the relationship between Charlotte's citizens and its police department, and the department's chief, nearly to a breaking point. Putney responded by talking and listening to citizens, in public and private meetings that could be tense and emotional, even combative. Dawkins has been among those who've been demanding answers from the chief and CMPD. He got some of those answers Wednesday, and the tone of the exchanges between the two men suggested the fulfillment of something elusive and precious: progress.
"SAFE Coalition, as always," Putney said during the news conference, "I appreciate your work."
"You, too, Chief," Dawkins replied.