Analysis: The DA's Foreseeable Decision in the Danquirs Franklin Shooting
Decision not to charge cop doesn't lessen tragedy at heart of case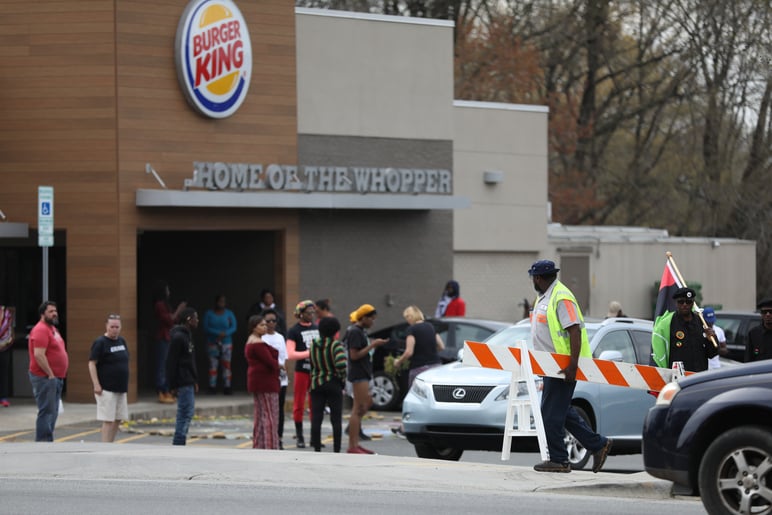 Just in case other episodes of gun violence have overridden the events of March 25 in your memories, here's a summary: At a little before 9 a.m., 27-year-old Danquirs Franklin, a man who appeared to have overcome a difficult youth, arrived at the Burger King at Beatties Ford Road and Interstate 85. He had a gun, and multiple witnesses say he was threatening his former girlfriend, a Burger King employee and the mother of his two children, and a co-worker she was dating. At one point, he threw his ex-girlfriend to the ground, according to witnesses. Charlotte-Mecklenburg 911 dispatch fielded two calls from customers, one at 9 a.m. and another a minute later, about a man with a gun.
Two police officers responded. Franklin squatted next to the open passenger's side door of a car; another man sat in the passenger's seat. One of the officers, Wende Kerl, approached the car and told Franklin to show his hands. Then she and another officer yelled multiple times at Franklin to drop the gun. After 40 seconds, he reached into a jacket pocket and pulled out a gun. Kerl shot him twice. "You told me to …" Franklin muttered. He died minutes later. Officers at the scene recovered a Ruger LCP .380 semiautomatic handgun.
In deciding not to charge Kerl with a crime—a foreseeable, even inevitable outcome, presented to Police Chief Kerr Putney and released to the public Wednesday—District Attorney Spencer Merriweather did what he swore an oath to do, follow the law. We can and will argue endlessly, in Charlotte and everywhere else in the United States, about whether the law should be what it is, but there's no doubt what it is. Here's the key sentence from the DA's conclusion:
(A)s the body-worn camera depicts the decedent apparently saying, "You told me to…," instantly after he was shot, this evidence alone, while leaving this outcome all the more tragic, is insufficient to prove the unreasonableness of Officer Kerl's perceptions and assumptions of the danger the decedent presented before the shots were fired.
Here's what that means. When she arrived at the Burger King, Kerl knew from the 911 calls that she would probably encounter a man with a gun who threatened violence.
What she didn't know: His state of mind and intentions; whether the man in the passenger's seat was in danger; whether Franklin had a record of violence (he didn't); because his hands were partly hidden, whether he was holding the Ruger in his hands or elsewhere; or whether she could construe his dazed expression and virtual silence during the 40 seconds from her first command to the first of her two shots as a threat. When Franklin finally did remove the gun from his pocket, he appeared to be drawing it out by the barrel, an indication that he was complying with the officers' commands to drop his weapon; but it was unclear in the moment and ultimately something else she didn't know.
You might ask why Franklin didn't receive the benefit of this doubt. This is why. Merriweather's decision was limited to whether he believed he could charge Kerl with a crime and take the case to court with a reasonable chance at a conviction. He did not. "Given the circumstances present, combined with (the) speed with which the events unfolded," he wrote, "the State could not prove to a jury that Officer Kerl's perception that the presence, motion, and position of the gun posed an imminent threat … was unreasonable beyond a reasonable doubt."
That's the legal, left-brained end of the case. Another part of the report simply breaks your heart. It comes from the summary of the witness statement of Franklin's ex-girlfriend, identified only as A.L., the mother of his children and the apparent target of his pain and rage the morning of March 25. It's worth quoting at length:
A.L. advised she was the mother of the decedent's children, and they had recently broken off their relationship. She had been with the decedent for 11 years total, although they had broken up several times. She described an incident that occurred a few weeks earlier when she learned from police that the decedent was threatening to shoot her. He was ultimately admitted for evaluation at Behavioral Health at the time of that incident. He stayed there for four to five days. She advised it was at that time she had decided to end their relationship.
A.L. advised that the decedent had been diagnosed with bipolar disorder and she thought he had been taking his medication. She further advised he would drink on a regular basis even while he was on his medication. She did not know whether he was taking any other medications or using any illicit drugs. A.L. further advised that when the decedent was admitted to Behavioral Health, she decided to hide his firearm, a Ruger, since he had been threatening to shoot her. She described moving the firearm from under the mattress to a location under the passenger seat of her vehicle. She said she met with the decedent on March 24, 2019, and as they were sitting in her vehicle talking, he found his firearm that she had hidden.
A.L. stated that the decedent had been threatening T.S. via text messages. A.L. advised that she was at work when she received a call from the decedent, who stated that he was coming to her workplace. She advised he was upset and she was concerned for her safety and the safety of her coworkers. A.L. knew he had a gun and told her manager to lock the doors. She stated that given what was going on with him, she was concerned for everyone else's safety. A.L. stated she told her manager what was going on, and employees were directed to call 911 if he came to the restaurant. A.L. advised the decedent arrived at Burger King with two of her children, ages 4 and 7. She described the decedent as being very irate and that he started looking for a coworker of hers, T.S., who she had been dating. She advised the decedent began chasing T.S. around the kitchen area of the restaurant, and the decedent ultimately pulled out a gun. The employees told T.S. to run. She described T.S. as running out of the business. She believed that if T.S. had stayed, the decedent would have shot him. The decedent put the gun away and was trying to run after T.S. A.L. advised she attempted to calm the decedent down, but he ultimately slung her to the ground.
A.L. advised a short time later the general manager arrived at the restaurant, and the decedent walked to the general manager's car and knelt down beside the car and was crying in her boss' arms. She advised it appeared the two of them were talking when the police arrived. She advised she did not see the gun in the hands of the decedent when he was beside the car. A.L. stated that her boss was telling the decedent to take it out and put it down because all the police knew was that he was armed and "when you feel like a person is armed…you just don't take no risk…." A.L. stated that the police repeatedly asked the decedent to put his gun down, but she knew he had already put it up. She went outside to calm him down, but police told her to go back into (the) business. She stated that it seemed like the police knew they were going to shoot him. She advised she was inside when she heard two gunshots.
If you'll allow a personal note, as I was preparing to write this, my brain froze for five seconds or so as I tried to distinguish between the details of this shooting and the shooting a little more than a month later at UNC Charlotte that left two young men dead. They're just two more stories of guns and minds out of alignment in a nation and culture crawling with too many of both, and it seems irresponsibly naive to hope there won't be more, any day now.