A Town Hall on Gerrymandering Relief (With Toppings)
Jeff Jackson's 'DQ town hall' came at the end of a momentous week in North Carolina politics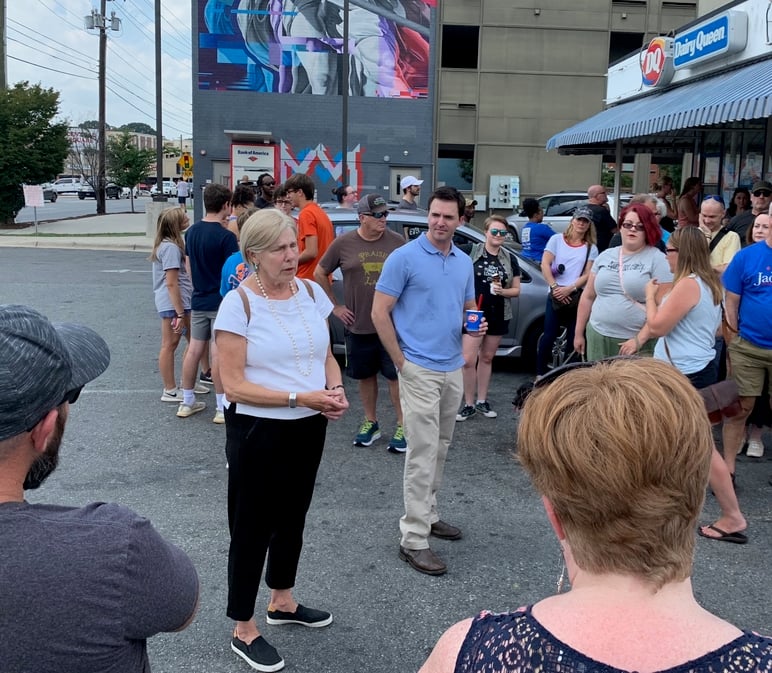 "This is the most people I've ever had at a town hall," N.C. Senator Jeff Jackson of Charlotte told a crowd of about 60 gathered around him on a sweltering Saturday afternoon, in the parking lot of a Dairy Queen that served attendees cold treats on Jackson's dime. "I can't imagine what your motivation was."
"The beautiful fall weather," one man cracked in response.
This wasn't just another town hall, though. It wasn't just another Dairy Queen, either—it's the beloved DQ on Central Avenue in Plaza Midwood, which opened in 1950 and whose owners confirmed this week will close November 1 because they can't agree on lease terms with the property owner. The news seemed to touch issues far broader than the closure of a Dairy Queen, familiar narrative lines about a growing city steamrolling itself as it expands, and Jackson thought it would serve as an ideal platform for citizens already thinking along those lines to come talk and ask questions, and also eat ice cream.
Jackson announced the town hall Friday afternoon. At the DQ, I suggested to him that the idea came in the same spirit as his famous #JustOneLegislator social media stunt in 2015, when Jackson, a Democrat, showed up at the Legislative Building in Raleigh on a snow day and jokingly "passed" a session's worth of progressive legislation. "All my best stuff has been spontaneous," he replied.
Jackson, who turns 37 next week, addressed and fielded questions about fairly typical topics, including a state budget in limbo after a veto by Governor Roy Cooper, education and teacher pay, and legislative influence on housing issues in cities like Charlotte. But what Jackson really wanted to discuss—what he generally does anyway—was gerrymandering, and this week was an especially momentous one for that subject.
On Tuesday, a three-judge panel in Wake County Superior Court threw out North Carolina's legislative district maps, ruling that they were unconstitutional partisan gerrymanders and ordering legislators to draw new lines—subject to the court's approval—in the next two weeks. Gerrymandering by a new Republican legislative majority that took power in 2010, the last Census year, helped lock in six years of a GOP supermajority, and Democrats had feared that a GOP majority in power in 2020 would use fresh Census data to gerrymander their way to another decade of dominance in North Carolina politics.
Another bomb landed Friday, when The New Yorker published an article that detailed the efforts of Richard Hofeller, a Republican consultant who helped draw Congressional and legislative district lines in several states, including North Carolina, before his death of lung cancer a year ago. The magazine obtained documents and emails that show how Hofeller went to extensive lengths to secure GOP power by using precise demographic data—including data on race, which the courts have determined is unconstitutional, and which state Republicans have long denied was a factor in redistricting—to draw district lines to Republican advantage. (One Congressional district line that cuts majority-black North Carolina A&T University in Greensboro in half incorporates voter data precise enough to predict the likelihood of students in particular residence halls to cast ballots, according to the New Yorker story: "It is difficult to determine from a review of the files exactly how Hofeller used the data on race, but the documents serve as proof that he possessed the data and incorporated it into his decision-making.")
Jackson has spent much of his five years in the state Senate trying to educate voters about the mechanics and effects of excessive gerrymandering and how it's underpinned nearly a decade of regressive legislation from a Republican-dominated General Assembly on voting rights, tax reform, teacher pay, and more. "Looking at those files, it's way worse than we thought—the deliberate targeting, the racial targeting that was involved," Jackson, speaking without notes, told the crowd Saturday afternoon in the Dairy Queen parking lot. "So now we're going to see a much better process."
The driver of a car passing behind him on Central honked the horn twice. Jackson turned around and shouted, "Hey, hey!" Then he faced his constituents again. "We're very confident that you're going to see, like, F-minus maps become B-plus, just in terms of basic fairness."
After he fielded questions for a half-hour alongside N.C. Representative Becky Carney, a friend and mentor, Jackson elaborated to me about the ruling and the Hofeller revelations. "Did you see the New Yorker article? Holy shit! It's one of those things where I thought I knew, but I had no idea. I was blown away. Blown away," he said. "Reading the article, I was actually concerned about, 'How am I going to break this down and describe it to people in a way that doesn't seem like I'm exaggerating?' And the closing quote …"
He was referring to the story's conclusion, in which a dying Hofeller tells a friend via email, "I still have time to bedevil the Democrats with more redistricting plans before I exit. Look my name up on the Internet and you can follow the damage."
I asked Jackson about a pair of tweets he'd sent Tuesday after the Superior Court ruling, in which he noted that overturning the effects of the post-2010 gerrymandering had taken "a whole damn decade." He shook his head. 
"My first impulse is to be deeply frustrated about how long it took and the price the state has paid," he told me. "My second impulse is to feel incredibly fortunate that we solved this problem before this next election, which will set us on the course for the next decade because of the Census. If this ruling had come in January (2020), we'd be hosed until 2030."
As it is, as he noted on Twitter, "This bunch used overt political corruption to seize near-absolute power and they were allowed to run with it for 99% of the length of time it could have possibly run. A remarkably successful scheme for which our state paid a staggering price."