CMPD Officer's Pigs Help With Community Engagement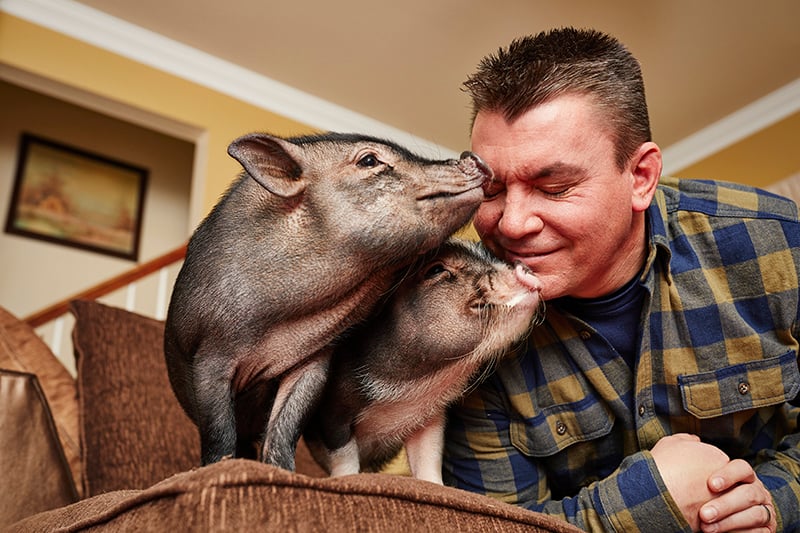 SARGE (full name Sergeant Serious Snuggles) is the older of the two, the unofficial tactical commander of The Bacon Response Team. Frank is Sarge's understudy. He needs a little help, as he lacks his half-brother's mental and physical acumen, but he's coming along nicely, and his handicaps help him relate to kids with special needs. They are not Charlotte-Mecklenburg Police property—and "porcine" doesn't lend itself to a snappy designation as canine/K9 does—but the mini pigs do belong to CMPD Officer Chad Webster, and he's been bringing them to community gatherings as conversation starters, therapy animals, and de facto ambassadors for policing.
Webster, 44, a community coordinator in the University City Division, fully understands the irony. "Pig" is a longstanding pejorative for "cop," and here comes a cop with actual pigs? "I feel like using the pigs," he says, "is kind of a good way to take on these stereotypes head-on rather than running away from them."
He and his wife, Krista, herself a former cop, saw a Home Depot commercial starring a young girl with a dog and pig. Webster begged his wife for a pig, thinking it'd be a great community engagement asset, and in summer 2018, the Websters and their four children adopted then-eight-week-old Sarge from a farm in Waxhaw. A couple of months later, the farm called and asked if they wanted another piglet from the same father but a different mother. This one had mild mental deficits and a bum leg. "No," Chad told Krista, who promptly collected Frank and brought him home.
Webster, who's published two children's books, takes his pair of pigs to book drives, health fairs, and other community events. He's working on getting them certified by the American Mini Pig Association—there is such a thing—to work as official therapy animals. He envisions walking Sarge into public schools, both of them clad in police uniforms, and chuckles. "This is my life."