CMPD Reformers' Half-Victory
For first time, review board declines to approve police decision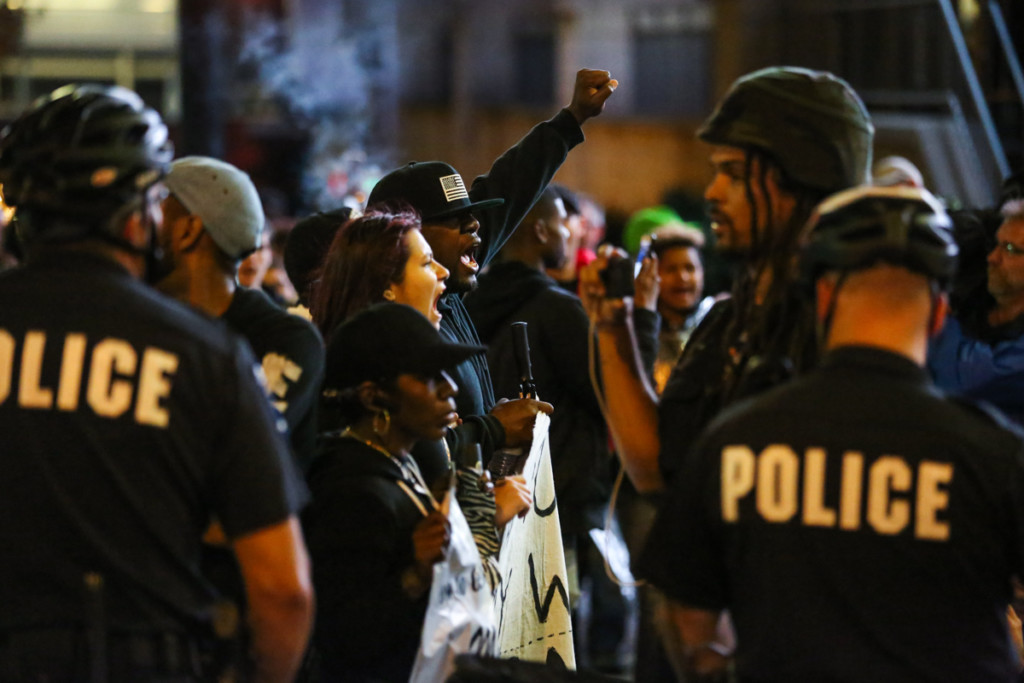 AFTER A SPLIT DECISION and an odd half-victory, it figured that Robert Dawkins had some conflicting thoughts. "I guess I've got a subjective answer and an objective answer," the SAFE Coalition NC state organizer said Thursday at the Government Center, when I asked him what he thought about the Citizens Review Board ruling a few minutes before.
"Objectively, I think we've come a long way. The work that we've put in, we've seen that pay off. There are things that we can be happy about, that it made it this far. Subjectively? Until this board is given investigatory power and subpoena power, it's in a position where it has to poke holes in a system in which the power structure's already said, 'We've looked at ourselves, and there was nothing wrong.'"
The city set up the volunteer board 20 years ago after fatal Charlotte-Mecklenburg Police shootings of three unarmed black citizens. The board was designed to enhance citizens' trust in a system capable of subjecting its law enforcement officers' actions to critique by the people they serve. In many ways, it's done the opposite. The case the board took up this week—Officer Brentley Vinson's fatal shooting of Keith Lamont Scott on September 20—was the 92nd it's fielded over the years. Not once has the board sided with a complainant against CMPD.
But Thursday was different. The board's 4-4 decision means that Police Chief Kerr Putney's determination that Vinson acted in accordance with department policy when he shot and killed Scott will stand. For the first time, though, a chief's decision in a case of alleged police misconduct failed to win endorsement from a majority of the panel—and members voted unanimously to recommend policy changes to the department. Those went undisclosed because they, like the mostly closed hearing, involve city personnel. Putney and his boss, City Manager Marcus Jones, will review the recommendations, the city said in a release.
The review board's decision Thursday was another tentative step in a long crawl, and SAFE Coalition—a nonprofit founded in 2013 to promote police accountability—has done much of the trudging. Its advocacy for a more robust, independent citizens' panel to review allegations of police misconduct has won some critical support from City Council members and others. But reaching that destination has been harder than Dawkins thought it'd be.
Ideally, he said, the CRB would have the power to investigate misconduct cases itself, subpoena witnesses, and discipline officers when it decides they've violated police standards. But that would require approval from the General Assembly, and a pair of bills sponsored by N.C. Representative Rodney Moore of Charlotte died in committee this year.
So: Strange. Not exactly something to celebrate, but not something to dismiss, either. The difference-splitting did mean something. In the protracted story of a transformed Charlotte that's unfolded since last September—has it really been less than 11 months?—it wasn't the worst outcome. But it was another trick of circumstance that led to the tie vote: The CRB is an 11-member board. One seat is vacant, and two members couldn't attend the two-and-a-half day hearing because of work commitments.
"I'm frustrated, because I think we should have had an odd number to ensure a better opportunity of not having a split," Charlotte-Mecklenburg NAACP President Corine Mack, a SAFE Coalition board member, told me after the hearing. "We're not going to stop fighting." She added, though, that the board might well end up recommending some policy changes that SAFE Coalition has been pushing for the last several years. "It'll be interesting," she said, "to find out what those are."