Cocktails at the Duke Mansion, Let's Get Tropical Luau, Bash at the Bot and More, July 7 to July 10
From a luau to a "beer mile" to a Montford block party, it's all about heading outdoors this weekend.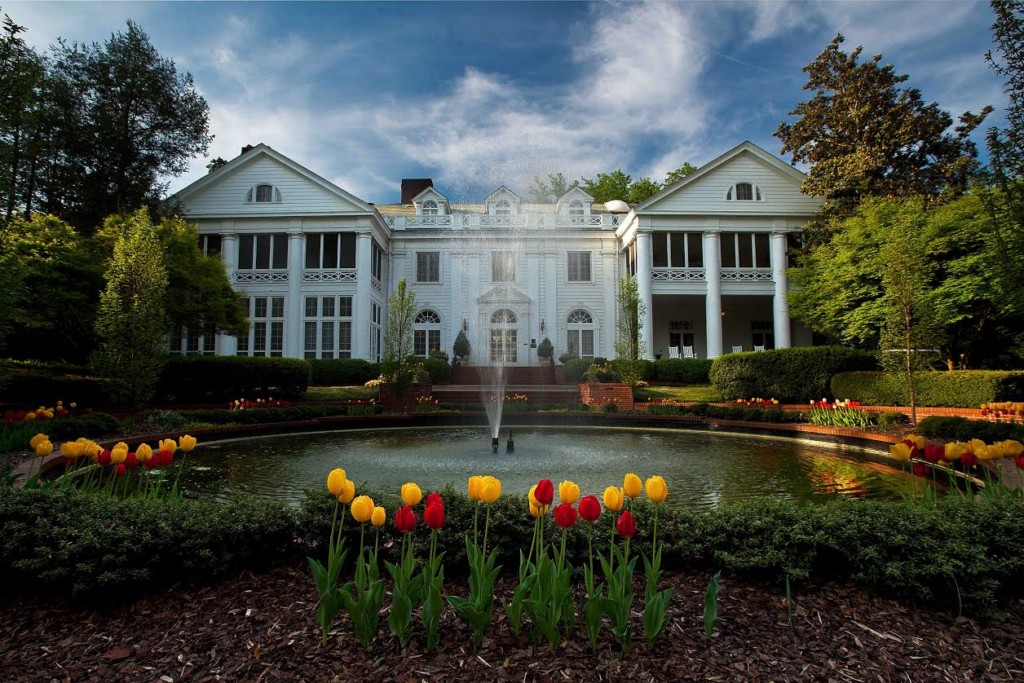 Hopefully, this was a shortened week for you with America's birthday letting your weekend slide a little longer. If not, no worries because the next weekend is nearly here. Charlotte's got a luau, a "beer mile," a brewery anniversary and more this weekend. See y'all out there!
Thursday, July 7
Cocktails at the Duke Mansion
Each weeknight in July, the Duke Mansion hosts cocktail hours from 5 p.m. until 8 p.m. With more than four acres of gardens and grounds to explore, the Duke Mansion happy hours are a great way to spend these summer evenings. There is no admission fee. The Duke Mansion is at 400 Hermitage Road.
QC TNT Latte Art Throwdown
It's your turn to try your hand at crafting latte art tonight as Not Just Coffee runs this contest to see who can make the best coffee counter creations. The best latte art wins (undisclosed) prizes. The competition is free to watch, but competitors have to throw down $5 before throwing it down. Not Just Coffee is inside the 7th Street Public Market, 224 E. 7th St.
Friday, July 8
Let's Get Tropical Luau
To celebrate the return of its Let's Get Tropical India Pale Ale, Unknown Brewing is throwing a luau for everyone. The tropical party also features five food trucks, live music, fire dancers, ukuleles, kiddy pools, "Jaws" playing on an outdoor movie screen and a "surprise" that encourages party attendees to wear their bathing suits if they want to get wet. The event at 1327 S. Mint St. starts at 5 p.m. and has no admission fee.
Haydini
Tonight and tomorrow, Charlotte has a magician coming to town, and we're not tricking you. Well, it's had a magician in town for a while because Hayden Childress (Haydini) is from the area. If magic's your thing (and why wouldn't it be?), this is the show for you. The shows both tonight and tomorrow are at 8 p.m. at the Duke Energy Theater at Spirit Square, 345 N. College St. Tickets cost $20. Buy them here.
Uptown Scavenger Hunt and Stoplight Social Mixer
Gather a group of two to six people tonight for a scavenger hunt across Uptown. Without giving too much away about the hunt, you'll need your phone's camera and a willingness to take hilarious photos across Uptown. The scavenger hunt begins at 10 p.m. with a social mixer running from 8 p.m. until then. The party gets started at Whisky River, 210 E. Trade St., at 8 p.m. with a free food buffet. A $12 ticket gets you in to the mixer and the buffet plus the scavenger hunt. Buy one here.
Saturday, July 9
Bash at the Bot
Has it already been a year? Our babies grow up so quickly. The Wooden Robot is turning a year old, and the South End brewery wants you to come celebrate. The party from noon until midnight at 14420 S. Tryon St. features a DJ and food from the Twisted Eats food truck. Ticket prices vary, but they start at about $12. Buy them here.
National Beer Mile
This is the very definition of a "fun run." Runners start this run with a beer, run a quarter mile and then repeat it three times. Fun, right? Check-in starts at 10 a.m. at the NC Music Factory, 1000 NC Music Factory Blvd. Ticket prices vary, but an individual registration costs $35. Buy your ticket here.
Sunday, July 10
Finders Keepers Summer Showcase
In addition to the local vendors on site selling their crafts from 1 p.m. until 6 p.m. at NoDa Brewing, 2921 N. Tryon St., you can also pair your beers with Pure Intentions Coffee, TIN Kitchen and FuManChu Cupcakes. There is no admission fee.
SportsLink Block Party
If you can brave the heat, there's a block party in Montford today complete with both a corn hole and Bar Pong tournament. Corn hole begins at 2 p.m. with a $100 prize for the winning team, and Bar Pong begins at 4 p.m. Register for the corn hole tournament here register for the Bar Pong tournament at Angry Ale's, 1518 Montford Drive, on Sunday.
Verify dates, times, prices, and other info at the web addresses listed for each event.
Be sure to bookmark www.charlottemagazine.com/Blogs/Dusk-Till-Dawn to stay plugged into Charlotte's nightlife and social scene. Click here to sign up to receive the weekly Dusk Till Dawn e-newsletter.
Want your event featured in Dusk Till Dawn? Follow me on Twitter @Jared_misner and let me know about your event, or send me an email at dusktilldawnblog@gmail.com.
Send Jared an email at DuskTillDawnblog@gmail.com, or send him a tweet @Jared_Misner.

Also by Jared Misner:

→This Weekend's Social Events
→Bowling For Books, First Friday Fort Mill, Electric Luau Party, Soulmatic Carolina Music Fest and More, Aug. 6 to Aug. 9
→The Moon Walk, Candy Fest, Silly String Party, Booze Cruise and More, July 30 to Aug. 2
→Christmas in July, More Christmas in July, National Dance Day, National Tequila Day and More, July 23 to July 26