College Town Travel: Annapolis
Stroll through its cobblestone streets and trace its history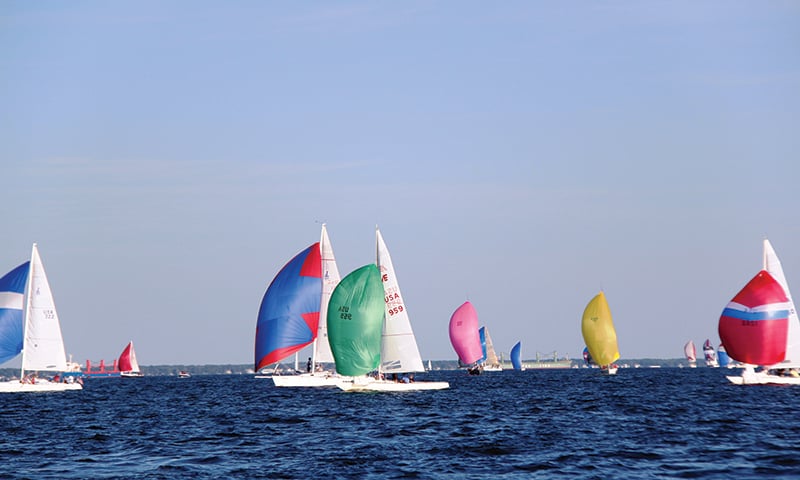 GROWING UP in a suburb between Washington, D.C., and Baltimore, Ann­apolis felt just out of reach, a quaint town whose charms might merit a handful of hour-long treks east each year. A high school field trip taken years ago offers faint memories of touring the State House—the country's oldest in continuous use—and the U.S. Naval Academy, alongside stronger memories of a friend walking smack into a street sign.
A separate trip to a family friend's waterfront home—one that involved fishing with bait casters from a wobbly dock—feels more like the Annapolis I've since come to love. This version has crab houses tucked into pockets along the riverside, places such as Cantler's, where locals cram together at long tables to pick crab and pour cold beer from pitchers.
A visit to either version of this town is ultimately worth it. If you find yourself headed to Baltimore or D.C. soon, or headed to a nearby beach, consider giving a day to Maryland's state capital.
Annapolis is a walkable town. From the State House's hilltop perch, it's a nine-minute walk to the crypt of John Paul Jones, a founder of our country's Navy, at the Naval Academy Chapel. It's six minutes to the Kunta Kinte-Alex Haley Memorial, and just two more to the City Dock, where you can catch a boat tour or just admire the view with a scoop of Annapolis Ice Cream Company's finest.
Down every cobblestone street are shops, restaurants, and postcard-ready homes, many of which were built in the 18th century. Leave time on the agenda for aimless wandering.
Annapolis is great on foot but may be even better by boat. Considered the sailing capital of the U.S., it sits along the Severn River, which flows into the Chesapeake Bay. Life here is shaped by these two bodies of water. You can take a sailing cruise on a wooden schooner to get a feel for this, or stay closer in and stroll along the dock to see the showy boats that line up in Ego Alley. A 90-minute drive south will take you to Hollywood Oyster Company, a friendly outfit that offers tours of its oyster farm. A 30-minute boat ride will take you to the steps of Thomas Point Shoal Light, a historic lighthouse that has stood watch for almost 150 years.
Similarly, the Naval Academy strongly influences life in this red-brick town. This holds true for my parents, who live much closer to Annapolis now and make trips into town almost every day because of something related to the academy. In October, watch a formal parade of the Brigade of Midshipmen on the 12th, or celebrate the U.S. Navy's 243rd birthday, which falls on the second weekend of the month. Or, you can catch a football game at the Navy-Marine Corps Memorial Stadium, something I've yet to do myself. I should fix that already.
---
STAY
Annapolis is large enough to offer accommodations at well-known hotel chains, but its bed and breakfasts and historic inns offer a chance to immerse yourself in the town's culture. Consider the Inn at Horn Point or Chez Amis Bed & Breakfast, or visit historicinnsofannapolis.com for a listing of historic inns to complete your stay.
EAT
Start your morning with a coffee from the roasters at Ceremony. Cooler weather will beckon you to step inside the cozy and bustling Middleton Tavern, whose history stretches back to before the Revolution. For a spectacular view with dinner, cross the Naval Academy Bridge and try the Severn Inn. A little farther out in an unexceptional strip mall sits Jack's Fortune, a Chinese restaurant that has long been a favorite for locals. Share some soup (share everything) and try the crispy beef.
DO
Catch a show at Rams Head on Stage, a music venue with an eclectic lineup similar to that of the Visulite, or you can enjoy a sail at sunset with Schooner Woodwind. History buffs should consider a walking tour from Watermark tours, which covers 400 years of history. The Halloween/All Saints' Day Concert at the Naval Academy Chapel, which is on Oct. 26 and 27 this year, brings colorful lights, music, and dance to the stage in two electrifying shows. Whenever you go, make time for a tour of the academy. Something is always happening in Annapolis, so be sure to check visitannapolis.org before you go.