College Town Travel: Boone
Home to Appalachian State University, it's a quaint mountain town full of surprises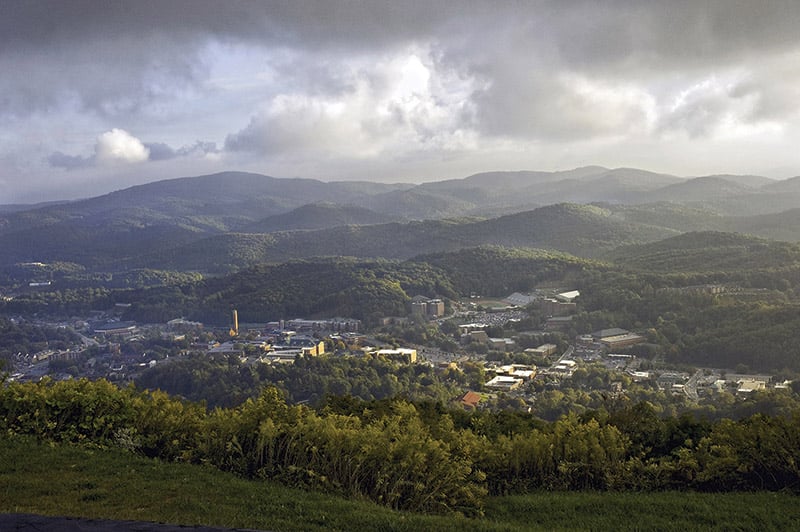 ALMOST AS SUDDENLY as the mountains appear before us on our drive northwest across the state, the ever-present mist begins dampening the day. But in this one particular instance—and only in this one particular instance—I'm glad to have forgotten my umbrella.
My fiancé Nate, being the incredible gentleman he is, hands me our sole umbrella as we step out of the car in Boone. After watching him wince and evade the nagging mist, I raise my umbrella and invite him under. Walking down King Street in tandem, connected by this tiny red-and-white refuge from the wet, I smile and grab onto Nate's arm even tighter, knowing the only way to stay dry is to stay close.
On our trip to Boone, we had planned on tubing down the New River and exploring the mountains that cradle the town and its heartbeat institution, Appalachian State University, but it's too cold for tubing, and the mist makes us rethink the slippery slopes of hiking.
The rain forces us inside, and we're happy to oblige. Why else do you go to the mountains than to stay inside, cozying up to the ones you love most?
Nate and I duck into The Local and share vegan pizza and fried tofu "wings" that are crispier and tastier than any I've had in Charlotte. But lest we forget where we are, Boone is quick to remind us. At the table behind us, a family of four, decked out in App State black and gold, eats lunch. The youngest of the bunch, a boy no older than four, wears the Mountaineers' logo proudly on his black sweater and dances on the restaurant's stage.
It's still raining, so we walk to Espresso News for an afternoon coffee. The coffee shop invites you upstairs to sit and stay awhile, its wooden cabin staircase creaking with each step. Upstairs, a handful of the university's 19,000 students have laptops open and noses in books, sitting in armchairs and at tables strewn with National Geographic magazines from 2010. Two girls behind us talk about their summer trip to Mykonos and the boys they met from Rome and Arizona.
For the first time, I wonder if I'm too old to remember the boys from Arizona or other faraway places I met while in college.
After warming up over a cup of coffee (with a splash of soy milk), we step outside to see that the mist has stopped. Free from the tyranny of our umbrella, we're able to explore.
It's too late in the day to start hiking a mountain, so we drive to Howards Knob Park to view Boone from above. Along the way, Boone reminds you, with its twisting, turning, and unpredictable roads, with each push forward moving you closer to the sun, that regardless of mist or dry skies, it's a place that still belongs to the earth.
We are but merely borrowing it from the mountains.
---
STAY
You're in the mountains. It's almost required that you stay in a cabin. Check Blue Ridge Vacation Cabins for local listings.
EAT
Both Appalachian Mountain Brewing and Lost Province Brewing offer a slew of unique and tasty local brews. The latter also has an impressive food menu, with an incredible pickled vegetable platter paired with homemade sourdough bread. Don't skip Melanie's Food Fantasy for a weekend brunch or The Local for nighttime eats.
DO
Pack a picnic and bring it to the nearby Blue Ridge Parkway, and spend a leisurely day outdoors admiring the changing leaves. You won't be the only one with this idea, though.