College Town Travel: Knoxville
This town pulls you in with its infectious fun—nudity not required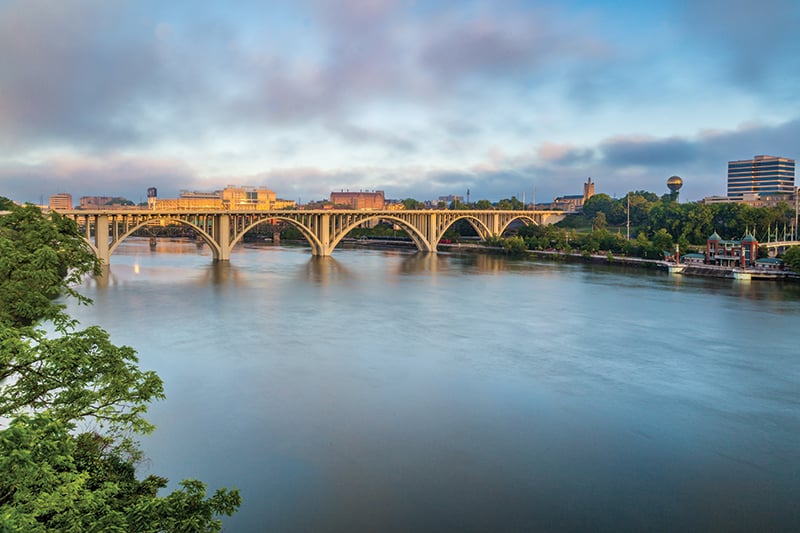 ON GAME DAY at the University of Tennessee, there's only orange. Orange checkered overalls, orange foam fingers, orange-painted bare chests with a "V," "O," "L," or "S"—short for the Tennessee Volunteers. Instead of red Solo cups, cups here are orange.
A barrage of "Good Ol' Rocky Top" permeates past Neyland Stadium—one of the largest college football stadiums, holding more than 100,000—through downtown Knoxville, and to TVs across the state.
This parade of school spirit took a different form in the spring of 1974, though, when students ditched the orange and opted for nude. When a streaking fad took over American colleges in the 1970s, Walter Cronkite singled out the University of Tennessee, and Knoxville by proxy, as the ultimate hub of the sport. This was after more than 5,000 students left their textbooks and clothing behind and ran down the mile-long Cumberland Avenue—also known as The Strip.
The craze faded at most colleges since then, but not at my alma mater, Washington College. My college's streaking tradition, also known as May Day, started in 1967 and is still carried on today, in a two-night, campus-wide party on the midnights surrounding the first of May. I remember the feeling of my toes sprinting through the dewy grass on a brisk Maryland spring night, following glowing pale butts as I pranced past academic buildings. There's a freedom in collective vulnerability.
Maybe that's why the University of Tennessee community is still so strong today, decades after streaking stopped. Maybe that's why they can have some of the most technologically advanced classrooms in America like their Haslam College of Business, but still know how to party. Maybe that's why my tour guide through campus is a fifth-generation Volunteer.
There's this saying at UT: "Vols help Vols." It's a sentiment of hospitality and kindness that carries throughout the city, but it doesn't really take much help to see Knoxville's appeal.
The city of just under 190,000 has a downtown that's pedestrian-friendly and welcoming. Walk along Market Square on a Saturday morning and peek into the many farmers' market stands, where sellers have big smiles and bigger heirloom tomatoes.
Paddleboard down the Tennessee River as the full moon rises, with Billy Lush Boards & Brew. Or drink an IPA as you watch artists blow glass at Pretentious Beer Co. Or stop by the Visit Knoxville center for a lunchtime concert, a series called the Blue Plate Special.
Streaking is mostly a local legend now in Knoxville. Plus, there's far more fun to be had here fully dressed—especially if you're in orange.
---
STAY
The Hilton in downtown Knoxville allows pets and is comfortable and affordable. Stay on the top floor for unbeatable views.
EAT
Start your day at Wild Love Bakehouse with a scone that's so fluffy, it's more like a biscuit. Grab lunch to-go from Yassin's Falafel House, and bring it to the Visit Knoxville center at noon for a live performance of WDVX radio. See four local breweries with Knox Brew Tours, and cap off your day with dinner at Chivo Taqueria.
DO
Check out the Joseph Delaney exhibit (through Nov. 4) at the free Knoxville Museum of Art, or admire the view from the top of the Sunsphere, a relic left over from the 1982 World's Fair. Just a mile and a half outside Knoxville, there's Fort Dickerson Quarry, an old quarry that's now a local swimming spot.
If you want football, see the Vols take on the UNC Charlotte 49ers on Nov. 3.