Color Coded Technology
Angela Benton, a former Charlotte dot-com entrepreneur turned Silicon Valley exec, is introducing minorities to the world of tech startups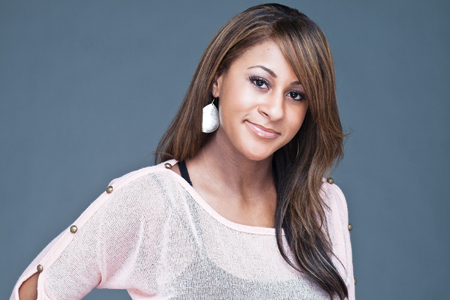 Of the millions of people employed in the technology sector, a CNN study found that only about 6 percent are African American. A different study found that they make up just 1 percent of the entrepreneurs who receive venture capital for their tech startups. Meanwhile, various other studies show that African Americans consume a disproportionate amount of technology than other races when considering the population size. Angela Benton is trying to help bridge those gaps.
Since 2007, through her company Black Web Media and its flagship property, Black Web 2.0, Benton has been covering the African American technology experience as well as industry news and black businesspeople. Until September, she operated from Charlotte, where she lived for five years.
Now Benton, thirty, is making a go of it in Silicon Valley. You might've seen her story featured in "Black in America: The New Promised Land—Silicon Valley," which aired on CNN in November as the latest installment in the network's critically acclaimed Black in America series. The program examines issues facing the black community through documentaries hosted by Soledad O'Brien.
"The documentary gave this issue a dialogue across boundaries," says Benton, who worked at Charlotte-based LendingTree.com, RushmoreDrive.com, and BizJournals.com before striking out on her own. "I've been covering technology for the last four and a half years with Black Web 2.0, and I will tell you that mainstream and black media didn't really care about writing about technology from an African American's perspective. So the fact that we now have people within our own community and outside the community taking note and discussing it is great."
Earlier this year Benton cofounded the NewMe Accelerator, an incubator for underrepresented minorities. It brings together eight African American tech entrepreneurs, puts them all in one house for several weeks in Silicon Valley, and guides them through the process of seeking investors for their startups.
As the idea gained support from influential people in the industry and major sponsors, The Wall Street Journal published an article in the spring about NewMe. A CNN producer read the piece, which led to the program's inclusion in Black in America. More than 300 hours of footage were recorded over the summer as the group went through a boot camp of sorts before pitching their ideas to potential funders. It was edited down to a one-hour television special, with a plethora of additional footage online (cnn.com/blackinamerica), including updates on what the NewMe participants are doing now.
"I think a lot of the doors that opened for the program before we got any press was really because the idea was innovative and it was needed," Benton says. "Moving forward, this accelerator isn't only for black people; this accelerator is for underrepresented minorities in the technology industry. And that includes African Americans, but it also includes Latinos and women."
The NewMe Accelerator is expanding to twelve weeks and will feature two cycles in 2012—February to May and June to August—once again housing eight minority- and women-led startup founders. Google has signed on as the presenting sponsor, and as a result Benton and the NewMe team and participants will work out of office space on the search-engine giant's famous campus. Visit newmeaccelerator.com for more details.
Join the Community
Following the national exposure the NewMe Accelerator received from CNN, Angela Benton and her team launched NewMe Community. The idea is to help develop a tech entrepreneurship community around the country for minorities. Cities like New York, Atlanta, and Durham have gotten off to fast starts; Charlotte has a group as well. Groups will hold networking events, bring in speakers, share job leads, and more. More details are at newmecommunity.org.