Color Play
Choosing a universally flattering dress for bridesmaids of all shapes and sizes just might be the biggest wedding-planning challenge of all. Here's what to keep in mind when searching for an array of cuts, silhouettes—and hues—that complement one another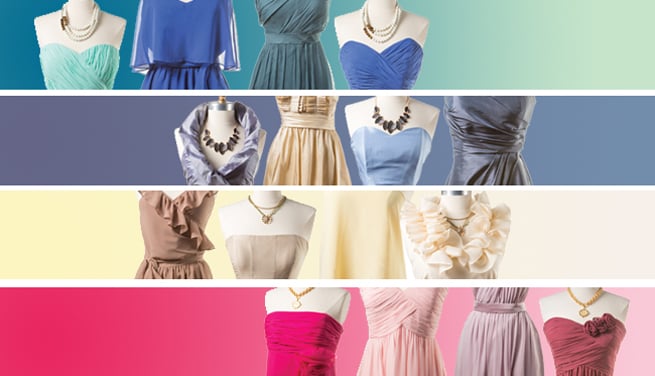 Fabric Treatment
Make sure each dress has a similar weight and feel. Sleek raw silk and breezy chiffon look strange paired together. Keep event location in mind when choosing a fabric family.
In Good Company
Rather than entrusting each of your bridesmaids with the task of choosing her dress solo, if you have the time, make a day of it and accompany each maid on her shopping trip.
Measure for Measure
Choose one length across the board. Keeping uniformity in dress length will help create a cohesive look despite a mix of hues. Save the most elegant of nuptials, most brides will opt for the playful, easy-to-wear cocktail-length dress.
Pull It Together
Choose one statement accessory in a neutral hue for all the bridesmaids to wear. This last touch will finalize the look and unify the group.