"Come Fly Away" Pairs Old Blue Eyes with Twyla Tharp
My conversation with "Chanos"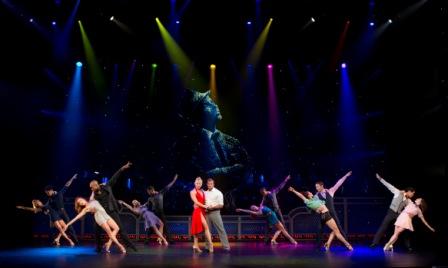 Matthew Stockwell Dibble originated the role of Chanos in Come Fly Away on Broadway in early 2010 and has been dancing it ever since. He continues his run when he comes to Charlotte in the latest Broadway Lights production in Charlotte May 1 – 6. Details here.
He's been dancing with legendary choreographer Twyla Tharp (whose film credits include Hair, Amadeus, and White Nights and whose Broadway credits include conceiving of and choreographing Movin' Out) for more than ten years. The native of Yorkshire, England, trained at the Royal Ballet School. He joined the Royal Ballet, in 1994 and in 1999 became a founding member of K Ballet in Japan. He has also worked with William Forsythe, Roland Petit, Ashley Page, and Benjamin Millepied — Natalie Portman's baby daddy and the man she allegedly secretly wed.
I chatted up Dibble today:
Revue: Tell me about the character you play.
Matthew Stockwell Dibble (in dreamy British accent): Chanos comes into the club with the most beautiful girl. He loses her to another guy in the club, so it's really a — his — tragedy. He loses his way. And at that point, I do a drunk dance to Sinatra's "One for my Baby." But then he finds himself, and there's redemption.
Revue: A drunk dance — how fun!
MSD: Yes, it is fun to do. And it wasn't designed that way originally. Twyla said one day, "Let's put a twist on this. Let's be out of control."
Revue: So, Twyla is always sort of tweaking her work?
MSD: Yes, she does.
Revue: What's it like to work with her?
MSD: It's amazing. She's a legend.
Revue: What sets her apart from other choreographers?
MSD: Well, her approach to movement. It's so fresh and unguarded. It feels like you could go anywhere at any moment. You really feel like you become part of the work. You don't feel like an outsider.
Revue: And does that feeling translate to the audience, too?
MSD: Yes, I think it does. I've been fortunate to dance with Twyla for years now. We originally met in 1997 at the Royal Ballet. Since then, I've been in her Push Comes to Shove in a role she originally created for Mikhail Baryshnikov and in a three-act ballet she wrote called Mr. Worldly Wise.
Revue: I read that, in addition to Twyla, you've worked with Benjamin Millepied, who is, of course, famous beyond the dance world now.
MSD: I just saw him yesterday, in fact — in front of Lincoln Center.
Revue: What was he like to work with?
MSD: He's great, wonderful. He choreographed a piece in Paris that he and I did together in Lyon.
Revue: Oh, he's French? I guess I should've known.
MSD: Yes, he's French.
Revue: Since we're on the subject of Benjamin [who helped choreograph Black Swan], what did you think of the movie he and Natalie were in?
MSD: Black Swan? I loved it. It's fantastic. But I didn't think of it as a dance movie. I thought of it as a horror film.
Revue: So, it was a realistic portrayal of the world of dance?
MSD: I thought it was a realistic portrayal of the world, really, and how fanatical people can be. I mean, it could've been about firemen or police officers or ice skaters. It's about something overtaking your thoughts and your life. And Darren [Aronofsky, the director] is a stunning director. He's a genius.
Revue: OK, back to the subject at hand. What style of dance will we see in Come Fly Away?
MSD: Oh, a mixture, really. I'm classically trained, but the great thing about Twyla is how she can get a lot of people, from a lot of different backgrounds, together, and unify them. All her dancers really have a voice, if that makes sense. So you could say Come Fly Away is really a fusion of styles.