Come One, Come All, or Don't Come at All
You can put lipstick on a pig and put her in a strip club, but please stop talking about barbecue as it relates to Charlotte and the DNC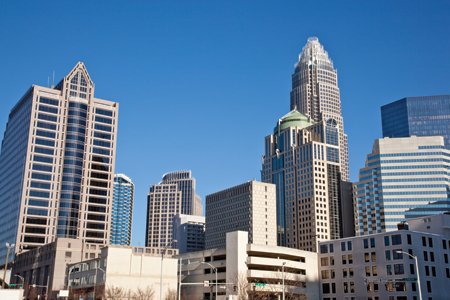 Most of the national news last week in regards to the Democratic National Convention was about the prominent delegates who have decided they will not come to Charlotte in September. Some elected Dems say they'll spend that week with constituents. "I guarantee that my time will be better spent meeting the farmers, small business owners and other people who put me here," said New York Representative Kathy Hochul. Political pundits believe it's because some candidates fear that appearing too close to President Obama could hurt their chances in their own elections. News link roundup:
The Democratic National Convention Committee expects about 6,000 delegates to come, representing each state in the nation. That would be about 1,500 more than attended the 2008 convention in Denver.
In The Charlotte Observer today, the paper breaks down the diversity of the 158 North Carolina delegates. "Also noteworthy in a national party that asks state parties to meet affirmative-action goals: The North Carolina delegation includes 73 women; 60 African-Americans; three Native Americans; two people with disabilities and eight delegates who are gay, lesbian, bisexual or transgender." There's also a 90-year-old N.C. delegate.
Thursday at a chef's table event at Bernardin's Restaurant, I happened to meet Vani Hari, a food blogger and Mecklenburg County delegate who represents that aforementioned diversity. Over dinner, she shared stories of how exciting the convention was in Denver and she expects it to be even better in her hometown. Hari also made Creative Loafing's 2012 Lust List of Charlotte's Hottest Democrats back in February. Speaking of Creative Loafing, the alternative weekly newspaper is holding a DNC Cover Contest, giving you the chance to create the artwork for the cover of the issue hitting stands the week of the convention.
And while we're on the subject of hot Democrats, the Dems, apparently, are hot for strip clubs so local owners are putting in hundreds of thousands of dollars in renovations, to put their best faces (and tails) forward in anticipation of convention week. And as WFAE reports, the same is being done at Tampa strip clubs in preparation for the Republican National Convention.
DNC officials and Charlotte boosters probably wish that stories about strip cubs would go away. Know what I wouldn't mind going away? All the talk about barbecue. Yes, as a Southern boy born, raised, and having lived in Southern states all my life, I love barbecue. And despite all the division amongst North Carolinians about the best way to prepare BBQ (see an episode of 282 from last month where I helped facilitate a discussion on the topic), I've eaten great pulled pork and the like at several Charlotte restaurants, but that's not what should be on the top of the minds of visitors to Charlotte.
Yet, that didn't stop a Washington Post writer from beginning her article by asking, "So, where's the best barbecue in town?" Published Friday and titled "In Charlotte, N.C., the New South rules," the writer states that she was "on a visit to check out the Democratic Party's choice of presidential convention city," then goes on to offer favorable reviews, for the most part, of the Queen City after visiting uptown, Cosmos Café, Levine Museum of the New South, NASCAR Hall of Fame, Bechtler Museum of Modern Art, NoDa, and Mac's Speed Shop in South End.
And the headline on an in-depth Business Week story last week on the communication network preparedness in relation to security for the DNC: "Barbecue More Ready Than Radios for Convention Security."