Comedy Show, Party with R. Kelly Offer First Look at Lux Nightclub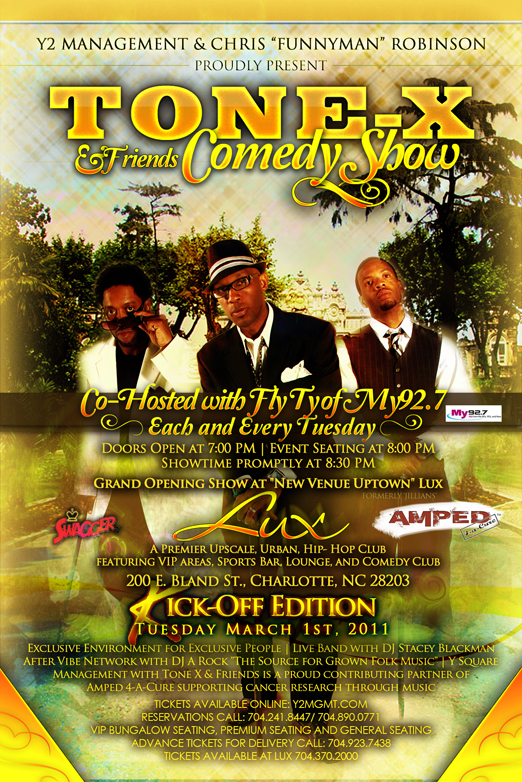 Tone-X and Friends has been a popular, weekly comedy show in Charlotte for nearly three years. During most of its run, it has been held at Skandalos in east Charlotte, but now the laughter is coming to South End. New nightclub Lux, opened in the space formerly occupied by Jillian's, is the new home to the Tuesday night comedy show.
Lux is being marketed as an upscale hip-hop club. It's at a prime location, right on the light rail line, and is the latest addition to South End's growing nightlife district. I think South End can officially be labeled a nightlife district now with Apostrophe Lounge, Dharma Lounge, Marigny, and Lux all within sight of each other and The Sunset Club and On The Roxx within walking distance. I'm looking forward to checking out Lux, which I plan to do soon so I can report back to you on what I think of it.
Lux's opening was planned to coincide with the CIAA Tournament and the tens of thousands of African-American visitors arriving in Charlotte this week. Tone-X and Friends is led by comedian and former Power 98 radio personality Anthony "Tone-X" Belser (he moved to Atlanta about a year and a half ago to work on BET's The Monique Show), and is co-hosted by comedian Chris "Funnyman" Robinson along with Fly Ty of My 92.7 FM. The comedy show usually draws a couple hundred people each week, and I expect tonight's turnout to be even larger.
In addition to comedy, the event will feature a live band along with music by DJ Stacey Blackman and DJ A Rock. Doors open at 7 p.m., seating at 8 p.m., and showtime at 8:30 p.m. Admission is $10 in advance and $15 at the door.
There are big events planned all week at Lux to attract CIAA visitors, wrapping up Saturday night with a party hosted by the "King of R&B," R. Kelly. Tickets are $40 and up.
It will be interesting to see if the owners of Lux will be able to consistently draw the clientele they're going after, though there is certainly a market for it. Charlotte lacks the number of quality hip-hop clubs you find in other major cities. It should be noted, however, that Lux will immediately be in competition with 5th Element (500 W. Fifth St., 5thelementnc.com), which opened at the end of last summer in the space formerly occupied by Cans Bar and Canteen. Lux and 5th Element target a similar demographic and both are in Charlotte's center city. 5th Element is large (three levels) and has managed to attract big crowds, usually through heavy promotions and by bringing in celebrity hosts. Assuming that Lux is occupying all of the space that Jillian's once did, one has to wonder if there's room for both of these large nightclubs to be successful, i.e. profitable. I think options are a great thing in nightlife, so let's hope they both work out.
Lux, 200 E. Bland St., 704-370-2000. luxcharlotte.com.