Coming-Out Party: LaWana Mayfield
Yes, LaWana Mayfield is the first openly gay person to serve on Charlotte City Council—and only the second African American female—but she'd rather you focus on the challenges, and potential, of the city's west side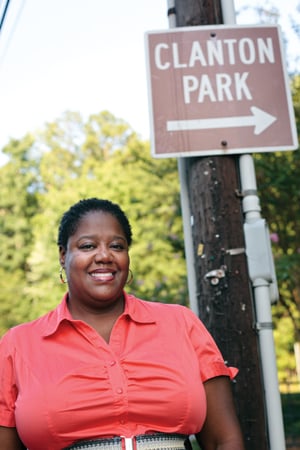 It's barely eight o'clock on a bright morning in late June, and first-term Charlotte City Councilwoman LaWana Mayfield is facing about twenty of her constituents—and their questions—head on. At the breakfast forum, held at a rec center in west Charlotte, several senior citizens approach Mayfield. Some give her a hug. Others express concern. "What is next, what is the plan?" one asks.
The night before, Mayfield and her fellow council members had wrapped up their most contentious budget negotiations in years. The council agreed on a spending plan to keep city government operating, but they also scrapped a nearly $1 billion plan that would have raised taxes to pay for new infrastructure across the inner city, including Mayfield's District 3.
"I'm proud you didn't raise taxes," constituent Carlenia Ivory tells Mayfield at the breakfast forum. "I hope the inner city will still have something to show for it."
The coming months will be filled with debate and community forums. Mayfield will be right in the middle of it. "Now we get to work," she says.
Before Mayfield turned sixteen, her father and mother died. "The loss of my parents forced me to grow up fast," the forty-two-year-old Mayfield says. "But instead of whining and complaining, I asked, 'What can I do to improve the lives of others?'"
In 1988, she moved from Miami to Charlotte to attend Central Piedmont Community College. After her time in the classroom, Mayfield put her love of volunteering into action. She spent most of the 1990s and early 2000s involved in a variety of causes, including serving as national female diversity co-chair for the Human Rights Campaign. To earn a living, she worked contract jobs in sales.
From 2002 to 2008, she served as a casework supervisor of disaster services with the American Red Cross. The assignment put her on the ground and in charge of volunteer operations during hurricanes Katrina and Rita and the Iowa floods of 2008. The work convinced her that she wanted to be involved in what she calls "direct service."
"Being behind a cubicle is not where I want to be," Mayfield says. "I want to be in a place of empowering people." From 2008 to 2010, she was a paid community organizer with Grass Roots Leadership, tackling issues ranging from immigration reform to alternatives to incarceration. When 2011 began, her plan was to go back to CPCC and get an associate's degree in nonprofit management.
But then Mayfield had a lunch meeting that set her plans on a different course.
On a Friday in March 2011, over salads at Crisp on Seventh Street, Charlotte attorney Connie Vetter asked Mayfield if she was interested in running in the September primary against Warren Turner, a Democrat who had represented District 3 since 2003. Vetter is a well-known LGBT-rights attorney but is registered as an independent. She says the idea of asking Mayfield to run "just popped into my head. … I knew she had been involved in activism across a lot of fields," Vetter says. "I suggested she needed to take it to the next level."
Mayfield was surprised by her suggestion. "I laughed. A lot of people didn't know me and I was up against a four-term incumbent," she says. She had another reason for trepidation. Mayfield is gay, and she was worried about how a campaign could affect her relationship with her partner of six years, Gelisa Stitt, and their respective families. No openly gay person had ever served on the Charlotte City Council.
Over the weekend, she and Stitt discussed it. "Is that something you want to do?" Stitt asked. "Then I support you." "She's not a political junkie," Mayfield says. "Her saying she supported me in one sentence was all I needed to hear."
Mayfield also consulted her pastor at Shiloh Institutional Baptist Church in west Charlotte, who Mayfield says doesn't fully embrace homosexuality but also "doesn't use the Bible as a weapon." After getting the pastor's and her partner's support to run, Mayfield decided to enter the fray.
District 3 covers a large chunk of west Charlotte, from Mount Holly Road in the north to Carowinds Boulevard in the south, and from Shopton Road West across to South Boulevard. The district includes vast industrial complexes along Westinghouse Boulevard, upper-middle-class neighborhoods along Tyvola Road, and a fair share of low-income housing along South Tryon Street and West Boulevard. It also includes South End and Wilmore. It's a diverse, sprawling area, with pockets of varying incomes and racial makeups, and one that's difficult to represent.
"I wasn't seeing the development I wanted to see along Freedom, West, and Clanton," Mayfield says. "Where I was seeing development was in Arrowood and Steele Creek. [The district] didn't feel connected."
By the primary season of 2011, Turner was in the midst of an uphill battle. In 2010, an outside investigation ordered by the city outlined claims by four city employees that Turner had sexually harassed them, dating back to 2006. Turner denied the allegations, but the damage had been done. Looking back, Mayfield has sympathy for Turner. "I felt that it was a personnel issue and shouldn't have been blown up so publicly."
Inside his district, Turner faced other, more pragmatic problems. "I voted for my predecessor. I helped elect him," Mayfield says. "He was accessible to me, but on the campaign trail, I wasn't hearing that from many of his constituents."
Mayfield took advantage of that sense of dissatisfaction as she campaigned. She outraised her opponents substantially, drawing in $32,000 from nearly 300 donors locally and across the country. Turner raised less than $2,000 from a half dozen donors.
Mayfield said that as she talked to voters, her work, rather than her sexuality, was the focus. "Many people didn't get stuck on the fact I was in a same-sex relationship," she says. "I am not a one-issue person."
On primary night, Mayfield won 51 percent of the vote, soundly defeating Turner (34 percent) and Svend Deal (15 percent). After her landslide win in November's general election against Republican Ed Toney, local media were quick to label Mayfield as an LGBT trailblazer, which she dismisses. Mayfield says she's just as honored to be a second as a first. She follows another pioneer, Ella Scarborough, who was the first African American female to serve on City Council, also in District 3. "When I walk into a room," Mayfield says, "I walk into a room as an African American first."
But the national media noticed. Her election triumph drew a mention on The Rachel Maddow Show and a feature in The Huffington Post. GO Magazine, which has national distribution and a predominantly lesbian audience, recently selected Mayfield as one of the "100 Women We Love." "That part is crazy," Mayfield says, "but it's also a great responsibility which comes with all of that, and I don't want to forget that. Young people who may not be out can hopefully look at me and say, 'You can come out, you can serve, and you can be a leader.'
The post-election honeymoon was short. Mayfield's first major test came during her first budget cycle in 2012. There are always politics involved in the budgeting process, but most years the vote for approval tends to fall neatly along party lines. But 2012 wasn't like most years.
In the spring, responding to a challenge from council to "be bold," City Manager Curt Walton proposed a $926 million capital investment plan that was intended to expand the tax base and spur redevelopment in struggling areas of the city, including portions of Mayfield's District 3. The projects would be paid for by raising Charlotte's property tax for the first time since 2006. Under the proposal, the owner of a $200,000 home would have paid $72 more a year.
In southwest Charlotte, the plan would have included several road-widening projects, including Dixie River Road and Garrison Road near Charlotte-Douglas International Airport. A new police station in the Westover division was in the plan, along with a $30 million infrastructure investment in the upper middle class Whitehall neighborhood, an area that saw tremendous growth in the previous decade.
Mayfield was an early and consistent supporter, calling the proposal aggressive. "Not investing in infrastructure in our city is not an option for me," she says.
Throughout the committee process, it appeared the budget, including the capital plan, was heading for a 9-2 approval along party lines. Few objections were raised to the plan. But as the vote loomed, a few Democrats became privately leery of voting for a tax increase. At the June 11 vote, four Democrats joined the two Republicans and shocked the city manager and Mayor Anthony Foxx, rejecting the capital plan in a 6-5 vote.
Mayfield voted in favor, and in the chamber that night, she was one of the council's most forceful supporters of the plan. "To some people, no time will ever be a time to have a tax increase," she said. "There's a reality here that all of our collective taxes helped to create the growth that we have seen, and the stability that we have seen. Now is the time to invest in our communities that have been a little more unstable."
Three days later, on June 14, City Council had another crack at compromise, but little was accomplished. The body couldn't decide which projects to cut from the capital list to lessen the tax increase. Time was ticking, with one meeting left to get a budget approved before the end of the fiscal year. Visible frustration began to show from council members, including Mayfield. A narrow 6-5 majority approved a compromise plan, which kept most projects but killed the extension of the streetcar from uptown to west Charlotte. Mayor Foxx threatened a veto, which would have needed seven votes to be overturned. With little consensus and much division, the City Council approved a budget that kept the tax rate the same and put off any sort of capital improvement plan until at least 2013.
"If we would have moved forward," Mayfield says, "we would have just raised taxes for the sake of raising taxes. The projects proposed to be taken out would have been transformational. We need to get out and talk to the people and see which things are truly important to them."
The City Council job is Mayfield's career. Her partner helps supplement her stipend of $17,000 so Mayfield can represent the district full time. She works seven days a week, balancing appearances at church services, neighborhood gatherings, and forums. It's not uncommon for Mayfield to attend three events in one day. "I want to be accessible. I try to go to as many community meetings as I can."
Her efforts haven't been lost on her colleagues on the council, including longtime representative James Mitchell Jr., a Democrat, whose District 2 borders Mayfield's. "What sticks out to me about LaWana is her energy," Mitchell says. "You may not always agree with her, but you know she's done her homework and has a vision for the city not just two or three years out, but ten."
To that end, Mayfield is in the process of touring her district and holding a series of community forums. It's what she calls "gathering assets"—finding ways to promote and sell District 3. It won't reinvigorate the area overnight. But it's a start.
She speaks optimistically of what she has to sell. "Many people don't know we have a higher-education corridor on Tyvola Road, major companies operating along Westinghouse Boulevard, even great recreation at places like Revolution Park and Charles T. Sifford Golf Course."
Beyond the optimism, though, lies a sense of realism. She knows the challenge of convincing businesses as well as her colleagues on City Council to spend money in her district. "I have to convey: You make an investment, give us time. We will pay you back with that."