Concert Showcases Charlotte's Thriving Latino Music Scene (Plus: Weekend Arts Events, April 29-May 1)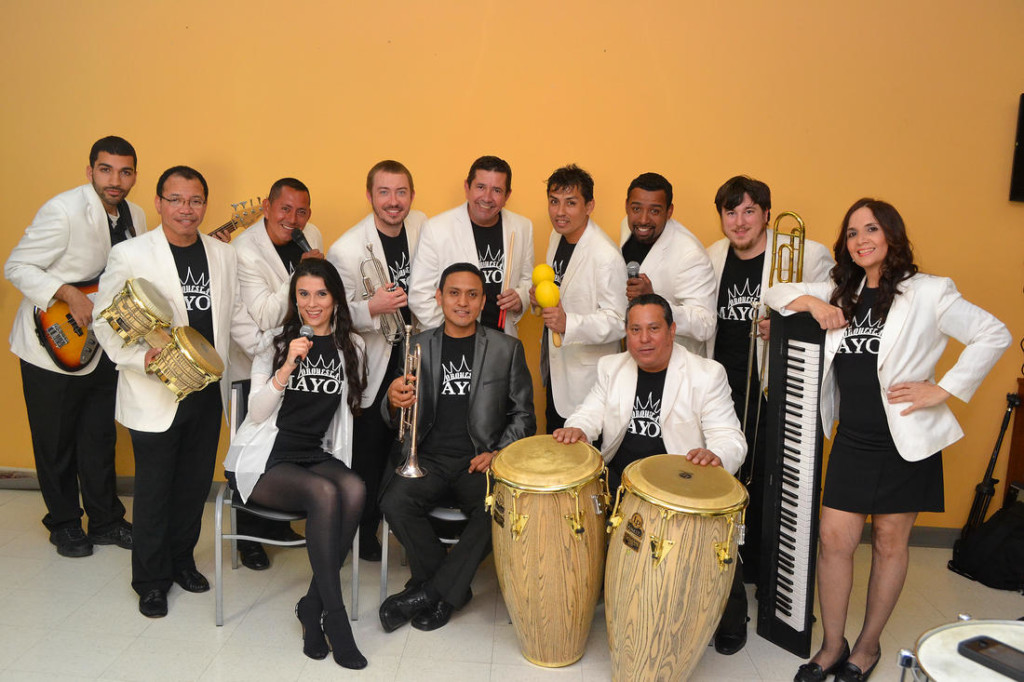 FOR SOME, a thriving Latino music scene in Charlotte may come as a surprise. Yet, this bustling and burgeoning community has garnered a reputation even outside of the city.
Last year, author Sam Byrd wrote an entire book about it, titled The Sounds of Latinidad: Immigrants Making Music and Creating Culture in a Southern City. The book is billed by NYU Press as showing how "limited economic mobility, social marginalization, and restrictive immigration policies have stymied immigrants' access to the American dream and musicians' dreams of success Instead, Latin music has become a way to form community, debate political questions, and claim cultural citizenship."
The book's currently on sale at Levine Museum of the New South, but if you really want to experience the Latino music of Charlotte, head to the Neighborhood Theatre on Friday (April 29) for the latest in the museum's series, The New Latino Sound. Orquesta Mayor, Patabamba, Jahlistic, and Reinaldo Brahn perform at the show, which runs just $10. These are local acts, embodying the vibrant and sonically diverse scene here.
The show kicks off at 8 p.m. on Friday. As a preview, here's a act-by-act breakdown of this weekend's The New Latino Sound concert:
Orquesta Mayor
This ensemble formed in Charlotte a decade ago, with members that are natives of Mexico, Puerto Rico, Peru, Colombia, and here in the U.S. The salsa act has an enormous sound, with a dozen musicians traveling the festival circuit. Check out a snippet below:
Patabamba
This Charlotte quartet says its "rooted in our interpretation of the rhythms, melodies, and mythologies of the Andes and the tropics" The result is an energetic sound that sometimes veers off into a new direction. Check out "Rompecabezas" below:
Jahlistic
Another Charlotte act, Jahlistic offers a potent dose of roots reggae into the evening. Marked by singer Tania Vejar's soulful voice and a driving rhythm section, the four-piece features three members originally from South America (which also comes into play in the band's sound).
Reinaldo Brahn
Brahn brought his Brazilian roots to the city in 2007, with both a traditional and pop sound to his tunes (and occasionally, some jazz-style scatting). Check out his cover of The Police's "Roxanne" below, performed against the backdrop of The Evening Muse:
Read about other arts events in Charlotte this weekend below:
FRIDAY (April 29)
CHARLOTTE SYMPHONY: BRUCH VIOLIN CONCERTO NO. 1
Bruch's concerto is the centerpiece for this program, with the German Romantic composer leading a group that also has Maurice Ravel and Vaughan Williams in the mix. Angelo Xiang Yu is featured on violin; Christopher Warren-Green conducts.
CHARLOTTE BALLET: SPRING WORKS
George Balanchine's "Who Cares?" and Dwight Rhoden's newest ballet are featured in this program. The ballet regularly holds seasonal concerts that show off both new and classic works.
SATURDAY (April 30)
CI7 THE ANNUAL: SPACES
The Culture Initiative's annual showcase hits The Grace, at 219. S. Brevard St., on Saturday. The group had four creative teams create interior backdrops for local artists to display their work. Art comes from the likes of Natalia Roman, Justin Klaus, Mary Tew, April Marten, CeCe Stronach, and others. The event also features performances from Young Empires, Foreign Air, Shadowgraphs, Reid Speed, Arthur Brouthers, and Dj TOBER.
ROCK THE ED MUSIC FESTIVAL
For nearly a decade, the East Mecklenburg High School Foundation has raised funds and developed programs for East Meck students, teachers, administrators, and parents. Foundation members recently reached out to Cameron Lee, founder of CLTure Creative Group and the CLTure blog, with a new idea to raise money: They wanted to start a music festival, and they needed his help. Bands include Junior Astronomers, Ancient Cities, Sinners & Saints, Bless These Sounds Under The City, Serfs, and others.
FLY BY NIGHT
This musical, conceived by Kim Rosenstock, is labeled as a "rock-fable" by Actor's Theatre of Charlotte. A sandwich-maker's monotonous days are interrupted when two sisters come into his life.
NASCAR HALL OF FAME
Owned by the City of Charlotte, the NASCAR Hall of Fame has 40,000 square feet of exhibition space to give visitors a look at racing history. Celebrating the 50th Anniversary of Team Penske (through June 30) explores the team's achievements in NASCAR and other racing disciplines.
SUNDAY (May 1)
KINGS DRIVE ART WALK
For two days each spring, the stretch of Little Sugar Creek Greenway along Kings Drive is adorned with easels, canvases, and the buzz of local commerce. Now in its sixth year, the event brings in more than 80 vendors representing several mediums. Live music performances and other family entertainment occupy nearby stages throughout the daytime hours.
HARVEY B. GANTT CENTER FOR AFRICAN-AMERICAN ARTS +CULTURE
Once called the Afro-American Cultural Center, this museum opened in the 1970s and jumped around to different venues before settling in its current South Tryon Street location in 2009. Dance Theatre of Harlem: 40 Years of Firsts (through June 26) celebrates the famous ensemble with costumes, set pieces, and video excerpts. 1960Now (through June 26) is the work of photographer and activist Sheila Pree Bright, who provides black-and-white images of the '60s Civil Rights movement and current activists. The museum's permanent exhibition, the John & Vivian Hewitt Collection of African-American Art, showcases the work of 20 artists, including Charlotte native Romare Bearden.
LIBERTY WALK
This self-guided tour for history buffs is free. Stroll through uptown to the 15 points that comprise the Liberty Walk, touring the early history of the region through markers and text. Pick up a brochure at the Visitor Info Center at 501 S. College St. (in the Charlotte Convention Center), or just start in front of the Wells Fargo Plaza at 301 S. Tryon St., and follow the markers in the pavement for a trip through the historical adventure of the city's Revolutionary War days.