Concierto Cancelado
Rodrigo y Gabriela nix their concert at the Fillmore (originally scheduled for October 16th) along with their whole U.S. tour.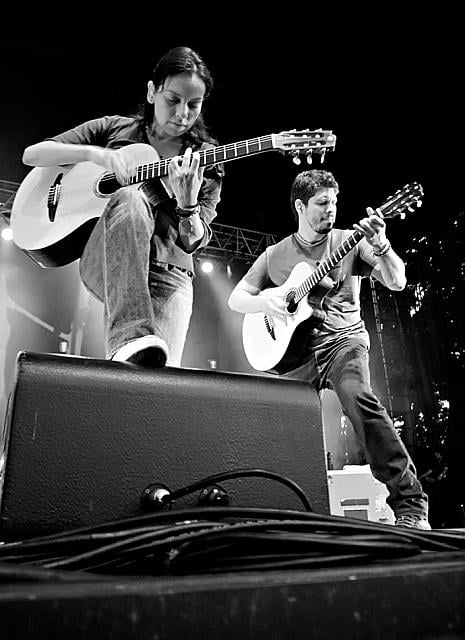 Revue just discovered that one of www.charlottemagazine.com's October Best Bets has been canceled, once again proving that entertainment writers shouldn't dabble in gambling. Rodrigo y Gabriela, the fiery, acoustic sensation born out of Mexico City and cultivated, believe-it-or-not, in Dublin, have announced the cancellation of their U.S. tour. Revue's e-mails to their tour manager inquiring whether or not they meant "all U.S. concerts except for Charlotte" went unanswered. Not a "no," but not promising.
Their website issued this statement:
"After a year of relentless touring, the wear and tear finally caught up with Gabriela. Her incredibly physical style of play involves banging out complex rhythms on the neck and body of her guitar night after night, putting great stress upon her right hand and arm as well as joints like the wrist and elbow. It is under doctors recommendation that she rest her joints and muscles to avoid further harm and permanent damage. While the duo is incredibly frustrated to have to pull out of dates in cities they were very much looking forward to visiting for the first time, the move was an unavoidable reality that had to be made in order to ensure that Gabriela fully recovers and is able to play at full capacity for many years to come."
Our e-mail offer to give Gabriela shoulder massages between numbers if she and Rodrigo promised to show also went unanswered.
Refunds are available, and it's our feeling that you ought to put them toward something else cool happening that weekend; maybe the Indigo Girls on Sunday, the 17th at the McGlohon Theatre? Their folk strumming may pale in comparison to Rodrigo y Gabriela's flamenco thrashing, but at least it's something. In the meantime, this video of Rodrigo y Gabriela is the closest thing to live you're going to get for the time being, so enjoy!